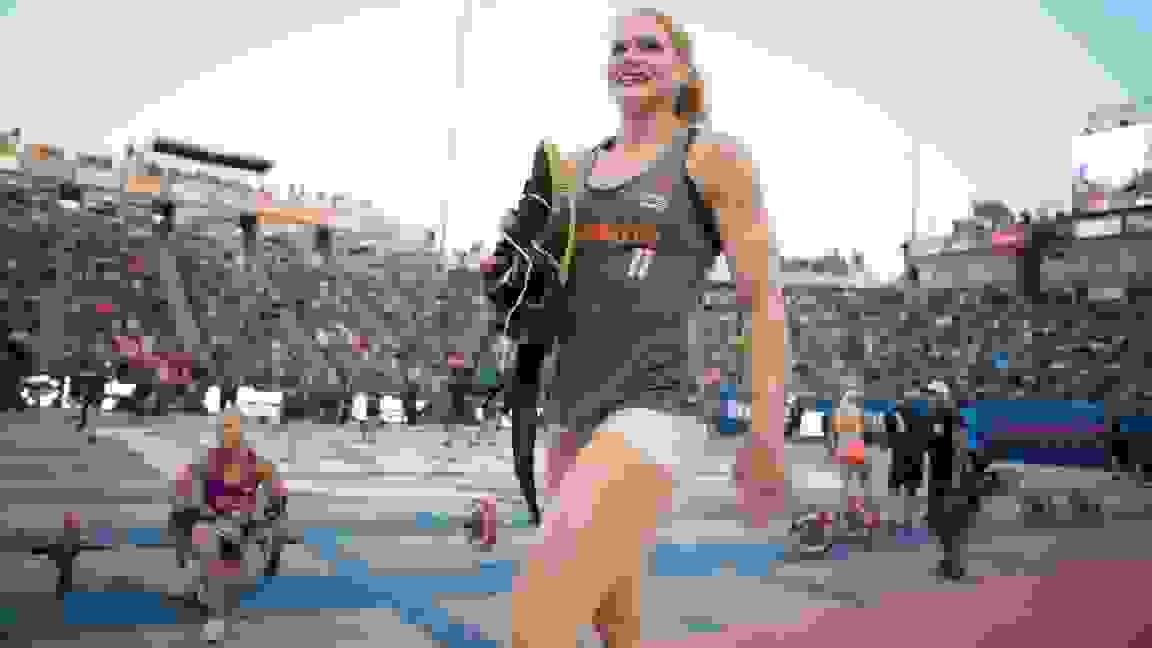 Annie Thorisdottir Has Something to Prove this Games Season
In 2009, before many of us had even heard of CrossFit, not to mention tried it, Annie Thorisdottir was mastering her first muscle-up in front of a stage of thousands at that year's CrossFit Games. Yes, you heard that right—Iceland Annie got that ever-so-coveted first muscle-up during the Games.
Fast track to last year where we saw muscle-ups programmed in the 2015 Reebok CrossFit Open, a testament to how far the Sport of Fitness has come. One thing that's stayed consistent, though? Seeing "Thorisdottir" at the top of the leaderboard year after year.
Poised for Victory
Thorisdottir emerging from that Open with a win. With a fully recovered spine and more experience than the majority of the women in the young field at the 2015 Reebok CrossFit Games, many poised 2015 as the year Thorisdottir would reclaim that Fittest Woman on Earth title that had twice before been hers.
"Last year, it felt like I was in the best shape of my life going into the Games," Thorisdottir says. "In 2012, it was difficult for me to focus mentally because I was looking to have a repeat win and putting so much pressure on myself. Then after having to miss the 2013 Games because of my back injury, I went into 2014 nervous about whether my back could handle everything that can be thrown at you in a competition. But in 2015, I came in ready. I trusted my body and myself."
But on day two of the competition, following Thorisdottir's highest placing first day of competition at any Games to date, Murph was announced.
Quickly, everything changed.
Along Came Murph
"During Murph, I overheated," recounts Annie. "The second [one-mile] run is just blurry to me."
"I do remember that all I kept telling myself is that your mind is going to give up before your body does. That's something that I've always believed in when something gets to that sucky place," she says. "But there I was during Murph … my mind was fine, and I kept telling myself not to stop but my body was just shutting down on me."
Thorisdottir would later go on to learn that she'd suffered from heat stroke during that workout. But the self-proclaimed "fierce competitor" refused to let herself believe anything was actually wrong, continuing on with Friday's events.
As she finished out the day with a fever and swollen body, though, Thorisdottir's loved ones began to worry. "I knew my parents and my boyfriend were nervous and wanted me to stop, but no one could make the decision to drop out but me. I had to make this decision for myself," she discloses.
And it was a decision she was not yet ready to make.
Decision Time
"The next day, I was mentally checked in. I loved the workouts that were coming out. But as I went out onto the field, my body just wasn't there. I was failing clean and jerks at a weight I could do when I was 19," remembers the now-26-year-old who completed all four of Saturday's events, hanging onto the hope that her body would just come back from this.
Thorisdottir went on to withdraw from the Games and not participate in the final day of the competition.
"It was such a different experience for me mentally than I'd ever had before," she says. "My back injury [in 2013] was a result of me being stupid. But the 2015 Games was the first time that my body decided to just give up. It wouldn't let me do anymore."
The Road Back
Ten days after the competition, Thorisdottir's body was still in that state. "I still couldn't even do a push-up," she discloses.
Even as her body began to regain its strength in the weeks following, the thought of competing again was a tough pill for her—and moreover, for her shaken-up family members—to swallow.
Eight months later, though, Thorisdottir describes her training as "smarter" than ever before, noting having to withdraw from last year's Games as a big motivator.
"I was not going to let last year be the way I went out," she says. "There's nothing that's going to damage me in the long run that happened in Carson in 2015. I want people to see that."
And with a 6th place finish in the world on 16.1, she's already taken the first step in making that statement.
Despite how the Games faired, Thorisdottir still enters this year as the reigning women's Open champion. But when asked if it's her goal to repeat, Thorisdottir is quick to admin she has another goal in mind for 2016. "Winning the Open again would be nice, but to be honest, I'd rather win the Games," she says with a laugh.
"To have a year like last year where I didn't get to finish the Games makes me want it this year that much more."