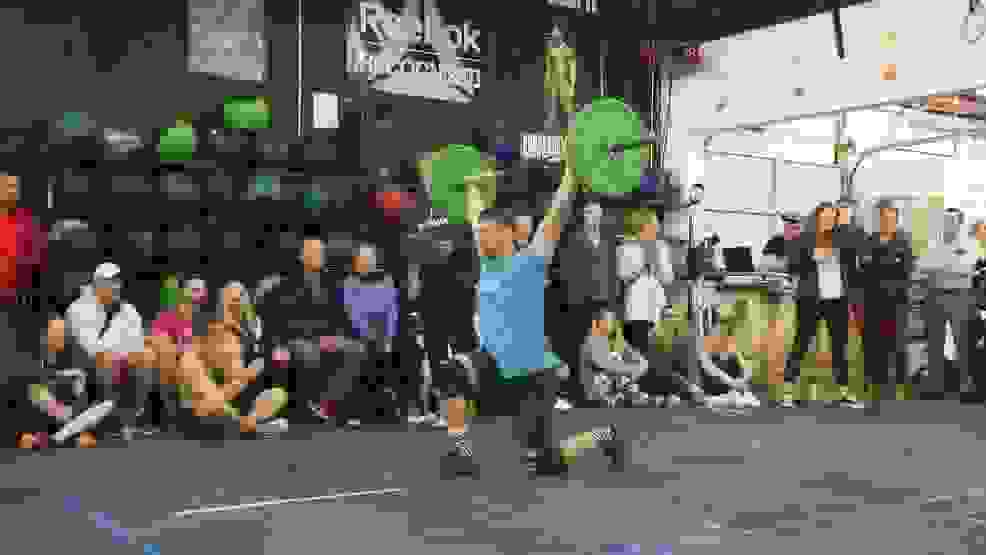 When Friday Night Meets Functional Fitness
Friday Night Lights. A concept typically regarded with high school football in the United States has extended far beyond the football stadium—and the country—in recent years.
Year after year, the CrossFit community has tuned in to watch CrossFit's live Open announcements each Thursday night. Now, though, many in the community are clearing off their schedules to dedicate Friday nights to CrossFit as well.
The idea? Bring your whole box together so everyone can get after that week's Open workout alongside one another.
"This is our favorite time of year," reveals Jaime Imbush who, with her husband Phil, owns CrossFit FRA in Frankfurt, Germany. The two have hosted Friday Night Lights at FRA several times before, including for 16.1, and are quick to point out the energetic atmosphere in the box during these events.
"We have a feeling that everyone takes their sleep, nutrition, and WODs a little bit more seriously, which in return makes the satisfaction of completing the OPEN even sweeter," she continues.
But these events aren't just for those members of the community with little to no competition experience. Even the most elite in the Sport of Fitness are joining in.
"It's like a mini Regionals or a mini Games," describes five-time CrossFit Games competitor Spencer Hendel, who—to the delight of many in Boston, Mass.—dropped in at CrossFit Southie to participate in his first ever Friday Night Lights event for 16.1.
"It allows athletes of all levels to be surrounded and cheered on by a crowd," he adds. "When you're at the CrossFit Games, you've got thousands of people surrounding the tennis stadium supporting you. This is creating a smaller-scale version of that atmosphere for people who will never have the experience."
And since many CrossFitters stick to attending class at the same time each day, attending Friday Night Lights also gives them a chance to gather at their affiliate with those from other classes. "They're not just meeting new people at these events; they're suffering alongside them," says Adam Bailey, Co-Owner of CrossFit Aldgate in London. "They get that community feel and a brand new social network at the same time."
"I don't know what it is about the Open, but it seems to bring out the best in people. Add friends cheering them on as they go through the workout and it brings out the beast they didn't know was in them."