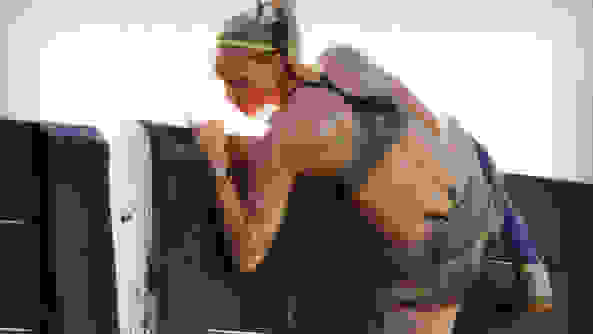 Amelia Boone Trades a Beach Body for Badges of Honor
A bikini body may be the goal of some females in training, but for elite Spartan Racer and Reebok athlete Amelia Boone aesthetics aren't the objective.
"I've always been more focused on function over form so that my body can perform well," says Boone, the 2013 Reebok Spartan Race World Champion who's been killing it in obstacle racing for years.
With rope climbs, spear throws, fire jumps, and many other brutal obstacles laid out along the course, Spartan Races are no joke.
Through running, CrossFit and weightlifting, Boone is no stranger to intense training. Yet when faced with a challenge like a down and dirty barbed wire crawl, she's learned that nothing quite prepares you—or your friends and family—for the aftermath.
"Most people think I've been attacked by a wild animal," laughs Boone, adding that in the sleeveless dress she's wearing during our interview you can see the scratches all up and down her arms. "What's funny is that I've always wanted a tattoo but could never commit to something. But in a way my scars are like having a tattoo—each one comes with a story."
When she's not scaling walls or trudging through mud, Boone works as a corporate lawyer. In such a professional role, you may assume she has to keep her athletic battle scars under cover, but Boone has no problem putting them on display. Even with bloodied knees, Boone doesn't shy away from skirts and dresses.
In fact, at times her scars are even front and center on her Instagram account, arboone11. Any kind of wound is painful and no fun, but Boone uses social media to keep things light.
Following one mid-race spill, Boone captioned a snapshot of her beat-up leg, saying, "Now I'll never make Dancing with the Stars." "Most of the time I post these pictures for humor—kind of tongue in cheek and poking fun at myself," says Boone, who doesn't like to take herself too seriously. "Sometimes you just have to laugh at the absurdity of it all."
Boone may seem laid-back about her own carnage, but that wasn't always the case.
She once believed in keeping her body in pristine condition as she got older. But her experience and scars have completely changed that.
"Now, I see that my body can do some pretty cool things so why not put it to use? All of these little scars let me know that I'm living, and that I'm out there doing something."
Does Boone love being banged up? No, of course not.
Getting new barbed wire scars or setting out to bruise and batter her body more isn't the point. She just won't let it stop her from doing what she does best. Instead she says, "the wounds and scars just happen to be byproducts of what I love to do."