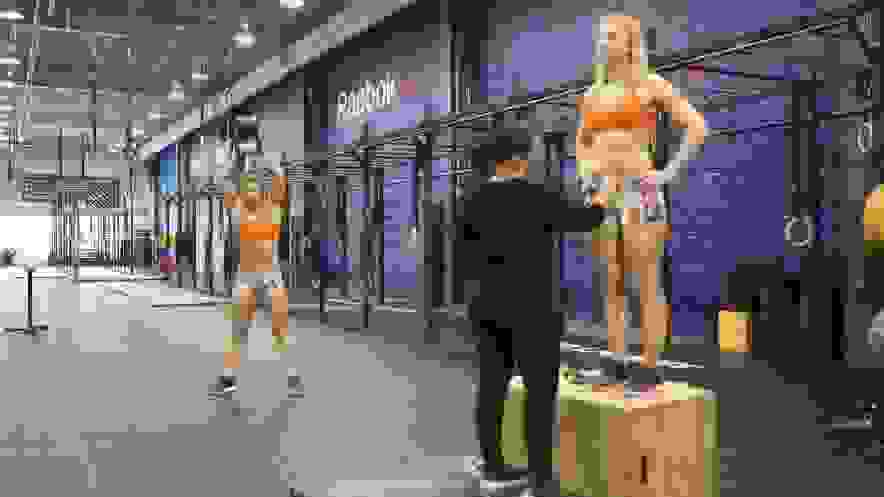 Make-up vs. Muscle-ups: Body Contouring Put to the Test
Make-up contouring – shading and highlighting parts of the face to accentuate the perfect bone structure – seems to be dominating everything from reality TV to Instagram feeds.
Recently the trend is being taken even further. Videos of women contouring their bodies, shading themselves to add the appearance of ideal abs, muscles and leg definition, have gone viral in the U.S. and across the pond.
In the time it took a make-up artist to contour one woman, we had another, Ally Bushey, bust out muscle-ups, handstand push-ups and 53 lb. kettle-bell swings. It doesn't hurt that she's a professional CrossFit athlete & Level-2 CrossFit Trainer.
"As a woman, sure, it's fun to try out new make-up," says Bushey. "But it's also fun to work hard for your body, a body you can love and feel proud of without make-up. That's more satisfying to me."
The reality: Even with a professional make-up artist, it takes upwards of 45 minutes to contour abs and legs.
Workouts of the same length could help you gain those defined legs and six-pack abs the old fashioned way.
Bushey is not alone in her thinking.
In fact, the model, Jenna Sarti, who doubles as a Pilates instructor, confesses that standing still for 45 minutes while she was contoured left her feeling lazy.
"Ally had the music blasting, and I wanted to jump off the box and join her in the workout.
"While it's nice that there's something out there that can give you beautifully contoured abs for a day, I definitely envy those abs on Ally … hers are there all day, every day," Sarti continues.
Since Sarti had already taught two Pilates classes before her contouring session, there's no debating her fitness prowess. The bigger question? Why do we hold women to one particular standard of beauty?
"Makeup is fun, but it's sad to hide all your imperfections, or even consider parts of your body imperfect," Sarti concludes.
As a four-time Reebok CrossFit Regionals competitor and one-time Reebok CrossFit Games qualifier, Bushey typically completes four workouts a day: two metcons, a lifting session and a skill session.
"Genetically, I'm not super muscular or lean," she admits. "It's taken me years of training to get my body to where it is now. I've worked for every muscle."
Do you have a go-to workout that makes you feel badass? Let us know on Twitter by tweeting to us @Reebok!