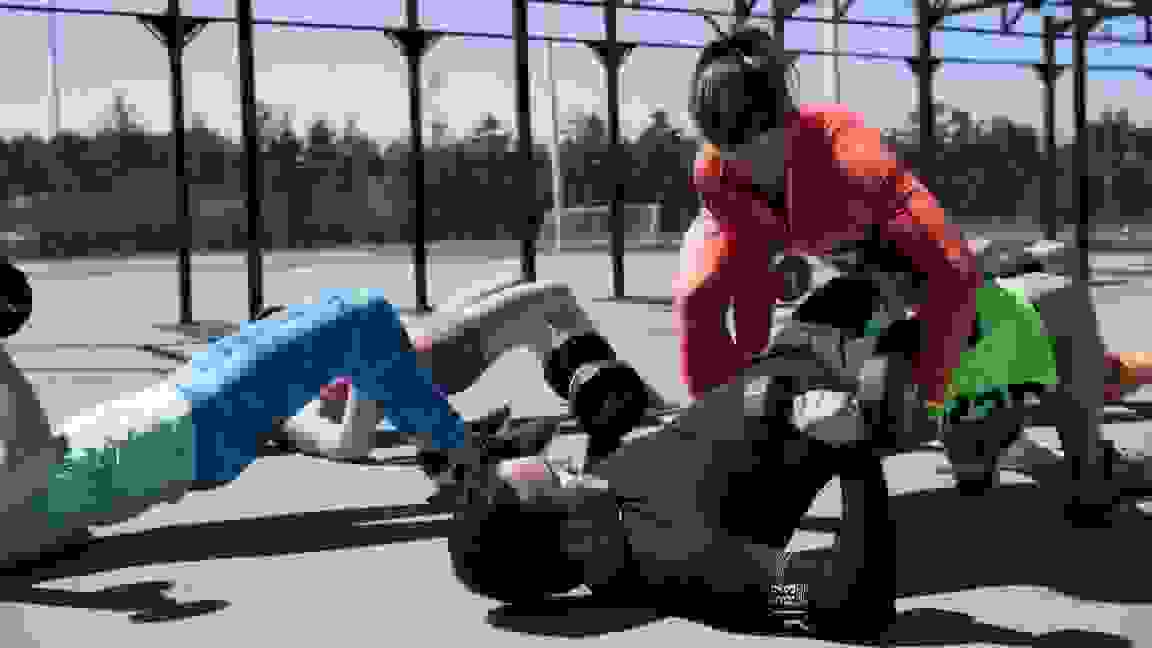 Find Your Movement with Jen Widerstrom
Jen Widerstrom didn't run home from school to watch cartoons. No, she ran home to see Arnold in his most recent bodybuilding competition.
She wanted to be just like the seven-time winner of the Mr. Olympia body-building competitions, stating "Ms. Olympia, seven times" when asked what she wanted to be when she grew up.
"Moving makes me better," says Widerstrom, one of today's most recognized television trainers, a National Academy of Sports Medicine certified fitness instructor, a Master Trainer for Dynamax Medicine Balls, a CrossFit Level 1 certified trainer, and Reebok Ambassador. "It allows me the energy, the tools, and the drive to live the purpose I'm designed to live. That's what I want."
She was always moving, like as a kid lifting weights with her dad or at gymnastics practice. That need to move never wore off, either, as she grew up to become an athlete at the University of Kansas.
"There's a sense of 'I want to participate everyday that I live, I want to be here, I want to do it.' I think movement and exercise lets you do that," she says.
Widerstrom's need for a life of health and fitness continued after college as she worked to turn her passion into a career.
She took that ingrained need to move and exercise and now uses it to help push clients. By using her own inner power and personal expectations, Widerstrom is able to inspire confidence and change in whomever she works with, something she learned how to do through her own training.
"This isn't about working out and my waistline or my PR and my back squat," Widerstrom says. "This is about life."
"And in a way, I think moving trickles out to all those other things in life because you are showing the power when you invest in yourself. It's saying I'm worth this time, I feel better, I'm a better person when I'm moving."
Widerstrom puts her time and energy into every workout and every client to get them to push themselves further, and to grow their own determination and self-certainty. The way she trains is not a battle between trainer and trainee, but instead a push to match investments.
"What happens is that when they match that investment, they are actually investing in themselves. And then they see the power of what that looks like. It's not just feeling, but it's seeing and understanding and now instead of them going at it alone, they have a partner in crime with them working step by step."
Having that partner in crime is key, Widerstrom says.
"I didn't just, oops! fall out of the sky and figure this out, I've had people in my life walk me every step of the way who I could reach out for help and look to for questions." Even now, as a professional trainer, Widerstrom knows that it's your support team that gets you through.
"Even as a trainer, if I have a client struggling with X or Y, I ask other trainers for help and ask what do you think? It's okay to ask for help, and letting people know that that's okay or letting them know that there is no shame in needing a little support, is powerful. And then what starts to happen is that they pay that forward and they share that for somebody else."
And pay it forward she does.
Widerstrom always aims to spread her own confidence and passion for life, sometimes through a workout with a friend and sometimes in a helpful conversation. However she is helping others, Widerstrom always comes back to crediting moving and investing in herself, in her body, and her mind.