Miss Pop Shows You How to Match your Nails to Your Leggings
From detailed landscapes to intricate designs, nail art is on a whole other level these days.
The trend has exploded in recent years with cameras set up just for manicures at award shows and DIY tutorials mesmerizing us on Instagram. We've come a long way from simply deciding between nudes or neon palettes at the salon.
That's thanks in large part to nail artists like Miss Pop who literally has her finger on the pulse of nail art trends. You've most likely seen her work on the runways during the biggest fashion shows in New York, or in a magazine on the hands of A-list celebrities.
"I see my hands all day— typing, reaching for a drink, petting my neighbor's poodle," says Miss Pop. "So, nail art is the beauty I do for myself. A few other people with an eye for detail might notice my nails, but really it's art that speaks directly to me—by me."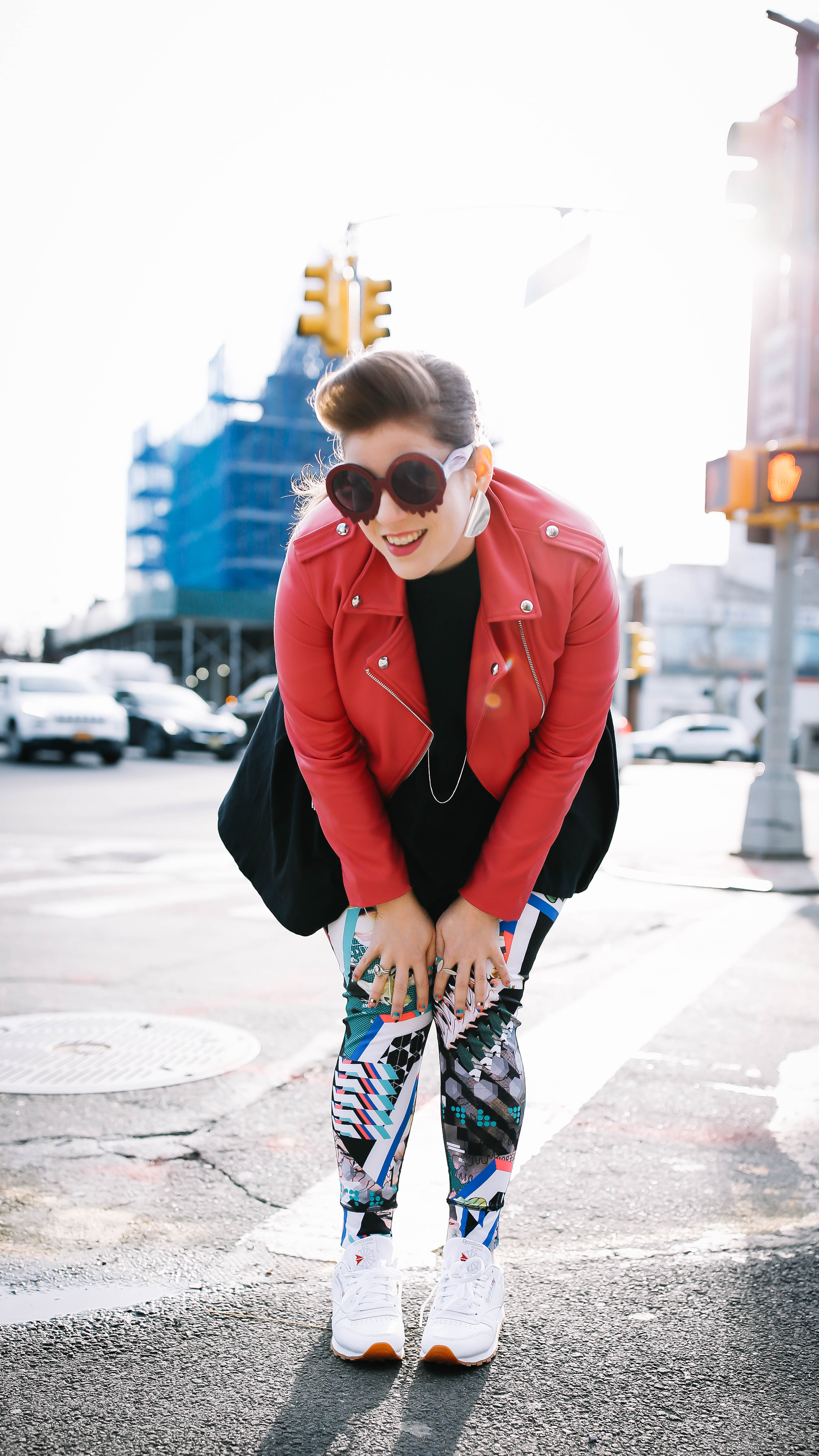 While Miss Pop might be the beneficiary of the art on her own nails, she also uses it to help others express themselves and really make a statement.
"As an intersectional feminist, it's an exciting time to be in the beauty industry," she says. "I see inclusion growing by leap and bounds. I feel my role as a nail artist is to help people feel positively about themselves and connected to their appearance."
Where some see nail art as an extension of an outfit or style, Miss Pop believes it has even more power than that.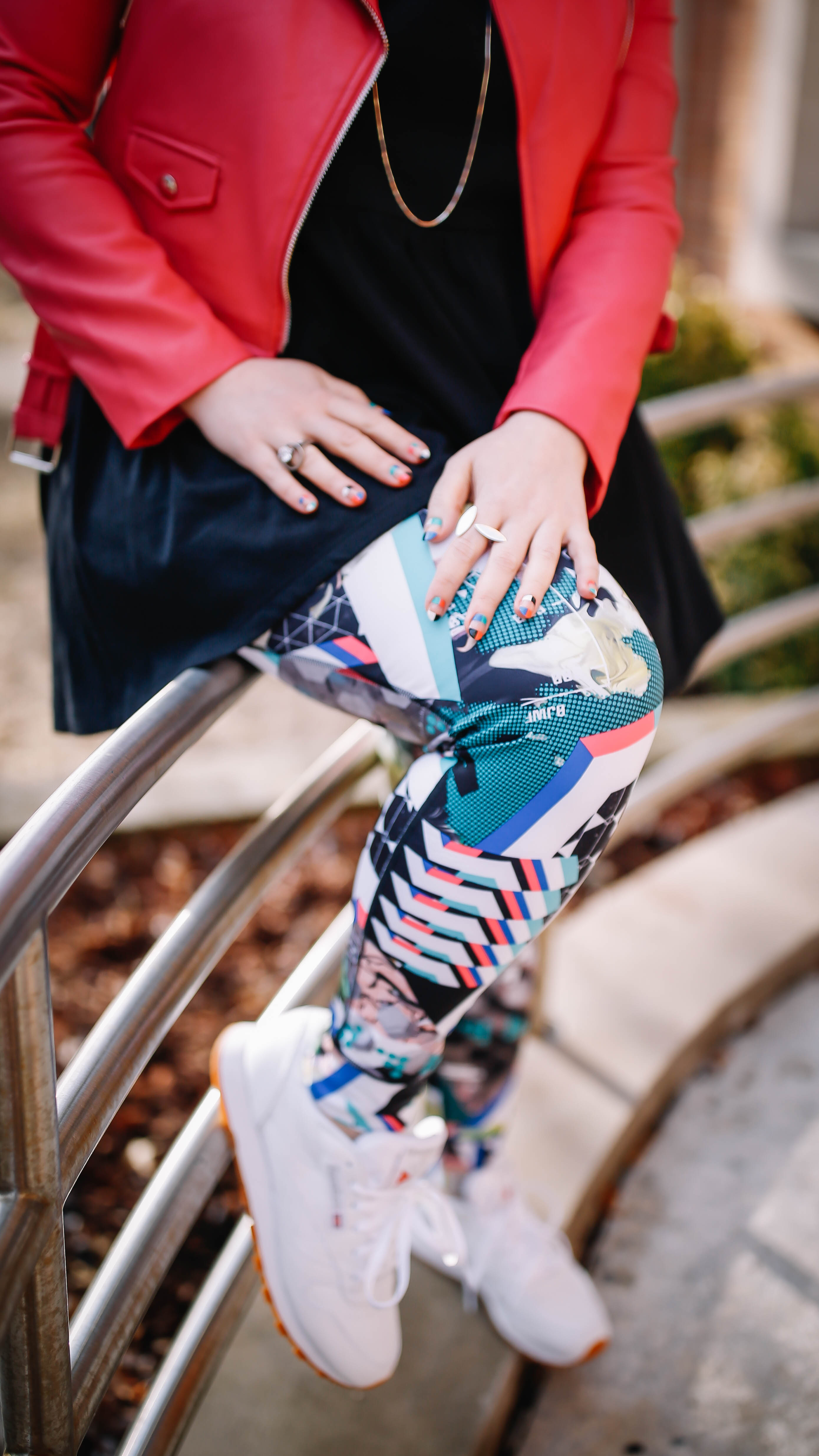 "I see beauty products, especially nail polish, as a tool of transformation and self-expression," she says.
"It's also worth noting that nail art specifically is a female and minority dominated industry— that is a powerful place to be. As a community of artists from all different backgrounds, ethnicities, religions, gender identities, etc., united by a common love of nail color, we can't miss this opportunity to share our beautiful, all-embracing, vision of the world."
There's so much room for expression that Miss Pop has expanded her work to beyond just nails (food for thought for your next trip to the salon)!
"My canvas isn't just limited to nails," she says. "I've been extending my looks down the fingers, adding glitter, rhinestones and studs using clear, brush on eyelash glue."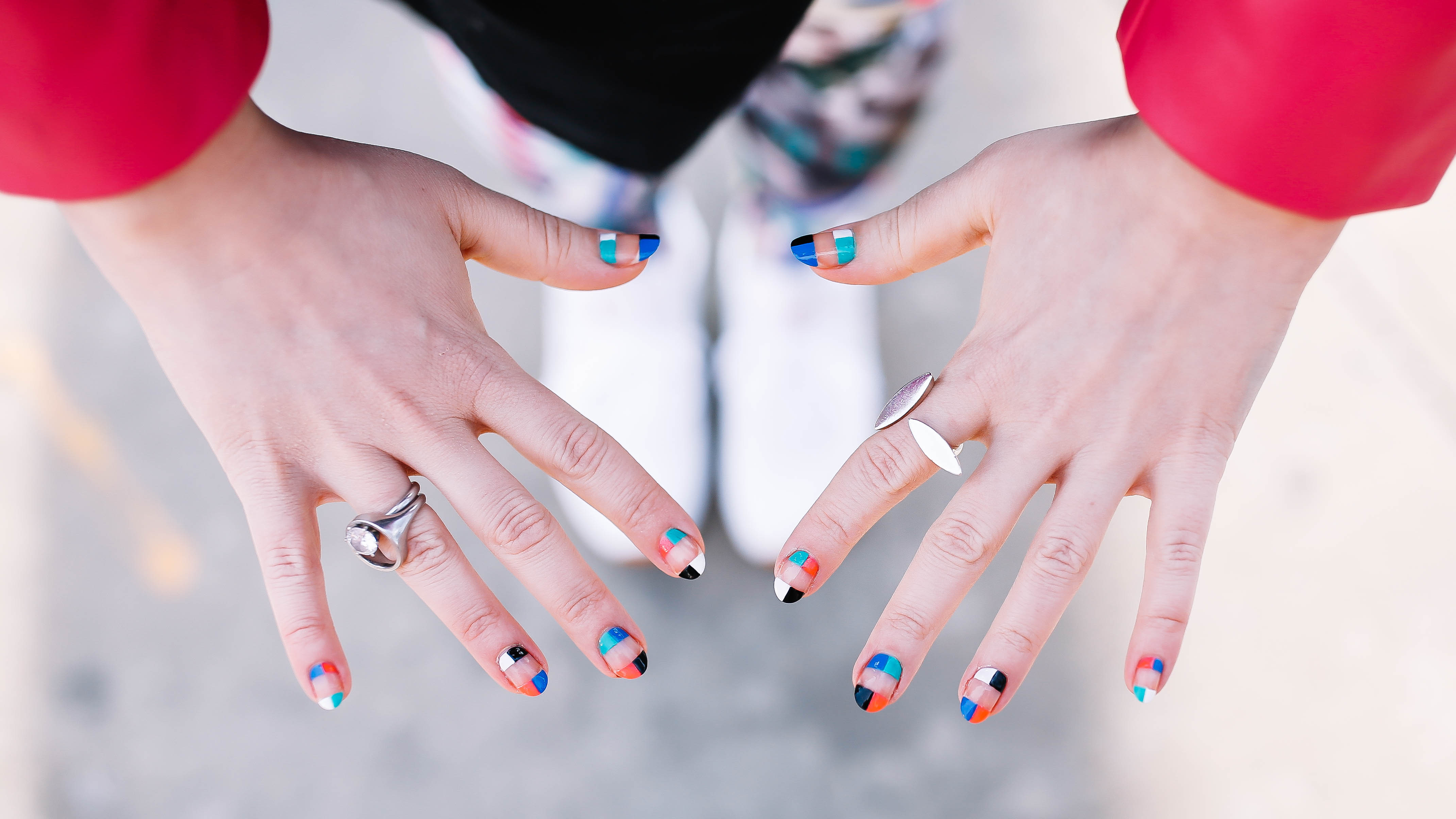 As far as the trends she's seeing right now? Miss Pop showed us an easy DIY method to hop on the trend of mixing and matching your nails to your outfit or in this case graphic leggings. The design is simple and can be replicated for any fun print you have in your closet.
Along with the video above, here's her steps to making the design come to life at home (seriously—you can do it!)
1. Apply a strip of painter's tape just below the whites of your nail. Then, eyeball the same distance of the width of your nail whites on the opposite end of the nail (up from the cuticle) and place another piece of tape. It's A-Okay if your pieces of tape overlap.
2. Paint on base coat from the tape out to the edge of your nail, be sure not to completely cover the tape.
3. Choose a few shades (here we used 5) that go with your fab Reebok gear. Paint one coat of color in each corner of your nail.
4. For the second coat of color, you'll want to go nail by nail. Paint a second coat of every shade in each corner. Allow a minute for the wet paint to set— not completely dry, but not wet to the touch. Then, lift the tape to reveal your custom nail art look.
5. Optional Step: Clean up any stray polish with a clean up brush dipped in nail polish remover.
6. Seal your awesome Reebok look with top coat.
Did you use Miss Pop's tips to create your own mix and match design? Tweet @ReebokWomen and show us!