The Expert's Guide To Getting Your Fastest Feet
Sure, some of your speed is talent you were born with. But for everything else, there's Luis Badillo, Jr., the Instagram-star and trainer that professional athletes trust to work on their quickness so that they're on the top of their game, all the time.
And, of course, Fast Flexweave shoes to help with your speed and agility training.
In honor of our #FastestFeet Challenge, we went straight to Badillo, Jr. to get some tips for how you can get faster feet in time to submit your video to enter the contest.
While all you have to do is film yourself for eight seconds doing toe taps over a vertical line (don't forget to touch both your right and left toe down with every step over the line!), he still has some insight into how you can go faster and look sharper as you do it. Check them out below.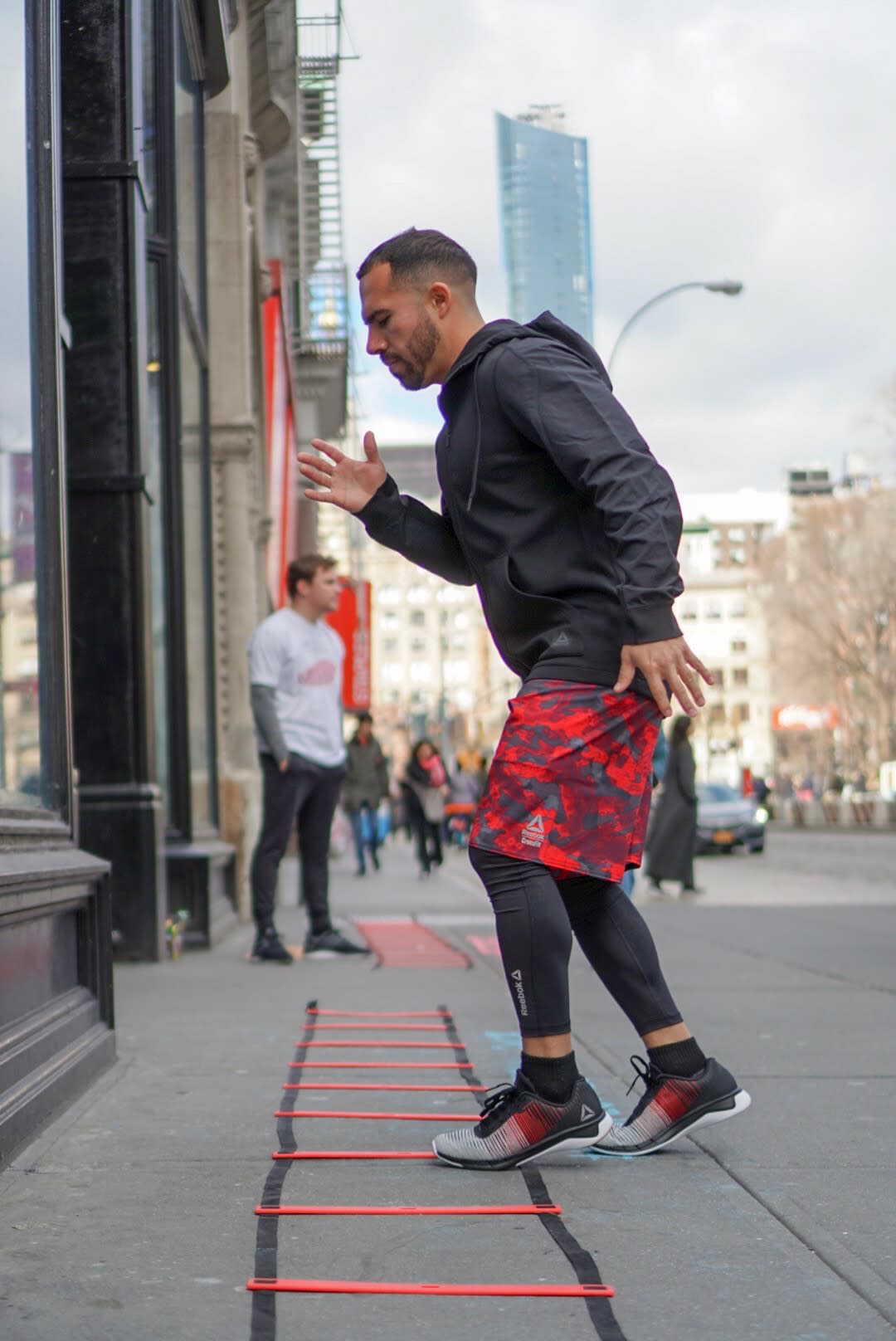 1. Slow down. It might sound simple and counterintuitive, but Badillo, Jr. says it's one of his best tips. "I like to have my athletes perform a footwork drill 10-20 times going slow." When he says that, he means literally walking the drill.
"I move as fast as I do flawlessly because it's pretty much muscle memory," he says. "Before I could do that, I walked it, I jogged it, and then I put it on full speed."
He recommends repeating drills over and over from a fast walking pace to a slow jog until your body familiarizes itself.
2. Keep your feet at shoulder width. When doing drills, you want your feet 6-10 inches apart.
"In my professional opinion, that lets you execute as fast as possible, while you're still in control," says Badillo, Jr. "Keep your footwork at shoulder width all the time."
3. Work with a ladder. Luis' secret training weapon is a ladder on the ground. "You can do 50 different ladder drills, and they all require different intensity," he says.
Luis recommends you use a ladder—or draw one on the ground—to try all sorts of different combinations. "It's those quick and explosive movements that will help you get your speed up," he says.
4. Time yourself. If you want to get faster, Badillo, Jr. says you have to use a stopwatch to know how hard you're pushing yourself.
That's why the #FastestFeet Challenge is the perfect test: Keep timing yourself for eight seconds, and see how much you can improve your total number of touches within that time frame.
5. Do the ABCs. Try Luis's ABC drill that involves speed, power, and cardio. "It's very intense," Badillo, Jr. confesses. "But it's a way to incorporate explosiveness and speed in one drill." In a circuit, you do these three things:
A: Any footwork drill, like two feet in, two feet out, all the way down a ladder.
B: A 50-yard sprint.
C: An explosive movement, like a squat or a jump lunge. Do all three over and over until your consistent sprint speed starts to fade. Then do it again tomorrow!
Show us your fastest feet between March 5th and March 26th for a chance to win The Ultimate Gridiron Getaway in Dallas! Take the Fastest Feet Challenge at #fastestfeet on Instagram and Twitter.