Shaq's Closet is an Epic Collection of Vintage '90s Reebok Gear
You can't even think about the '90s and sneakers without Shaquille O'Neal and Reebok coming to mind.
Shaq's legendary basketball career began in 1992 and shortly after that he signed with Reebok, embarking on an iconic partnership that has cemented his place in history beyond the court as a major force of the '90s and in the sneaker world.
Even Reebok partner Victoria Beckham paid homage to Shaq's career and '90s legacy with her first capsule earlier this year, because he had inspired her so much. This man is a timeless trend all his own.
That's why when Reebok Classic decided to re-release their 1993 Aztrek silhouette from the archive, they sent '90s enthusiast and social media phenomenon, Jay Versace to Shaq's house to check out his one-of-a-kind collection of '90s Reebok collectibles and vintage apparel and to chat what made the '90s era so great.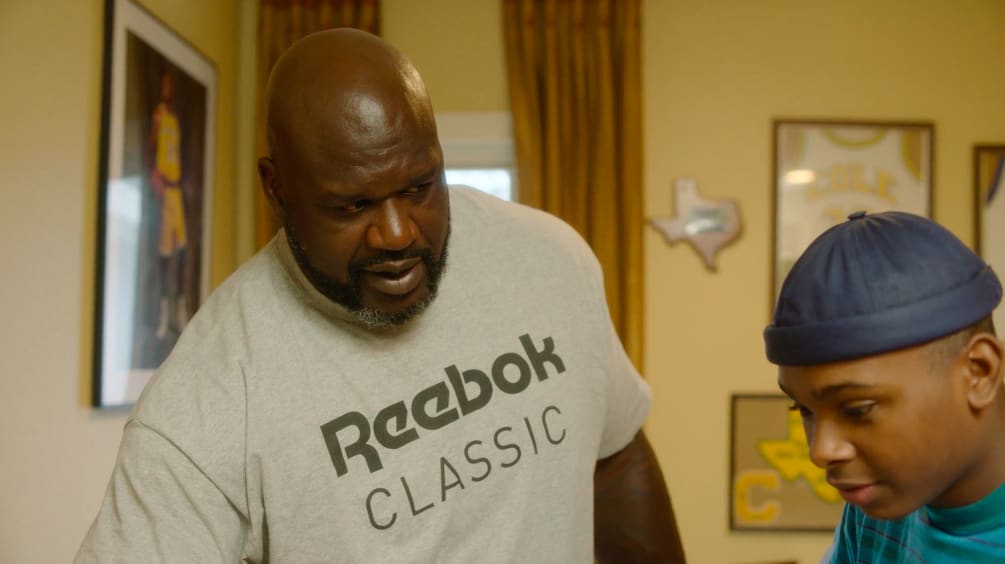 But before they get to the '90s shrine that is Shaq's closet, Jay was introduced to Shaq's accolades room (you read that right) to set the tone. An entire room dedicated to housing the basketball star's greatest achievements filled with awards, photos, framed jerseys, glass encased basketballs—and there's even a vase that holds the remnants of a backboard he smashed. We kid you not.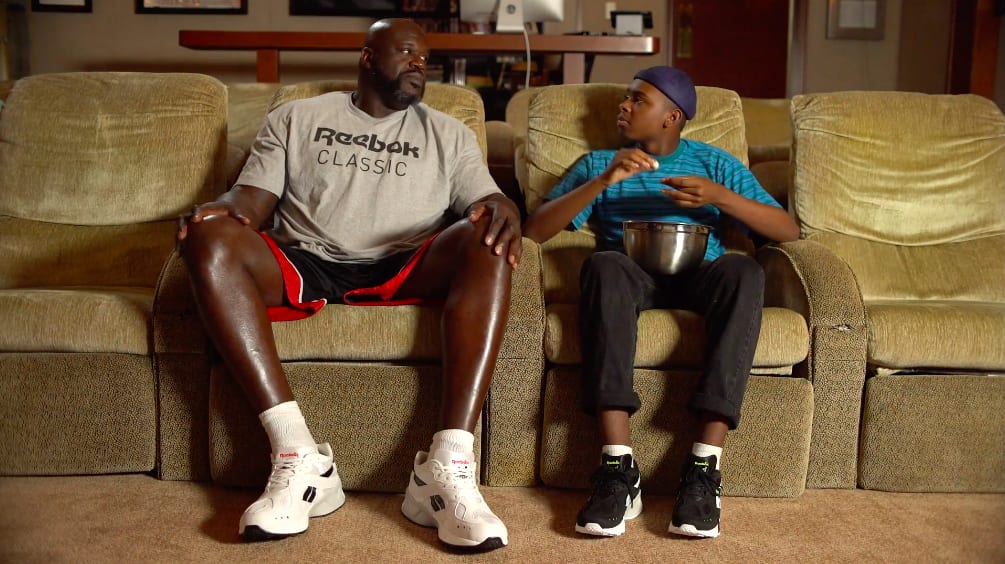 After the trip down memory lane, the duo sat down to share a bowl of popcorn in Shaq's home theater for a pow wow about all things Reebok and the '90s where Jay received some words of wisdom from the legend.
JAY: How would you describe your style from back in the day?
SHAQ: Reebok vintage shirts, jeans, the simple Reeboks, the running Reeboks.
JAY: What do you miss about the '90s style and that time that you don't see now?
SHAQ: I miss the baggy clothes. I miss the matching of the colors perfectly. Where I'm from the shoes and the shirt have to match. Period. I don't care what pants you wear, but whatever color shirt it is it has to match the shoes.
JAY: How do you reinvent yourself and what do you do when people try to copy you? I'm always coming up with something different. One thing about me is I'm always changing my style. That's just always something I do.
SHAQ: You have to understand that the word inspire brings responsibility. You inspire somebody that means they look up to you. My advice to young fellas is don't look at it is competition look at it as everybody's saying, 'I'm the man I want to be like him.' Just keep doing what you do and stick to your format and they will always follow you.
Once they actually make their way to the closet Shaq and Jay sifted through all different items for the collection, landing on some Reebok tees, action figures and memorabilia while casually bypassing Shaq's SIZE 22 Aztreks sitting on a shelf nearby.
When Jay selects a vintage Reebok black tee with the words "Shaq Attaq" on it, Shaq remembers the reason behind the design. A strong message to his competitors at the time.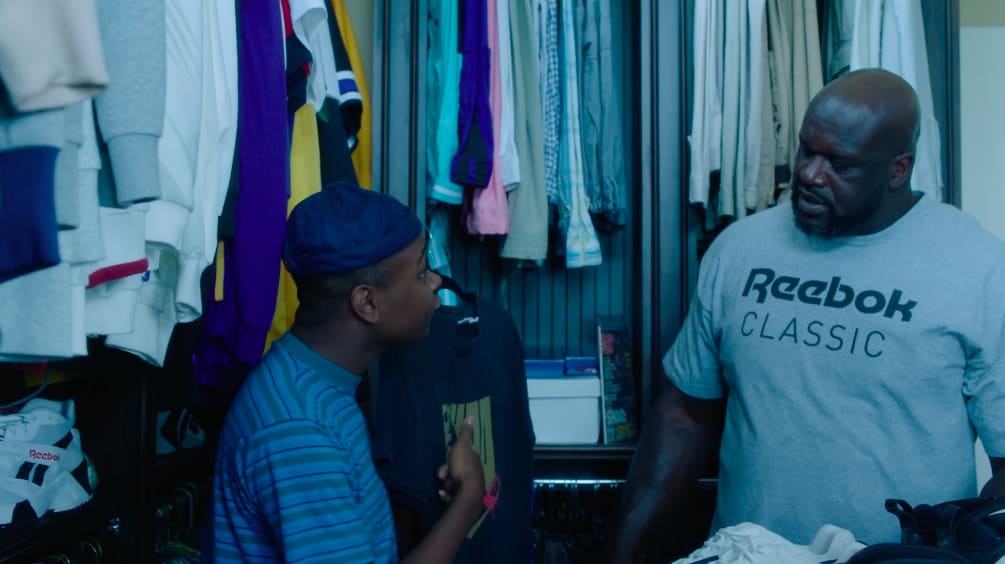 "I designed it. Shaq Attaq. This was a subliminal message to all the other companies and other basketball players that I'm coming on the attack like a vamp," he says.
Another Reebok tee pulled from the racks reads "Shaq'd" with a backboard design on it. It's one of Shaq's favorites.
"Shaq'd meant if you see a broken backboard, it was me, I did it. I'm coming to every arena, I'm coming tear your backboard up, show you the dunk, show you the bottom of my Reebok, put my foot in your face and let you know you've been Shaq'd."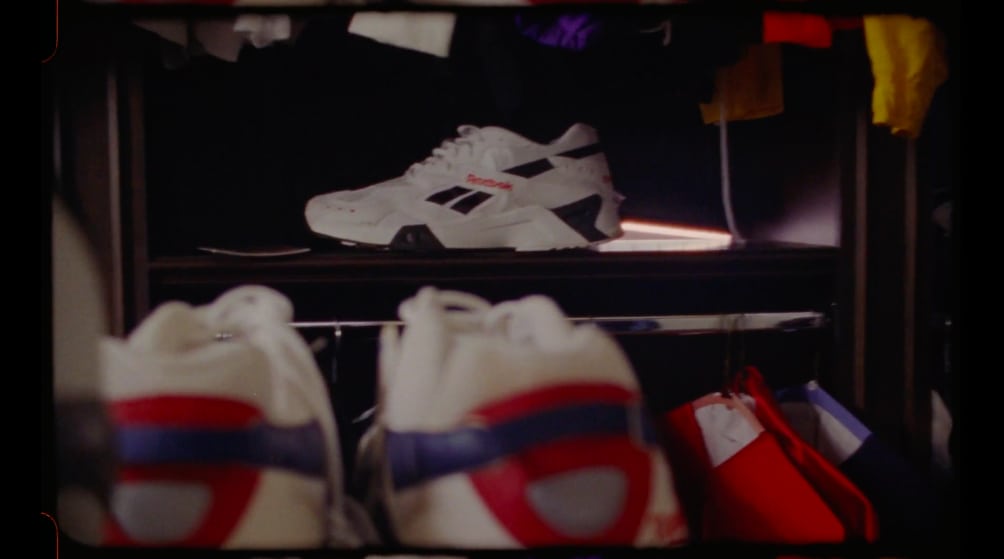 Just as the Aztrek was a silhouette before its time, Shaq's iconic one-of-a-kind collection is a rare representation of his style from back in the day, a time when windbreakers and chunky dad shoes were must-haves and have come back in style today.
For more information on the Aztrek click here.