Best CrossFit Shorts for Men: Find the Right Pair for Your Next Workout
Make shopping for shorts quick and easy with this guide.
There's no doubt that CrossFit changed the way you approach fitness—so why are you still dressing the same?
Wearing sweatpants and baggy, cotton t-shirts to the gym is fine for men who plan to spend an hour on the leg curl machine. But if your workouts have you squatting, running and jumping—as one does at CrossFit—those clothes may not be the most conducive to your success. Excess fabric can get in the way of your movement and extra layers will leave you in a pool of sweat.
When it comes to bottoms, the smartest option for men is to wear shorts to your CrossFit classes. Not only will they keep you cool when you're in the heat of your WOD (workout of the day), but most shorts enable free range of motion.
To save you from wandering aimlessly trying to determine what differentiates one pair of black shorts from another, we've taken care of that for you. The list below outlines the best CrossFit shorts for men, making it simple to find the pair that matches your preferences.
Meet your go-to, everyday short! The Reebok CrossFit Austin II Shorts have been one of the most popular, best-selling CrossFit shorts for men for nearly a decade. There's nothing overly complicated or jazzy about these shorts, and that's why CrossFitters of all abilities love them. The Austin II Shorts are lightweight, relaxed, and have a clean, simple design. On each side of the shorts, you will notice a high slit which was put on there to enable full range of motion. Think: if you're catching a clean in the bottom of a squat, these shorts allow you to squat low without the risk that you'll rip the sides of your shorts or the shorts will impede you from reaching that bottom position. Pockets add storage, and the shorts come in five colors, meaning you really can (as many men do) wear a different pair each weekday.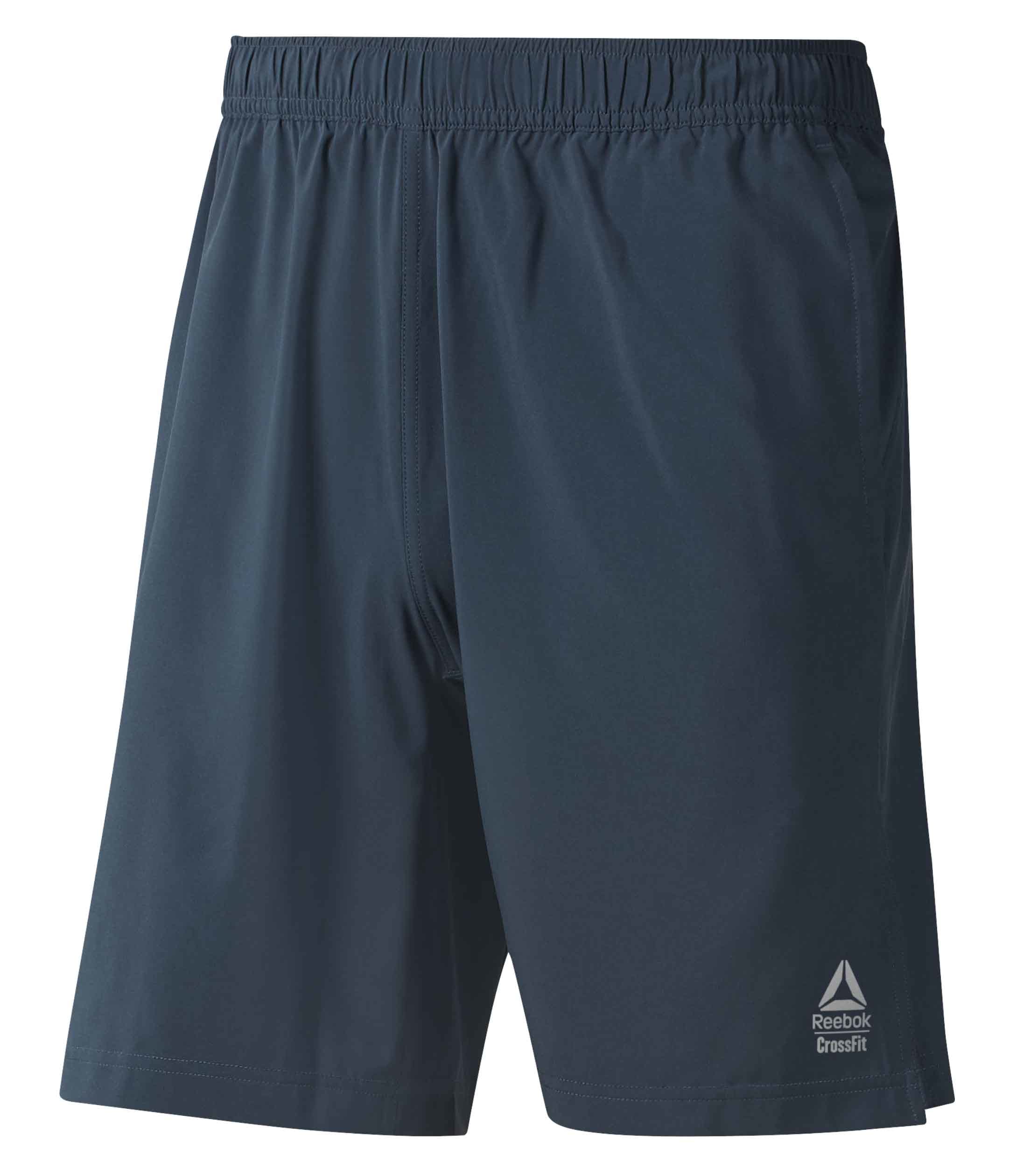 Reebok CrossFit Austin II Shorts, $50; Reebok.com
These shorts are made of the same materials and have the same pockets and side slits as the Austin II Shorts described above. The biggest difference between the two pairs is the waistband. The Epic Base Shorts include a drawcord waistband so you can manually tighten and loosen your shorts, ensuring they fit exactly as you desire at the waist.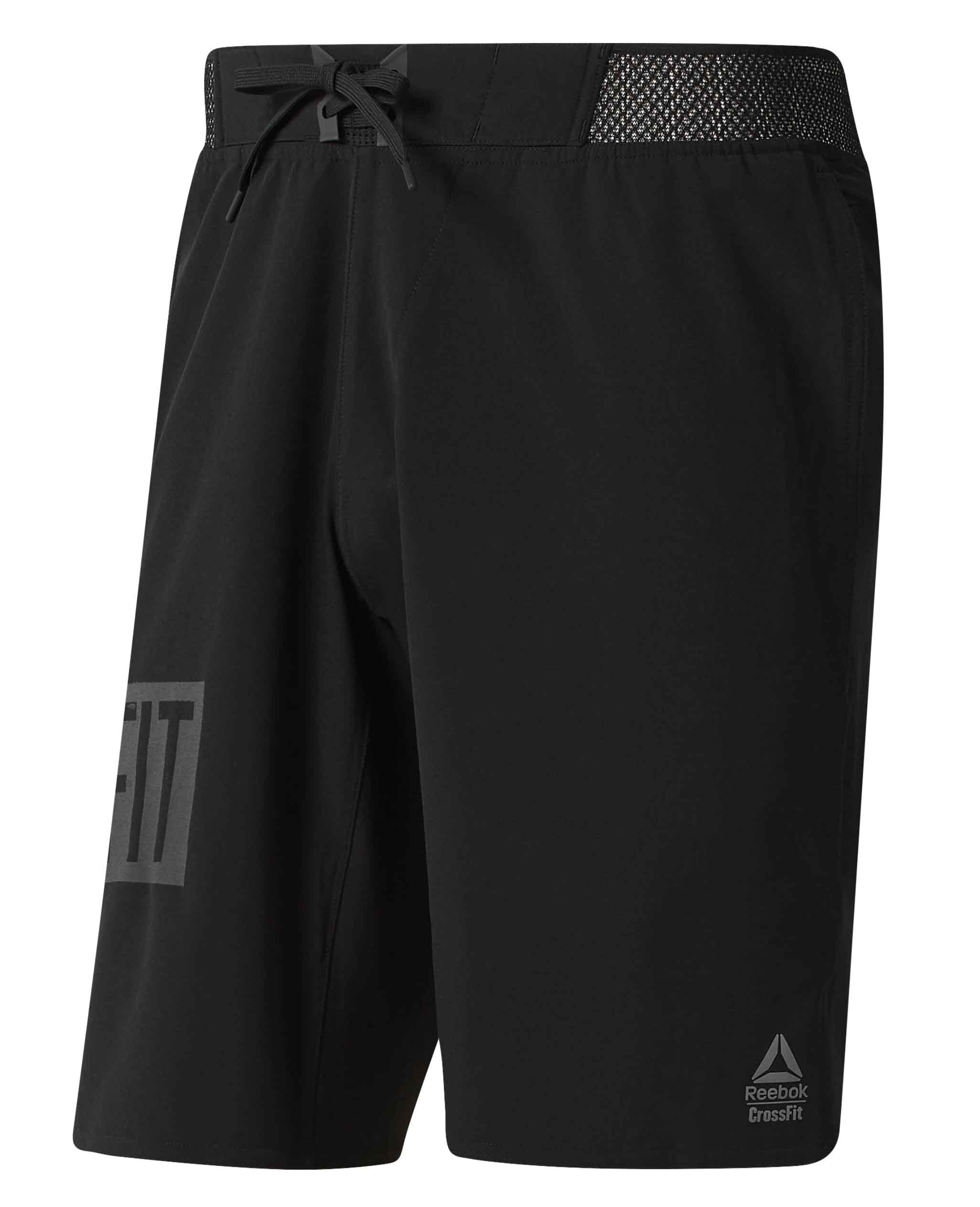 Reebok CrossFit Epic Base Shorts, $60; Reebok.com
Crafted with polyester and knit materials, the Reebok CrossFit Speedwick Shorts are considered more wearable for outside-of-the-gym activities than most men's gym shorts. Yes, they were designed to be worn during workouts (the fabric wicks away sweat to help you stay cool), but the combination of these fabrics gives the shorts a more lifestyle look. If you're planning to grab beers after a Friday night WOD, this is the perfect pair of shorts to wear; they'll allow you to move with ease during the workout while not giving off the appearance that you came to the bar… in your sweaty gym clothes.
Reebok CrossFit Speedwick Shorts, $55; Reebok.com
If you want to dress like the pros: Froning Shorts
If you're a CrossFit OG, you know that when CrossFit Games athlete Rich Froning says a product holds up, it must really hold up. For beginners just getting into CrossFit, allow me to introduce you to Froning. Viewed by many as CrossFit's 'GOAT' (Greatest of All Time), he has won the CrossFit Games four times as an individual and three times on a team. His namesake shorts—which were designed in collaboration with Froning and sport his logo in the bottom corner—are both durable and comfortable. Froning himself notes that they can withstand a lot of wear and tear in the gym, which is particularly great for men who train at a high volume.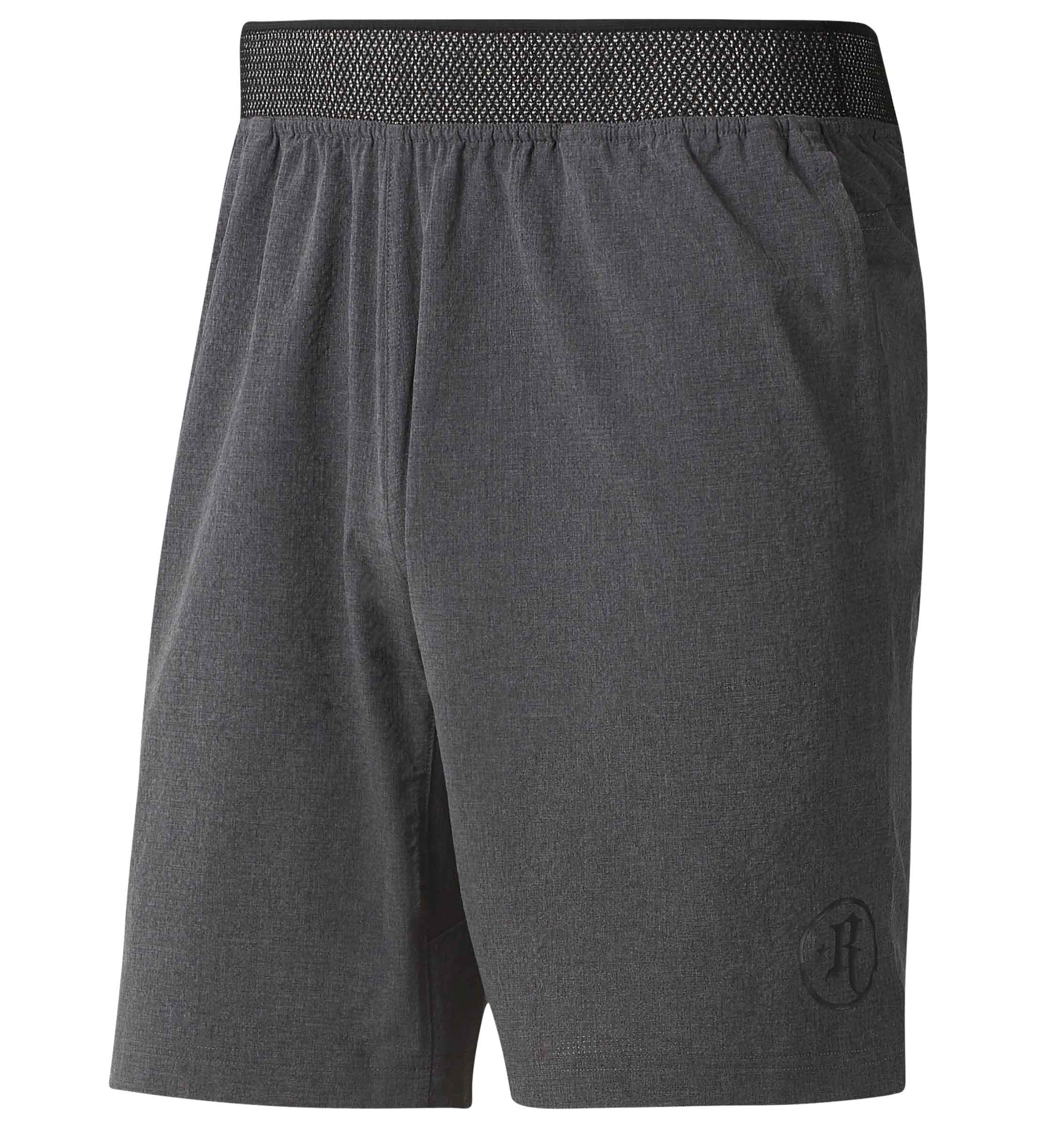 Froning Shorts, $65; Reebok.com
With a 6-inch inseam, these are the shortest length you'll find in CrossFit shorts for men. Since most of us aren't sitting around measuring inseams, we'll clue you in. It's likely the shorts you're currently wearing to the gym have a 9-inch or 10-inch inseam, and a 6-inch inseam is commonly seen in running shorts. While the shorter length already guarantees more breathability for your legs, know that the super-lightweight fabric adds another element of breathability. And hey, if taking regular CrossFit classes has been building up your quad muscles, this pair of shorts just gives you an excuse to show them off.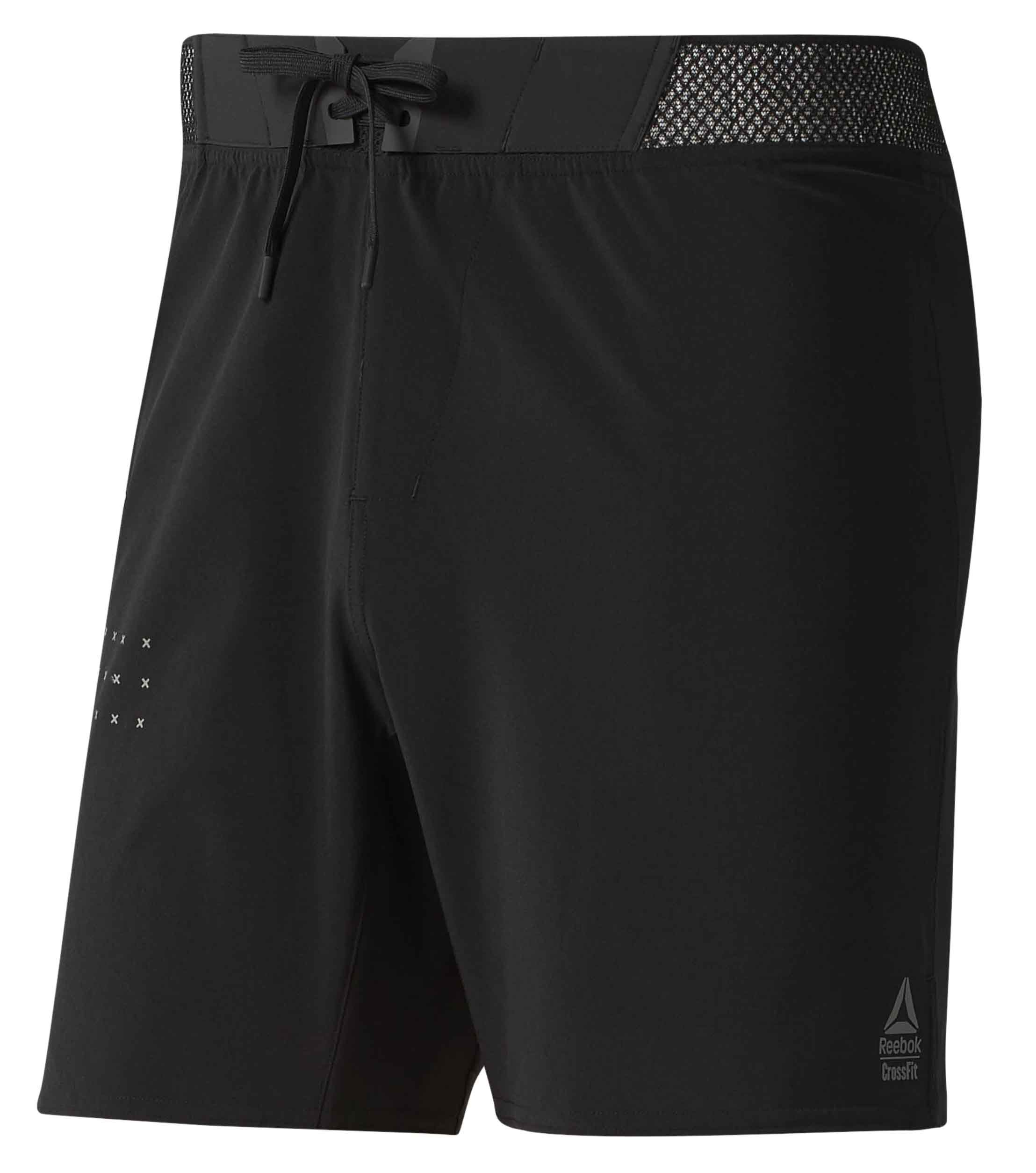 Reebok CrossFit Epic Shortest Shorts, $65; Reebok.com
At first glance, you may mistake these shorts for swim trunks. Well, you're not wrong! The Reebok CrossFit Epic Cordlock Shorts can double as both CrossFit shorts and a swimsuit. They're made with a water-repellent coating which keeps the outer fabric from getting saturated with moisture. This allows the shorts to absorb water faster than a normal pair of shorts. If you're someone who does a lot of pool or beach workouts in the summer—combining short swims with out-of-the-water bodyweight movements—you would be smart to invest in this pair of shorts as they will stand up nicely when you're both in and out of the water. Likewise, if you have a tropical vacation planned and you're hoping to sneak in a few workouts throughout your stay, this is the pair of shorts to pack. They're ability to dry quickly will allow you to wear them multiple days in a row and save you from crowding the suitcase with shorts and swim attire.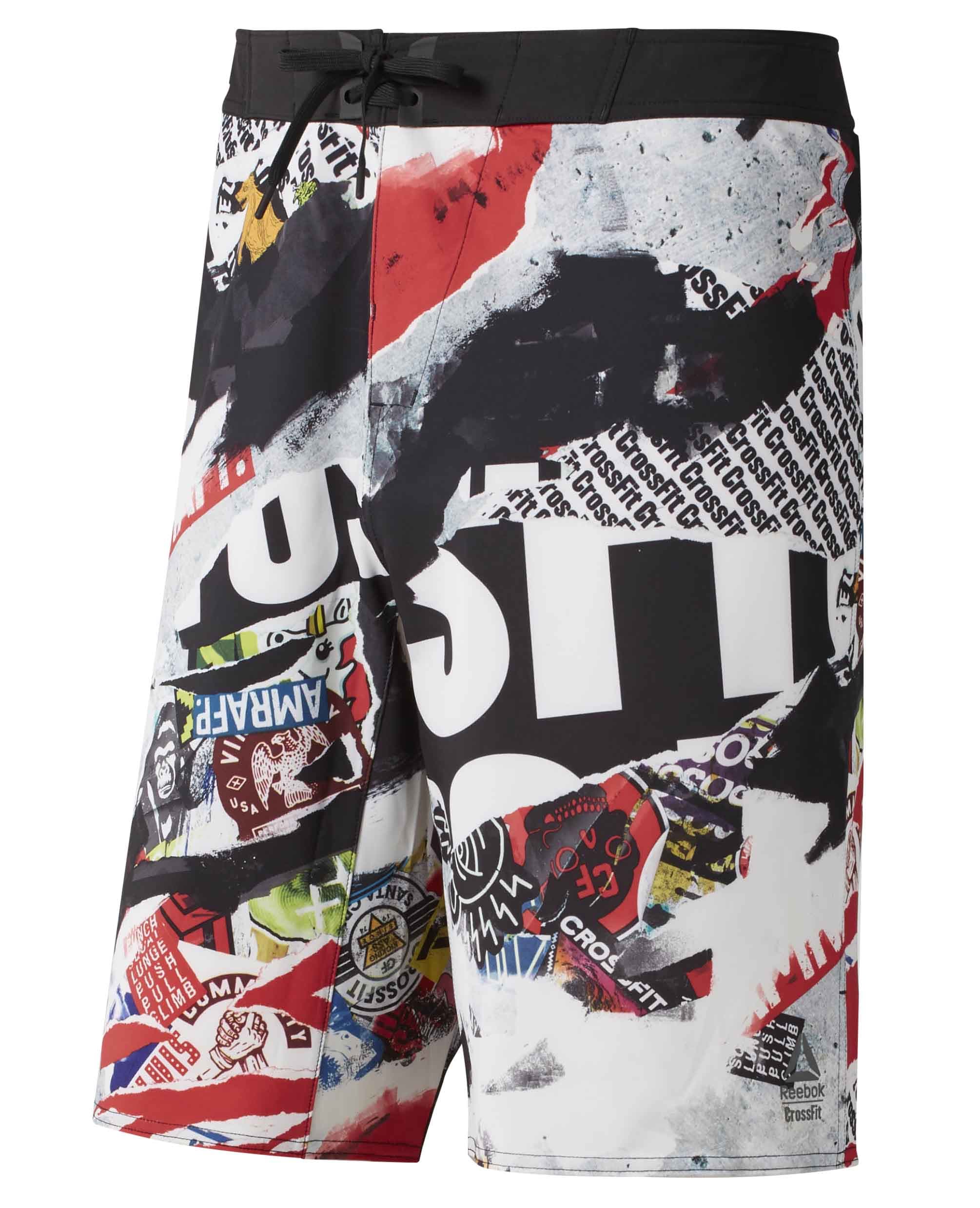 Reebok CrossFit Epic Cordlock Shorts, $70; Reebok.com
Shop all CrossFit shorts for men. If you're looking for the right pair of CrossFit shorts for the women in your life, here is a breakdown of women's offerings.