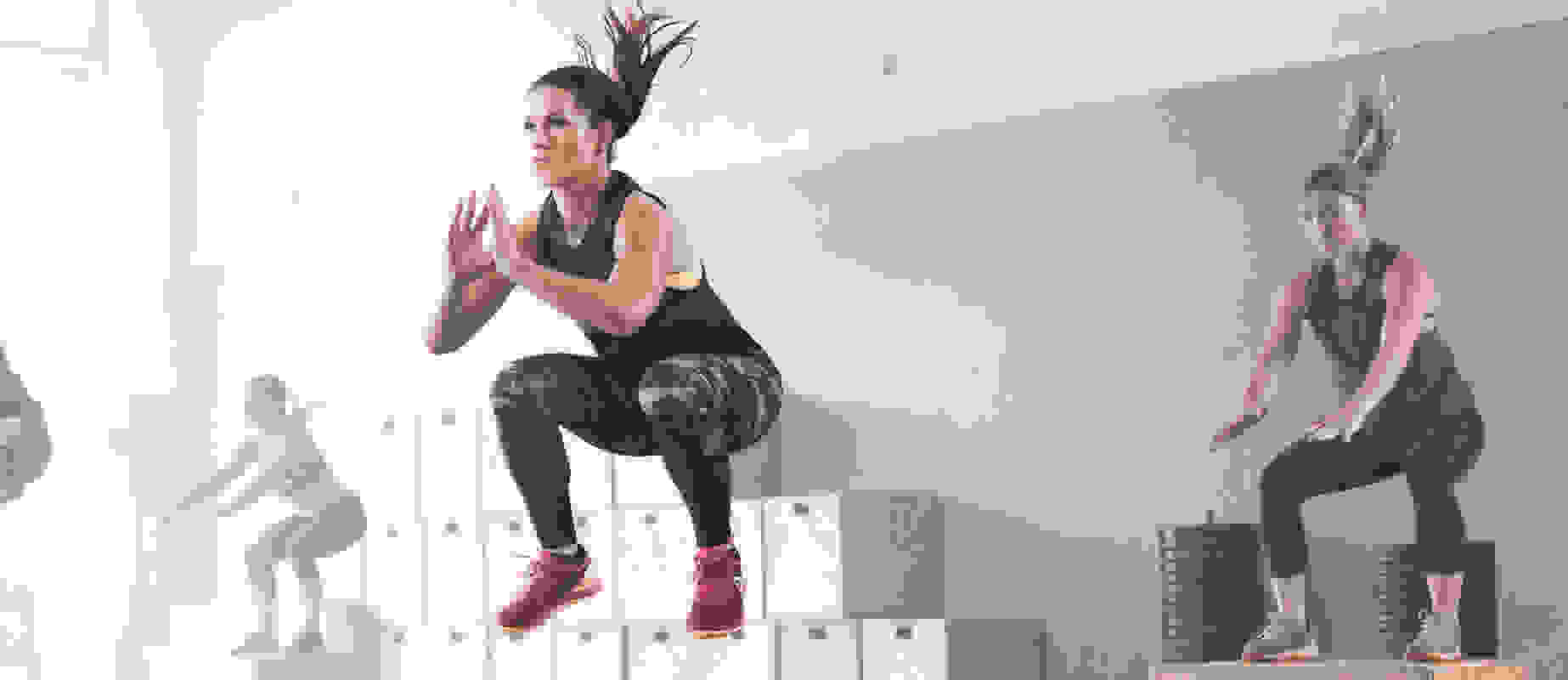 The Best CrossFit Shoes for Women in 2019
Made for lifting, lunging, pulling and pressing, here are the best women's sneakers for your next CrossFit workout.
Not many people realize the importance of wearing the right shoes according to your workout. If you're like many other women out there, you have one pair of tried-and-true sneakers you've put through everything from hiking to CrossFit training to running to weightlifting without a blink of an eye. Though it may seem normal to have one sneaker to do it all, wearing the incorrect shoes for a workout can make you prone to serious injuries and prevent you from performing your best.
Especially when it comes to a high-intensity workout like CrossFit, you need gear that is up for the same challenge that you are; between power lifting, rope climbing, running and jumping etc. CrossFit's diverse range of full-body exercises can be super demanding not only on your mind and body but also on your footwear. Not to mention, the wide array of movements in a given CrossFit workout makes for a long list of boxes your shoes should check-off: support, flexibility, traction, mobility… is added style too much to ask? The best shoes for CrossFit are ones specially designed to provide balance, helping you maintain your form, and optimize energy potential, allowing for greater performance. How do we know? Because we made them.
There's no "one size fits all" for fitness shoes. When shopping for sneakers, you have to consider what activity those sneakers should be supporting you through. Say you're a power lifting pro: you'll need CrossFit sneakers with a bit of heel, extra structure on the frame, and a grippy outsole to support your stance. Rope climbing more your style? Your best CrossFit sneaker has max mobility and extra flex for a shoe that clings with you.
No matter the exercise you excel in, we have a CrossFit sneaker designed specifically to match. With an extensive assortment of CrossFit sneakers specialized for everything from breathability to durability, we've got the 6 best women's shoes for your next CrossFit workout no matter your preference. Keep reading to find the best pair of women's CrossFit shoes according to your workout.
Yeah, you read that right. With 8 editions of this iconic CrossFit silhouette, the Nano 8 is the proud product of years of designing and redesigning by and for the CrossFit community. Specially engineered to support you in whatever CrossFit workout the day brings, the Nano 8 is the perfect shoe for the athlete that does it all. Since 2010, Reebok has specially engineered the Nano to create the most versatile and dependable CrossFit shoe out there. Created with Flexweave Technology, the flexible upper provides breathability, stability, and durability, while the added cushioning in the forefoot helps keep you comfortable as you crush your PRs. It also comes in multiple colors if you're looking for something beyond white.
While you're at it, pick up another crisp colorway of this staple sneaker. When met with a CrossFit shoe that checks all the boxes for optimal, versatile workout performance like Nano 8, you may as well have a pair to go with any outfit. This CrossFit shoe is the best of the best, time and time again – between the low-cut design, flex grooves in the forefoot, and a new heel bootie construction, Nano 8 is the best CrossFit sneaker to support you in any CrossFit exercise.
Equipped with flex grooves that aid foot flexibility, the Nano 6 Covert has the specialized grip perfect for an athlete that's always on the move. With a compression-molded, shock absorbent midsole and raised lug patterned rubber outsole, consider the Nano 6 Covert your best high-intensity training companion. The low-cut design allows for enhanced mobility while RopePro technology offers unparalleled traction and bite for every rope climb, box jump, and pivot. This CrossFit shoe's low-cut gives you enhanced freedom of motion for quicker transitions without sacrificing stability. Not to mention a special message on the heel tab to get you some extra motivation during your WOD. Plus, this clean, black and purple colorway guarantees unapologetic style to match your unapologetic game.
Another special release of the Nano 6, part of the Excuses pack offers the same specialized grip, flexibility, and shock absorbing mobility as the one above – but in a sleek, black and white colorway to match every workout and every outfit. RopePro teeth on the midfoot and a raised lug pattern on the outsole add traction and bite, while the low-cut design allows for quick transitions and mobility. The best women's shoe for any CrossFit workout, cardio burst, or high-intensity session, Nano 6 was specially engineered to propel you through every sprint, jump, and grueling rope climb with confidence.
IF YOU'RE LOOKING TO LIFT: Legacy Lifter
Any weightlifter knows that the key to better lifting is better form. But, did you know that good form starts with the shoes you wear? Created in collaboration with weightlifting phenom CJ Cummings, the Legacy Lifter raises the bar as our most technical lifting shoe yet. The 3/4" heel height allows for optimal squat positioning, while the anatomical shape and two adjustable upper straps give you a locked-down fit and feel. Exoframe technology in the heel adds stability, while the rubber outsole gives grip through every movement. Made from perforated synthetic leather and breathable mesh, this CrossFit shoe will keep you feeling supported, not stifled, with every clean and press.
Built as strong as it is beautiful, the Reebok CrossFit Grace was created with every female athlete in mind. Uniquely specialized for the women of the CrossFit community, this CrossFit shoe offers all things style and support. The Reebok CrossFit Grace helps you fly through your workout with agility and flexibility, thanks to a contoured yet breathable fit. This ultra-lightweight design includes a mesh and synthetic upper for increased airflow, letting you glide through otherwise grueling CrossFit WODs. The molded sock liner offers cushiony comfort and the rubber outsole provides durable traction perfect for hitting the ropes, lifting weights, or racing the track.