Reebok Takes You on a Run With its First Plant-Based Shoe
Made of eucalyptus, algae, and castor beans, this running shoe is changing the game.
The earth is in crisis, but making drastic lifestyle changes in the face of increasing environmental challenges can sometimes be a lot to unpack. In our hustled and overloaded lives, how can we take a more active role in what we eat and what we wear in the hopes of being more sustainable? In an ever-changing landscape, aiming for sustainability alone might be setting the bar too low.
Reebok has raised that bar to take the idea of sustainability further, playing a decisive role in the future of performance. The brand believes that it is in the business to inspire positive change, and inspire it does, with a trailblazing innovation of its plant-based performance running shoe.
The Forever Floatride GROW is an update of Reebok's award-winning Forever Floatride Energy shoe. Unlike traditional petroleum-based footwear, though, this iteration is derived from plants and other renewable agricultural elements. With this update, Reebok took a proactive approach to building on the brand's belief that it has the responsibility to drive a positive impact on the planet, with shoes that are Made with Things That Grow™.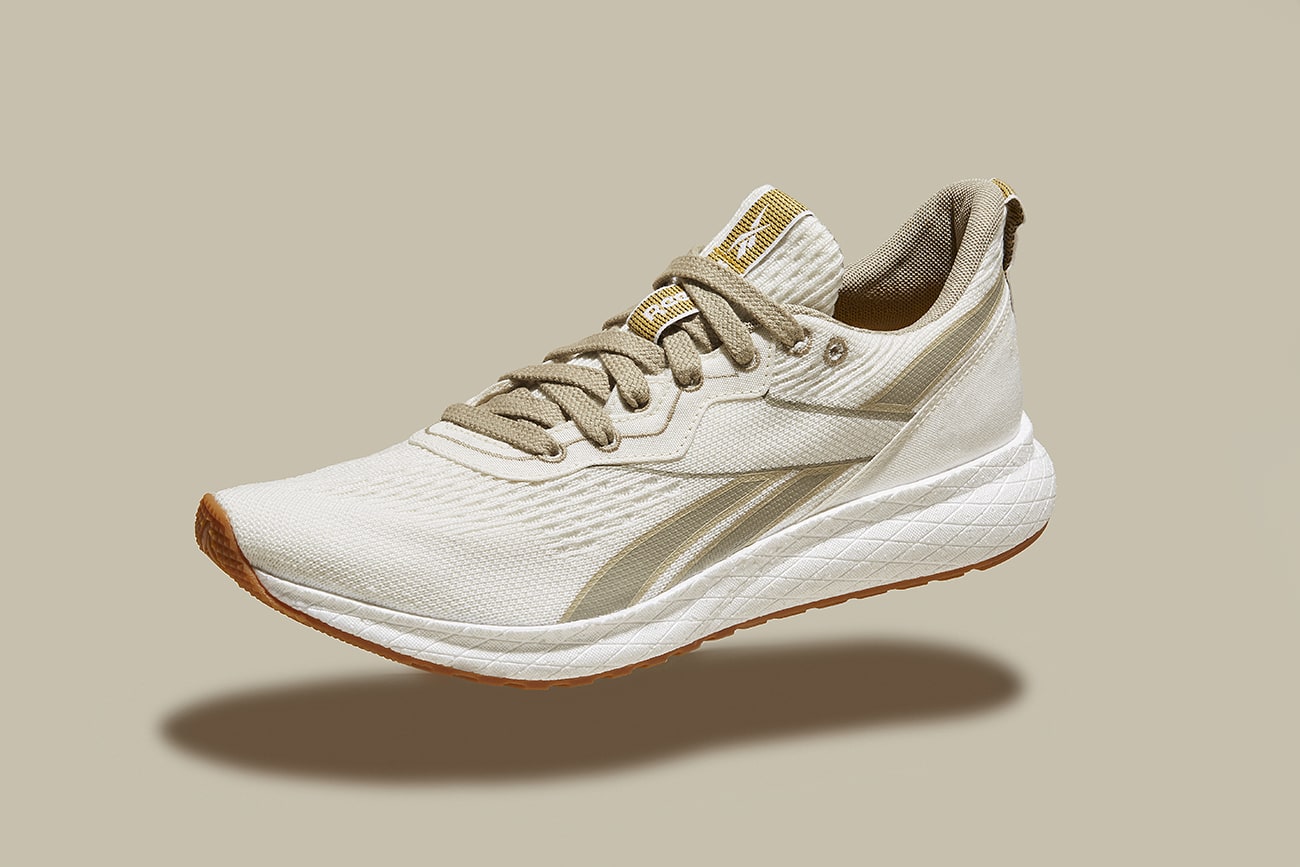 The shoe is composed of four key ingredients: a eucalyptus upper, algae sockliner, and natural rubber outsole, and the hero of the plant-based mission, a midsole comprised of castor beans. Other brands have created footwear from bio-based materials that look good, but Reebok is the first and only brand to make a sustainable shoe that actually performs on runs, mile after mile.
"The earth is a runner's arena, and we have a responsibility to help detox the world for the athletes who run in it," said Matt O'Toole, Reebok Brand President. "Our consumers have told us they want more sustainable products, and the running community has been the most vocal and passionate on this issue. We want to help runners perform at their best, while also feeling good about the products they wear."
All this talk about eco-friendliness and sustainability begs the question, what do these terms even mean? We are bombarded with a flood of commentary, buzzwords, and sometimes phony do-goodery that confuses what should be a positive movement. Reebok realized that to break through this clutter, recycling and reusing may no longer be enough. While "going green" was once considered a trend, it is now an expectation, and to push innovation through an authentic lens Reebok looks to its own brand ambassadors to join the dialogue.
There shouldn't be a vast disparity between what you put on your feet and what you put in your body, and Reebok Brand Ambassador Nathalie Emmanuel sheds light on how we can incorporate positive change in our overall lifestyle, from
clean eating
to the items in her closet.
"I tend to wear clothes until I can't possibly wear them anymore. My sister teases me. She'll say, 'I swear you've had that jumper since you were a teenager,' and I'm still wearing it now because it's perfectly fine to wear. I tend to shop quite sparingly. I don't really say, 'Oh I'm going to go shopping.' I'm usually looking for something that I actually need as opposed to just because I want something new."
In addition to eliminating waste through resourceful fashion choices, a seismic cultural shift is occurring in fitness and lifestyle routines. These trends are taking shape in palpable and meaningful ways, from
eco-friendly workouts
to an increasingly positive reception toward plant-based diets, which has manifested within Emmanuel's own inner circle.
"I do think that people are becoming much more open to vegan diets and being plant-based more often in the week. Quite a few friends of mine who would never have thought about being vegan in any capacity are saying, 'Oh, I'm trying to be vegan two days a week, how do I do that?' There is generally more interest because I think culturally and socially, people say, 'Oh, so this is something I should take seriously and consider.' So I hope that they come to a place or decision that suits them and I can just be supportive of that." She adds enthusiastically, "I think there are decisions you can make to try and make your carbon footprint just a little bit smaller – it's really important."
Breathing life into a daily routine by changing behaviors means we can actually feel good about what we wear and how we eat. It's a whole new world when it comes to accessing a healthy mind, body, and planet, all while never compromising on performance. Experimentation and exploration are how we get there, and Reebok is just getting started.