What You Should Know About Running at Night
Reebok Boston Track Club pro runners Josette Norris and Ben Flanagan answer questions about running after the sun goes down.
Night runs can be a great way to de-stress from a busy day. There's minimal fight for sidewalk space, the temperature is usually lower, and it's a nice mental break from the chaos.
Reebok Boston Track Club
pro runner Josette Norris says as a professional distance runner most of their races occur at night which gives a small layer of added intensity. "I personally love racing at night and a lot of our races as distance runners happen to be at 8:30 or 9 pm so it's pretty fun to be able to run under the lights on a track. It's just a different atmosphere," she says.
For Reebok Boston Track Club pro runner Ben Flanagan, there's just something about night runs that make him feel like he's moving with some serious speed. Whether it's the later hour or the slightly eerie feeling that the dark can bring, night runs just add a little edge. "We do race a lot at nighttime, in general on easy day workouts or racing, you just feel a little bit faster at nighttime and that's kind of nice too… I run a ton of stats on my watch and I'm not actually running faster but I actually feel like my movement is faster," says Flanagan.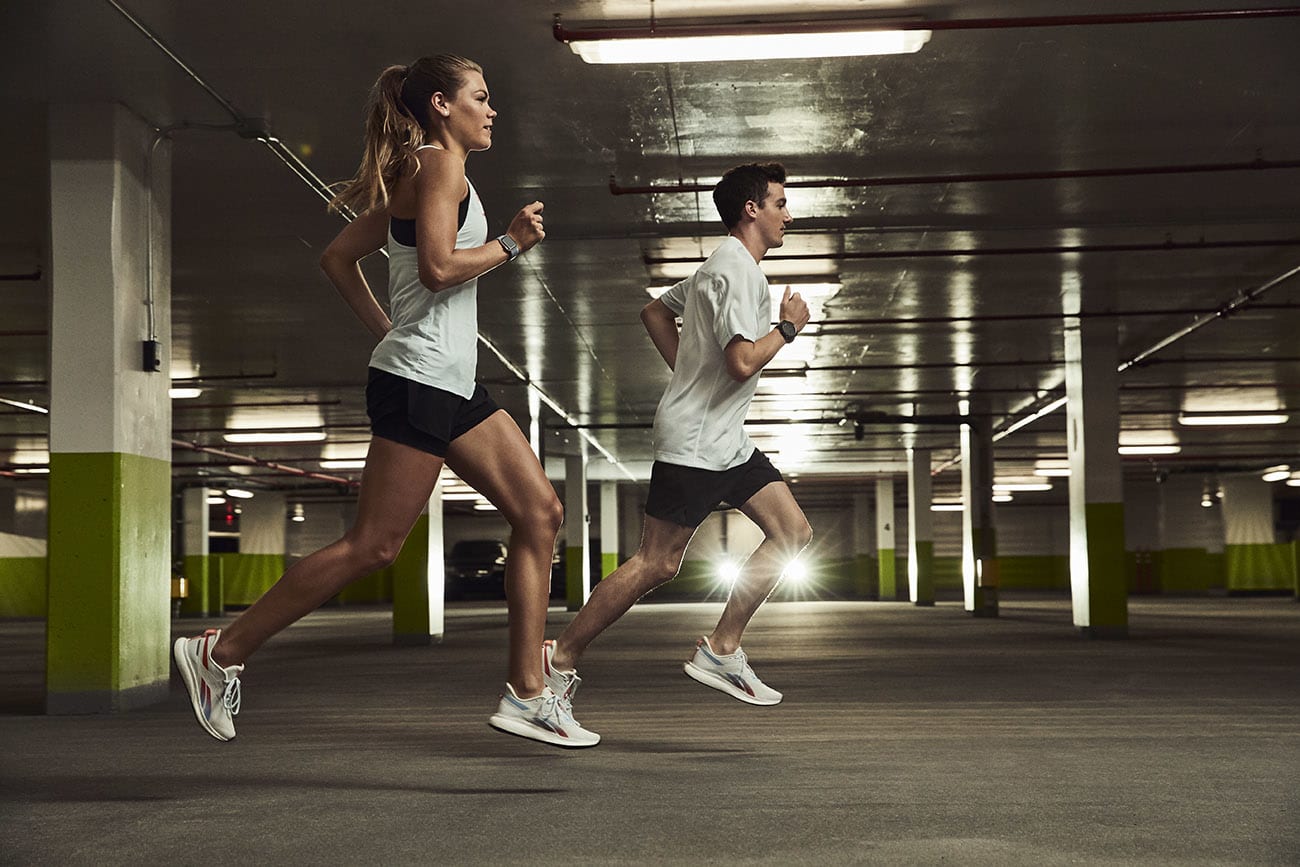 While the rush you get while running at night can be fun, there are a lot of different things to consider when going for a run at night that can help enhance or hinder your experience and performance. So, we asked Norris and Flanagan to help tackle some common night run questions. Read on to see what they had to say.
What's the best time to run at night?
Some runners are just not morning people and that's why the night owls hit the road post-work after the sun has set. In an article published by Runner's World it was stated that, "It has been known for some time that most physical activities are best performed in the mid- to late-afternoon, as this is when body temperature peaks, meaning the muscles are at their most supple and running at speeds that feel tough in the early morning will feel much easier."
Flanagan says it's important to leave a good window of time between your run time and bedtime. "After a run I have more energy for a period of time, and I think with an increase in intensity that would make it harder to sleep. So, I would try to make sure you fit it in a good hour and half before you go to bed so you have time to decompress," he says.
While it depends on your work hours and schedule, Norris says waiting until too late at night can really affect your sleep patterns and ability to sleep at all. "You can't just jump straight into bed. Your system is so revved up at that point especially after a hard anaerobic or aerobic workout," she says.
If you truly want to become a consistent night runner, proper sleep is crucial to maintain your endurance for training runs.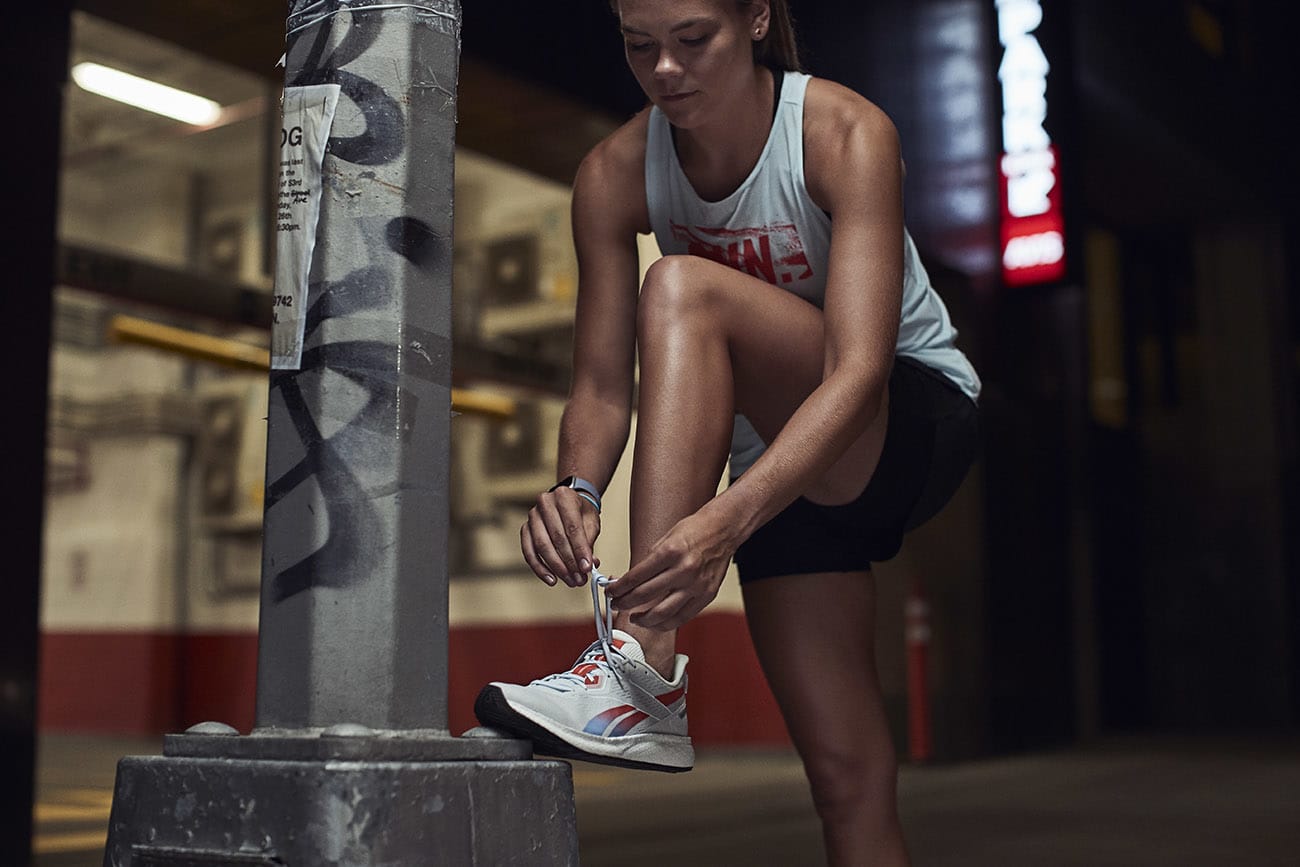 How should I meal plan?
Proper nutrition is essential to staying active and performing at your absolute best. If you want to log your miles at night, nutrition must be part of the plan. Norris says all of her runs throughout the day and night are scheduled around her meals. "A lot of the times my runs are based off of when I'm eating so I make a schedule and try my best to stick with it consistently. Doing that will help you get in a better routine if running at night is something you want to add to your lifestyle more consistently," she says.
Making a snack or a quick meal post-run is a great way to utilize some of the adrenaline you get post-run – it also helps you unwind. You can use your runner's high to whip up something healthy in the kitchen, so you don't wake up starving. Your body just put out a lot of energy and you need to give it back. Flanagan says recovery is key. "You definitely want to make sure you're refueling because doing a late night run then going straight to bed is a long time without any fuel back in your system, so it's important to get the nutrition in," he says.
What to wear running at night
One of the most important things to consider when going on a night run is your gear. It needs to be breathable and lightweight so you can layer if necessary and you'll also need
comfortable sneakers
. Just because it might be a bit cooler at night doesn't mean you won't be sweating it out, so any sweat-wicking material is helpful to keep you dry. You're going to be pushing the pace, so you don't want to be distracted by your clothing.
Norris says that your running gear plays a huge role in making sure you're visible at night. "I would definitely say light colored clothing and reflective gear is really important," she says.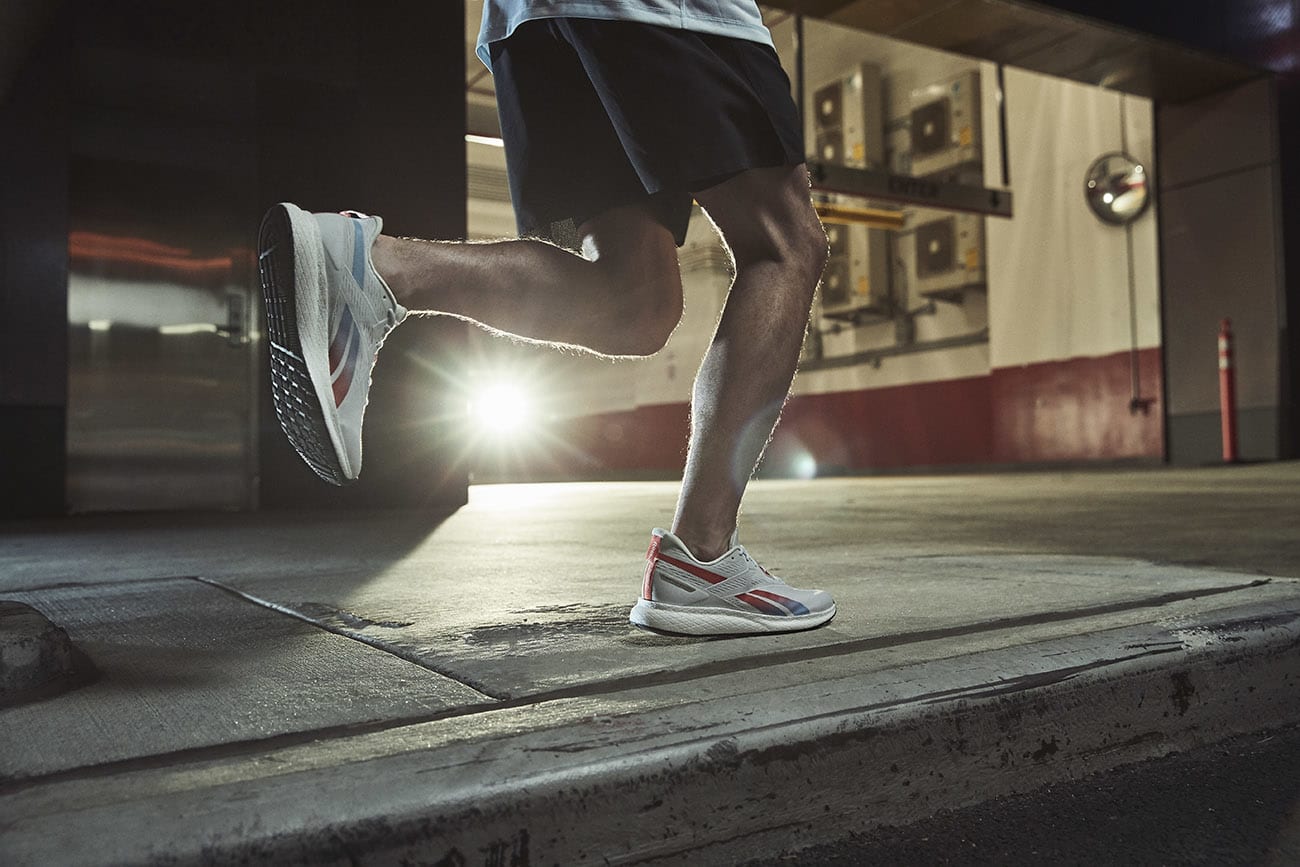 How to stay safe running at night
During a night run, safety should be the number one priority above everything else and reflective clothing is a great first step in making sure you can be seen. Flanagan says it's also about making sure you're running in public areas that have proper lighting. "Do anything that makes you feel more comfortable. Ideally, run with someone else, but if you can't, I like to stay in more public, well-lit areas where there's more people. I don't ever really run in areas that are completely dark and I avoid the trails at night," he says.
Knowing the area is helpful, but if you're on a work trip or on a family vacation and want to try and get a run in, Norris says out-and-backs are your best bet. Other than a treadmill, out-and-backs are a simple solution for running outside and ensure you don't get lost. "On vacations when people want to get in a workout in or they're coming in late, they can do an out-and-back. An out-and-back is going out halfway and coming back halfway so you don't do a lot of turns, you just retrace your steps," she says.
Taking advantage of technology is another way Norris stays safe running at night. "My watch has a little button and if I hold it three times it will contact the people I put into the app and send them a GPS location of where I am if I'm in trouble. Usually if I'm running alone, I carry my phone with me as another safety precaution, especially as a female. Anything you can do to stay extra safe is worth it," she says. You can also use apps like adidas Running to track your progress and interact with runners where you are.
And when it comes to headphones and listening to music, Norris says if you really can't run without it, at least set the tunes to low so you can stay alert during those miles. "At night I'd be pretty cautious about listening to music because I'd be a little nervous not knowing exactly what my surroundings are. But, if you were going to listen to music, put it pretty low so you're more aware," she says.
So when you're heading out the door for your next night run, use it as an escape from the noise and an opportunity to end your day by leaving it all out on the pavement.