The New Norm Is No Match for This Athlete and Mom
Christy Adkins is a powerhouse mom, nurse and athlete who survives a time of disruption by embracing her community with a positive mindset.
In times of change, there is some comfort in shining a light on those that prosper through adversity. While the world hits pause on its normal routines, we focus on exceptional people who thrive in exceptional circumstances. Christy Adkins, a CrossFit coach (and 8-time CrossFit games athlete), mother of a 2-year-old and school nurse, prospers in these tough times by living her life through an unclouded lens of positivity.
As routines have been disrupted, Adkins highlights how cultivating sanity means having to adjust and reintroduce yourself to a new normal. "My responsibilities at work (as a school nurse at a boarding school) were changing every week and even day to day. The CrossFit classes I typically coach in person transitioned to Zoom classes online. The almost daily trips to the playground and library that my 2-year-old son, Bo and I typically made changed to nature walks and stick collecting expeditions. My workouts changed from regularly going to the 9:30am CrossFit class to trying to figure out a time that I could do the class online while my husband entertained Bo, or find a space somewhere that I could safely do a workout while Bo played/did burpees/crawled all over me."
As part of her new routine, Adkins has coached, done workouts and gone for several walks in Reebok's
Nano X
. "It is such a nice looking shoe. I love how there is a familiarity to the feel while also having some really cool new details. It is lightweight, comfortable to wear for hours without being over-cushioned and has flexibility for jumping, running and also great stability through the middle of the foot - I don't like it when my foot sloshes around in a shoe. There is none of that going on in the Nano X."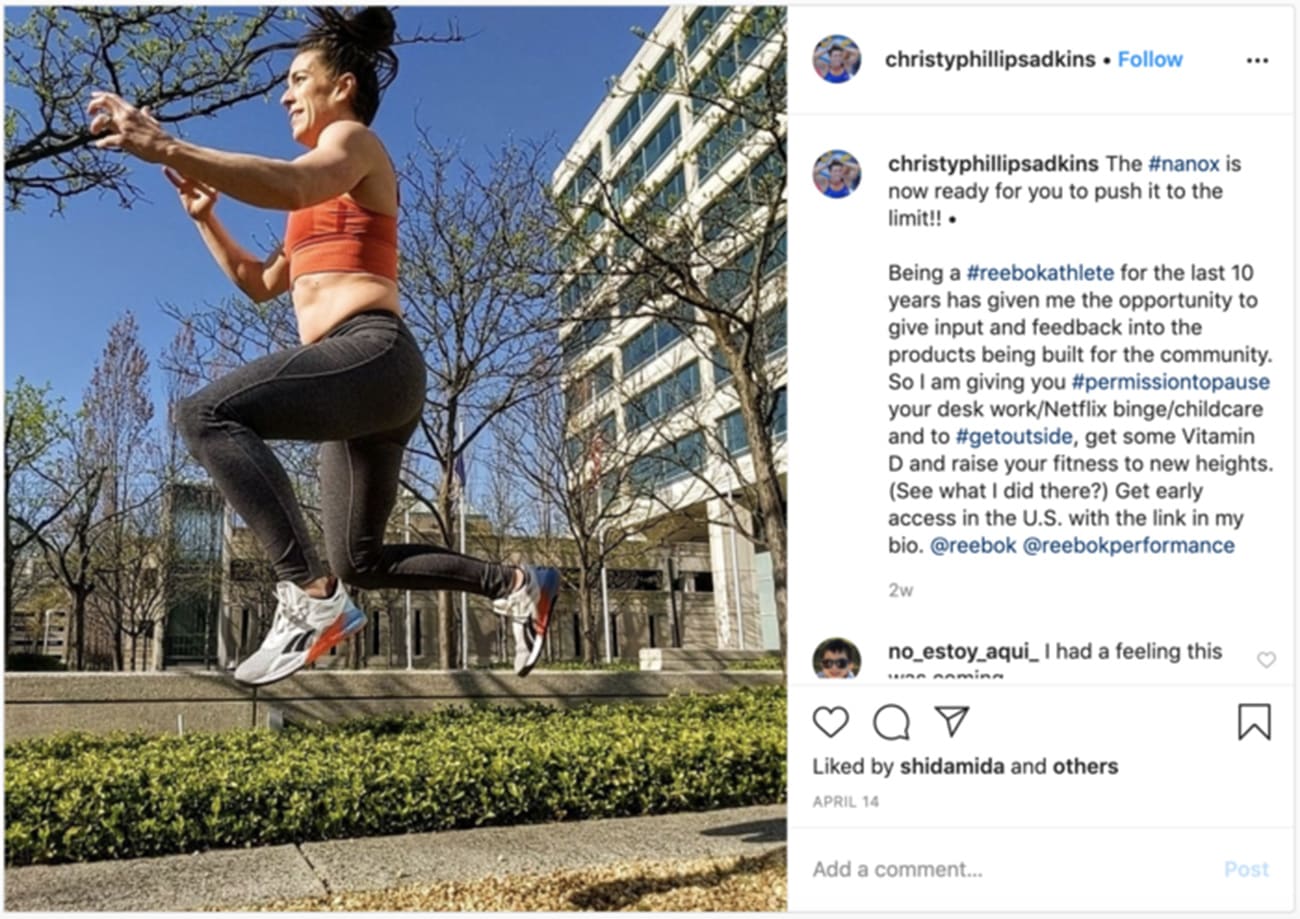 And while regular workouts
benefit immunity in isolation
, Adkins also takes care of herself in other ways. She maintains various methods to nurture her sanity including eating well (and sometimes eating whatever she wants), getting enough sleep and leaning on those close to her. "I vent my stress or anxieties or frustrations to my husband, close friends or family." Like many, technology has become her lifeline. "I stay in touch through text, video chat and online CrossFit classes."
Since the couch has surely beckoned us all during this tumultuous time, trainers have continued to push their community to stay active and hit their fitness goals. As a surge of gratitude has grown for trainers who have reinforced health through community, Adkins (a CrossFit coach herself) is thankful for a trainer community that surrounds her. "I am so grateful for the spark of connection I get when I log on and coach or take a class with other CrossFit Reston members," she says. "It provides some normalcy during an anything-but-normal time. It's an opportunity to remember that I am part of a community, that people care about me. It's an opportunity to check in with my people and tell them I care about them too, ask how they are doing. It's been very centering to be able to come together, clear my mind of worries and workout with other people who care. I have found I MOST need these workouts when it sometimes feels like I LEAST have the time or energy for it. During times of transition and change in my life, for example during pregnancy and new motherhood, that's when I am the most grateful for the CrossFit community."
And by coming together, a community flourishes in more ways than one. Many retired nurses and doctors have begun to volunteer as influxes of patients have overwhelmed communities. Since schools have closed, Adkins has jumped into this unsteady situation to assist at a hospital. "I will likely be in several different roles providing screenings, triage and nursing care. I am glad that I am able to work in a setting that has such high need for my particular skill set and license at this time. It has been intimidating going into a new setting and training with experienced nurses. It has also been stressful to consider the risk of exposure and remembering to take every single precaution I can to mitigate the risk that I become ill or expose others to illness."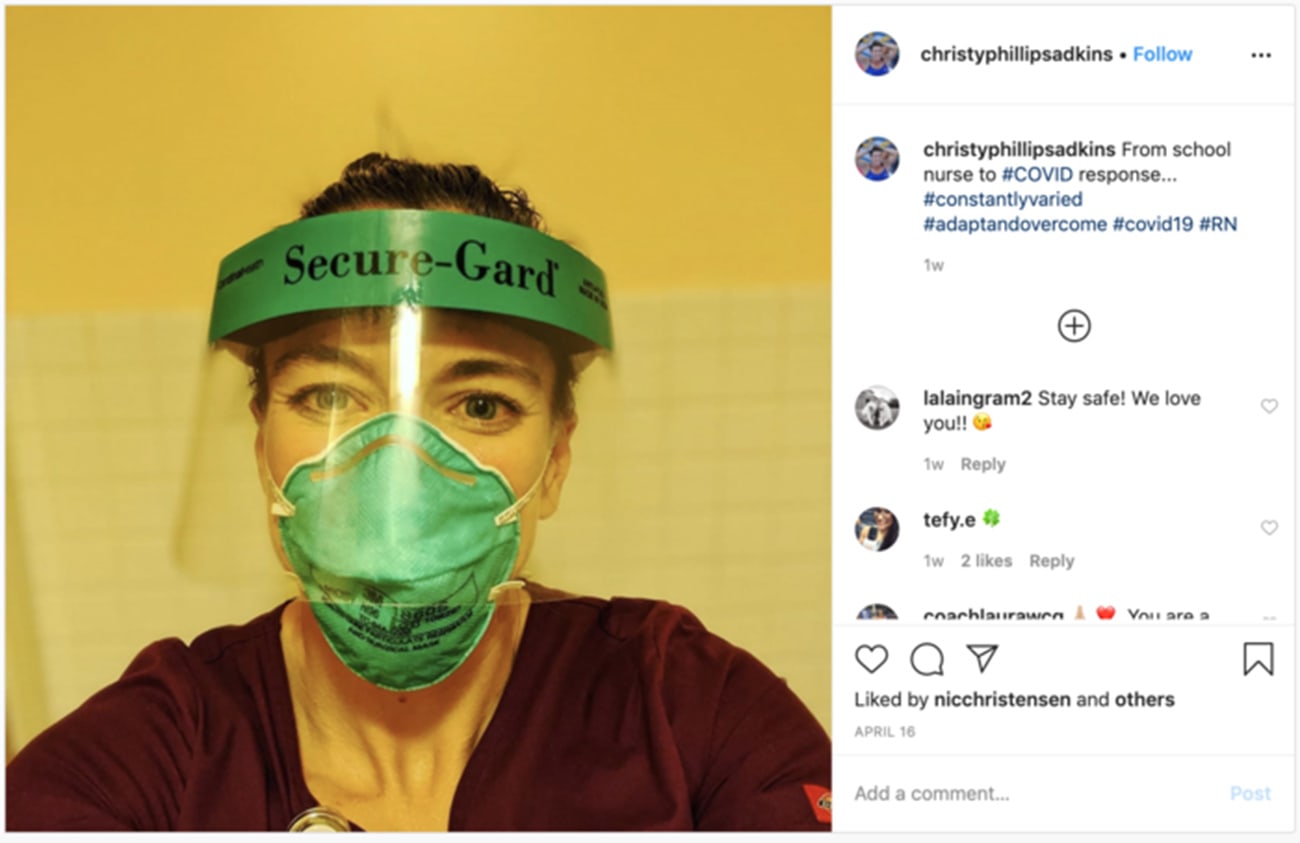 Adkins applies her medical knowledge and level-headed judgment to her daily routine. "I'm reminding myself, friends and family to follow reputable sources of information such as the CDC, WHO and your own physician/pediatrician. Don't get caught up in too much of the messaging you might see on your social media feed." And this good sense doesn't just apply to the grownups in the house. "I teach my two year old the basics: he sings the whole ABC's while he washes his hands. Just yesterday he coughed and says, 'I cough in my elbow Mommy!' That made this nurse Mommy smile."
Being fully present, calm and mindful in a chaotic world is just as critical as staying in shape. When feeling a bit unhinged seems to have become the norm, Adkins uses meditation apps like Insight Timer for calm. "I would like to do it every day but to be honest, I have only gotten to a point of meditating about once a week for 10 minutes." She adds that her biggest challenge during this time is "staying calm, and having faith in the presence of a lot of unknowns."
That presence of unknowns is what can drive a scrambling community trying to adapt to the brink. Adkins maintains that keeping the vibes positive and sticking to the basics is paramount. "Throw out the 'all or nothing' mindset! These are weird times. We are all going to have or have had plenty of days that we stayed up late, or we ate snacks mindlessly all day, or the only movement we got was from one room to another in our house. Don't let those days trick you into thinking all is lost for your fitness, nutrition or motivation. It just takes one small choice towards taking care of yourself - like going to bed just a little earlier or deciding to have lunch outside today - to get you closer to a place that feels like your true healthy rhythm and the true 'you'."
Adkins has been resolute in keeping a positive mentality and realizing that working on being the best version of herself is the best way she can help others. "If I take care of myself, I have the energy to be fully present with my family. I have the alertness to be on my feet and apply critical thinking and good judgement as a nurse. Taking care of myself means I can be kind and empathetic to my neighbors, friends and acquaintances and offer my support without it crumbling me."
As the world continues to hurtle along like a bullet train, Adkins' ability to give back through a deep appreciation for her community illuminates that our experiences are shared. We can all take some time to pause, get that cardio in and give back – together.