Samantha Ortiz is Making Online Fitness a Personal Experience
As she transitions from a boutique studio owner to an online fitness guru, Samantha Ortiz is using social media to keep her fitness community feeling empowered and strong.
In the current state of the world, social media has transitioned into the hub for almost all social activity. Particularly for the fitness industry, which has been rocked by the stay-at-home-order, social media has become a solid solution for replacing classes and workouts. But unfortunately, social platforms can't really replace that sense of community and tribe you get from those in-person interactions. Or can it? Enter: Samantha Ortiz.
Ortiz, a trainer and owner of Triple Threat Bootcamp, has become a professional community builder in the fitness world. During this tough time, she's been doubling down on social media. Using Instagram (
@so_manti
) and Instagram Live to host workouts, Ortiz says she's using social media to ensure that the community she's built feels cared for and moreover, like they never left the studio. "I give 100% myself. I will literally leave everything on the floor, and I think that's what makes me so different," she says. "I really try to relate to the client or the group and just give energy and positivity throughout the class. I feel like I'm relaying what I would do in the gym online and it's a fantastic feeling to be able to bring one side to the other."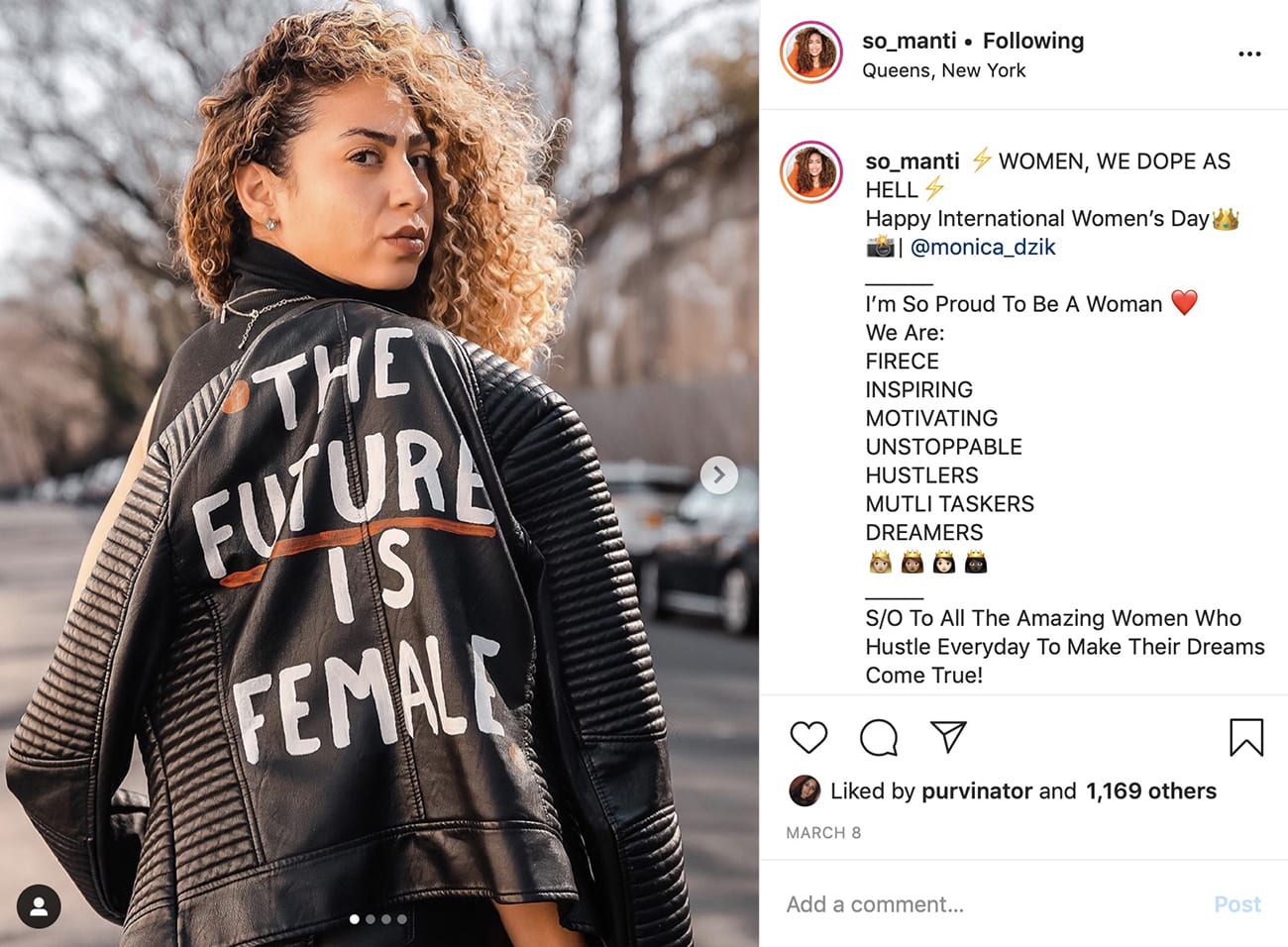 When you visit Ortiz's Instagram page, the first thing you notice is how vibrant and cheerful it is. As a newcomer you're instantly captivated by her ability to fully embrace herself and promote positivity in her life. Not to mention she's at about a level 10 on the badass meter. With no DM left unread, Ortiz is making the transition from studio to social media for her clients as personal as possible by going the extra mile.
She says while some things may take a little extra effort, it's her job, and she wants to get to know the people taking her classes. "I ask them to put their names in the comments before we start so I can shout them out throughout the class and give them that personal push, which I know they love," she says. "I also re-post everyone that puts a selfie up after the workout. It's just little things to give them a feeling of 'I feel important and I know she actually really cares about me.' It's not about just doing a class and moving forward."
While Ortiz uses social media to lift up her own community, she's also using it to lift up other trainers and help them be successful. When she's not doing collaboration split-screen workouts on Instagram Live or the #DontRush Challenge with fellow trainers, Ortiz is teaching former interns of hers how to host workouts online. As the fitness industry continues to spin during this time of uncertainty and change, she says it's the small gestures right now that can really make a difference. "It's beautiful. I love to help anyone that's in this industry to show them things maybe I did wrong that I can help them with. Helping people set up the workouts on Instagram Live, showing how to motivate people to come and continue to attend virtual workouts, it's little things. I'm happy to help other trainers in the industry."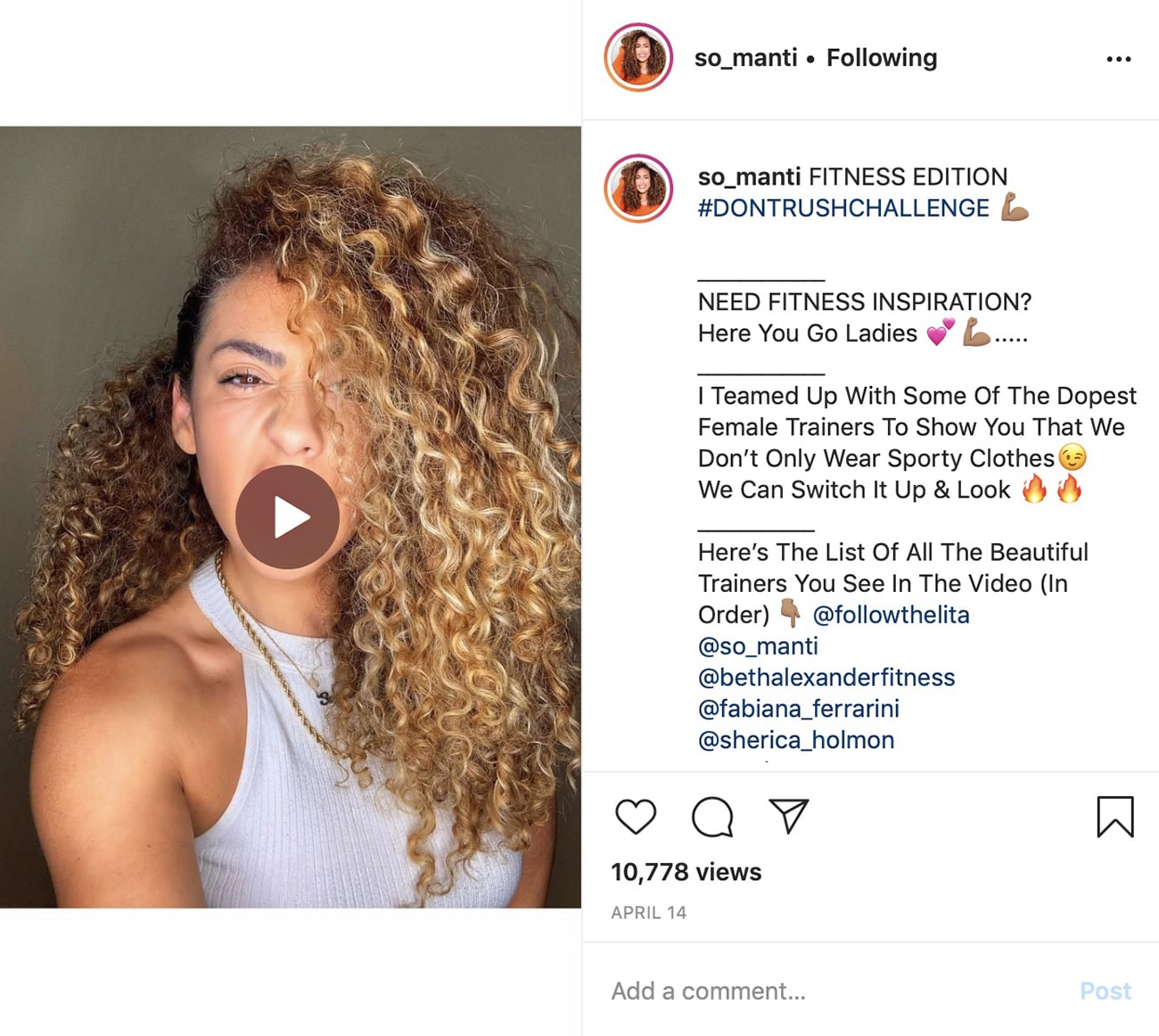 Beyond the trainer world, Ortiz is also committed to being a strong example for women, particularly Latina women who want to break into the fitness industry. She says opening Triple Threat Bootcamp in 2015 with her mother and sister made a statement about what happens when you pursue your passions. "I feel that being born and raised in Brooklyn, New York and being Latina, being a woman… It's not normal for a family to own a studio, especially women," she says. "I wanted to break that ceiling with my studio, where it wasn't just me, my mom and my sister, but three Latina women in the fitness industry just breaking barriers and showing no matter where you come from, you can achieve anything."
Ortiz says it all started from humble beginnings and a strong desire within herself to want to help people. "I started from nothing just in my parents living room training my sister and her best friend, and then it was word of mouth and social media," she says. "I started doing bootcamps and really enjoying that atmosphere and helping people achieve goals they felt they couldn't. I wanted to do that on more of a daily basis, and that's where Triple Threat Bootcamp came from."
The business truly was a family affair. Sadly, Ortiz's father, who was one of her biggest cheerleaders in her ambition to open a studio, passed away a few months before the opening. But she says they were still able to make him part of the adventure. The Triple Threat Bootcamp logo is a boot, in honor of her father's love of construction and hands on work.
While the business is currently shut down for the foreseeable future, Ortiz looks at the prospect of moving to an online platform as an exciting next step in the evolution of her career. She says she's building out her own program so that she can provide her community with even more tools. "So, if they can't do the Live classes they'll have the Live later on or I'll have a library of different workouts, stretches, warm ups, cool downs and nutritional guides," she says. "It's basically a one stop shop when it comes to fitness. Fitness is not just your physical, it's your mental and also your nutrition. I want to give people 100% of the information so they can get 100% of the results."
While it may seem that Ortiz is solely focused on helping everyone else, she hasn't forgotten about herself in the midst of her busy days. In January, she wrote on Instagram that her 2020 mantra was to make herself a priority. Unbeknownst to her, the world was about to take a significant turn and her mantra was going to take on a whole new meaning.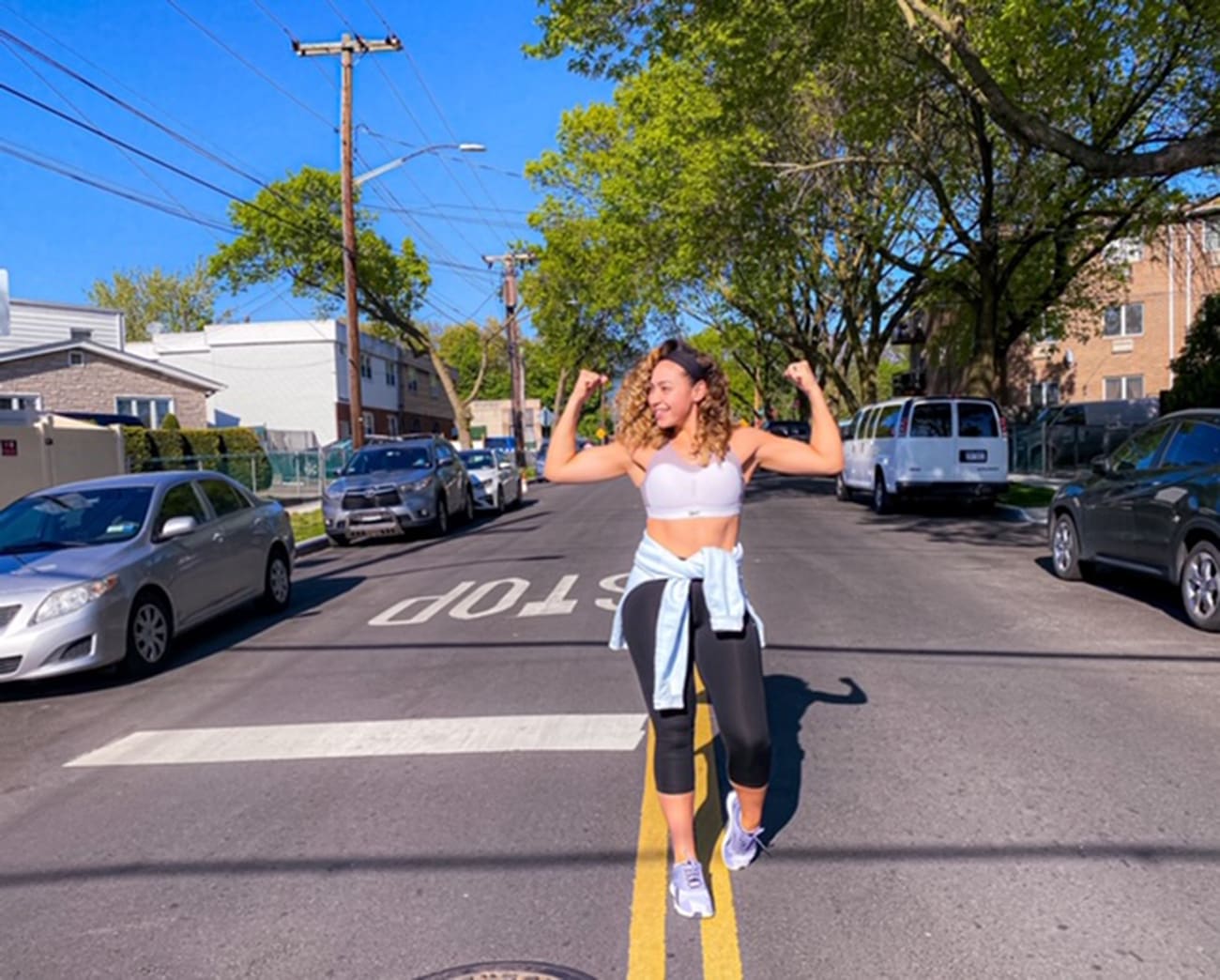 Ortiz says now more than ever, it's about taking advantage of the time you now have while also remembering to give yourself permission to pause. "Maybe you just want to sit around, and binge watch shows all day and that's okay," she says. "Maybe the next day you tackle one of your tasks. I don't want people to feel like they have to be on a regimen. Really enjoy the time and have fun, take deep breaths and enjoy the process because we might not be able to have this time ever again."
As you're pausing and taking in those deep breaths, it's also about having a little fun. Especially when it comes to fitness and nutrition, Ortiz says not to put limits on yourself - it's about finding what works for you. "You can have your days. There's days when I have chocolate chip cookies and pizza and it is what it is," she says. "I'm not perfect. But the next day you better believe I'm going to have my smoothie and get my workout in."
To get her through all of her ups and downs and crazy days, she does have some help. Ortiz says her husband is her ultimate supporter. "My husband does my Instagram Lives but from our bedroom," she says. "He doesn't do them with me, but he does them in the other room and he's super interactive, leaving comments. He's a great workout partner."
Ortiz is constantly navigating how best to utilize social media in this ever-changing state of the world. But while she does, she says she will always ensure that she's as real and authentic as possible in all of her interactions. "I try to portray something that is not normal in the fitness industry," she says. "I have love handles when I sit down, I have cellulite and I can be a beast in the gym. There is no limit to me, and I always want to feel like I can speak that to others. You don't have to look a certain way. Everyone is made differently, and I think that's your superpower. I want you to embrace that as much as possible."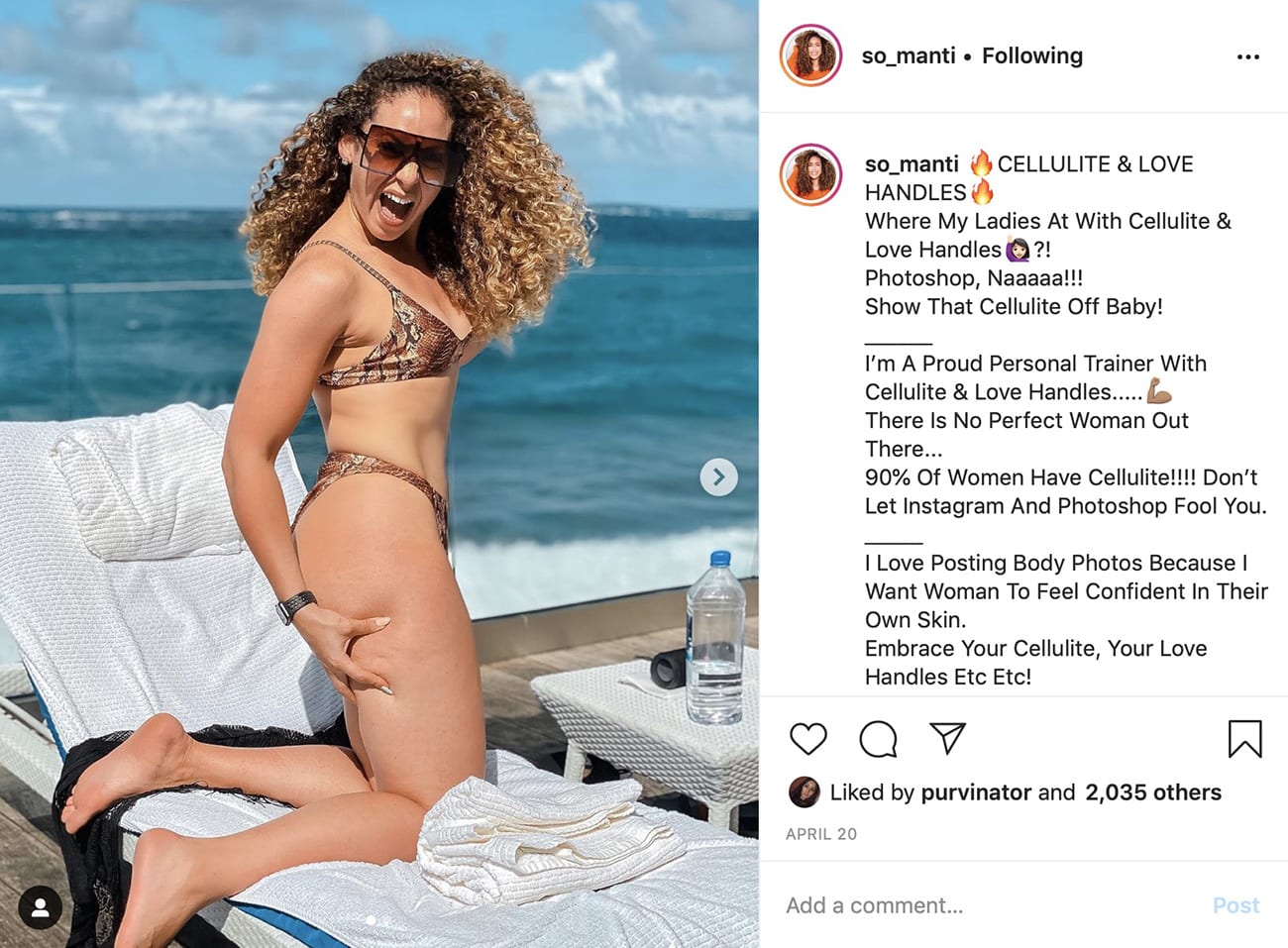 While people continue to navigate their new normal when it comes to fitness, Ortiz says she's making it her mission to help them turn it into a lifestyle and support the community in any way she can. "It's not a sprint, it's a marathon. It's a lifestyle and I want them to embrace that," she says. "During the pandemic, after the pandemic I want you to have fitness as a lifestyle. Just like you're eating every day, you're breathing. I want you to incorporate that and make it fun. Fitness shouldn't be boring. When you're into it and you finish, you feel unstoppable and I want people to feel that especially now."