Behind the Scenes of Reebok Women's Apparel
Two members of Reebok's women's apparel team talk about what inclusivity within the industry looks like, how product is made and the impact of women designing for other women — because no one size fits all.
There's nothing like that Friday pay day when you decide to treat yourself to a little online shopping spree. But falling in love with a piece of clothing, only to find out it doesn't come in your size, can be a serious buzzkill. It's a beyond frustrating moment, and unfortunately one that many women experience far too often. These moments build up over time, creating deep mistrust of brands.
There are various reasons for the lack of sizing options across the fashion industry. Sometimes, there isn't a perceptive person in the design studio to blow the whistle, or the people creating the product aren't the ones who would ever wear it. The people behind the designs make the biggest difference. When it comes to apparel creation, Reebok's goal is to build clothing that supports every version of you, resulting in
more inclusive sizes
in their clothing. The best part: all of the apparel designers working on women's apparel at Reebok are women. These are designs for women made by women. "As we are all women, we all personally try the product ourselves, so we have specific experiences we can address firsthand before we put the product out there," says Jennifer Barrios, Senior Product Manager at Reebok. "I'm convinced this is why we have such a great reaction to our product – the fit, the fabric, the feel, the nuances in design lines – are all considered to ensure the garment is comfortable, flattering and moves with you."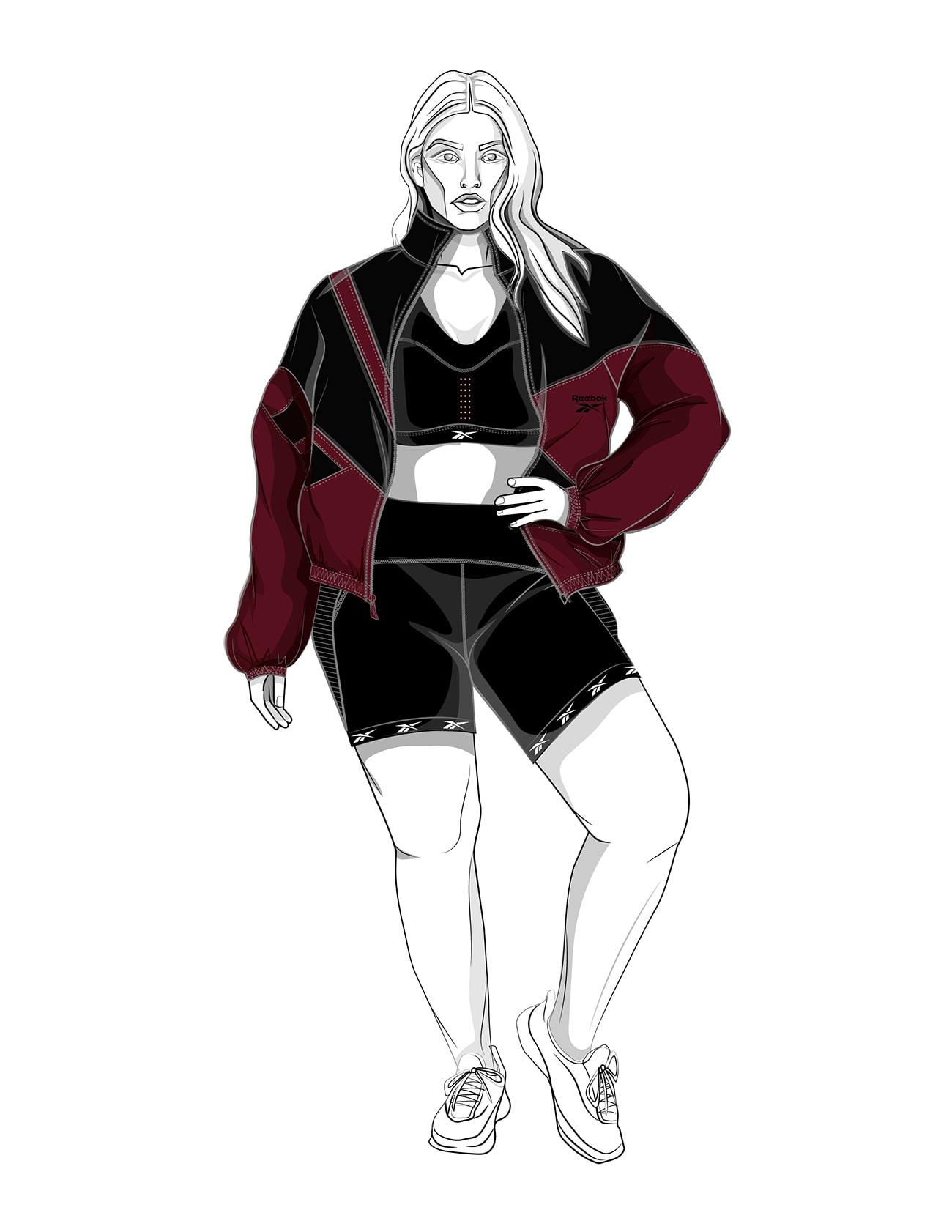 Design Sketch Credit: Claire Durfee, Reebok Associate Apparel Designer
Barrios has worked in many different capacities within the apparel industry for more than 20 years. She says, "I love what I do because it's an awesome balance of analytics and creativity. I love uncovering what motivates people and how best to build product for their needs and desires. It's also rewarding to tell their stories, or craft stories that will inspire them to push forward, make change, or just have some fun." In order to keep moving forward, Barrios says representation is critical. "I hope to see more authentic representation in the industry in imagery, but also behind the scenes. We can talk to women and research, but ultimately we [as an industry] also need people with those direct experiences on our team."
Marianna Grieco, Director of Pattern for Apparel at Reebok, says that more representation behind the scenes leads to more representation within the product that gets created. "In the last few years, we've seen a lot of brands extend their size range, include more body diversity on the runway or in their campaigns. But there is still a long way to go to ensure we [Reebok and the industry] include a true representation of the world we live in."
Grieco and Barrios feel strongly about the importance of inclusive sizing and have been involved in extending the sizing of Reebok's women's apparel, which now comes in a range of 2xs to 4x. Barrios says the goal is to achieve the best fit. "Fit can have a huge impact on your confidence and just your ability to focus on your workout versus being distracted by what you are wearing." By allowing women to feel like product is made specifically for them, it enhances their overall performance while wearing it. "Through our research we've validated the fact that ultimately, when we are wearing something that we feel is a good fit, our increased confidence results in wanting to push ourselves to try new things, to overcome obstacles and to get out of our comfort zone." The team works on fit, not just by creating sizes using mathematical equations, but creating patterns that are engineered with different proportions for different body types.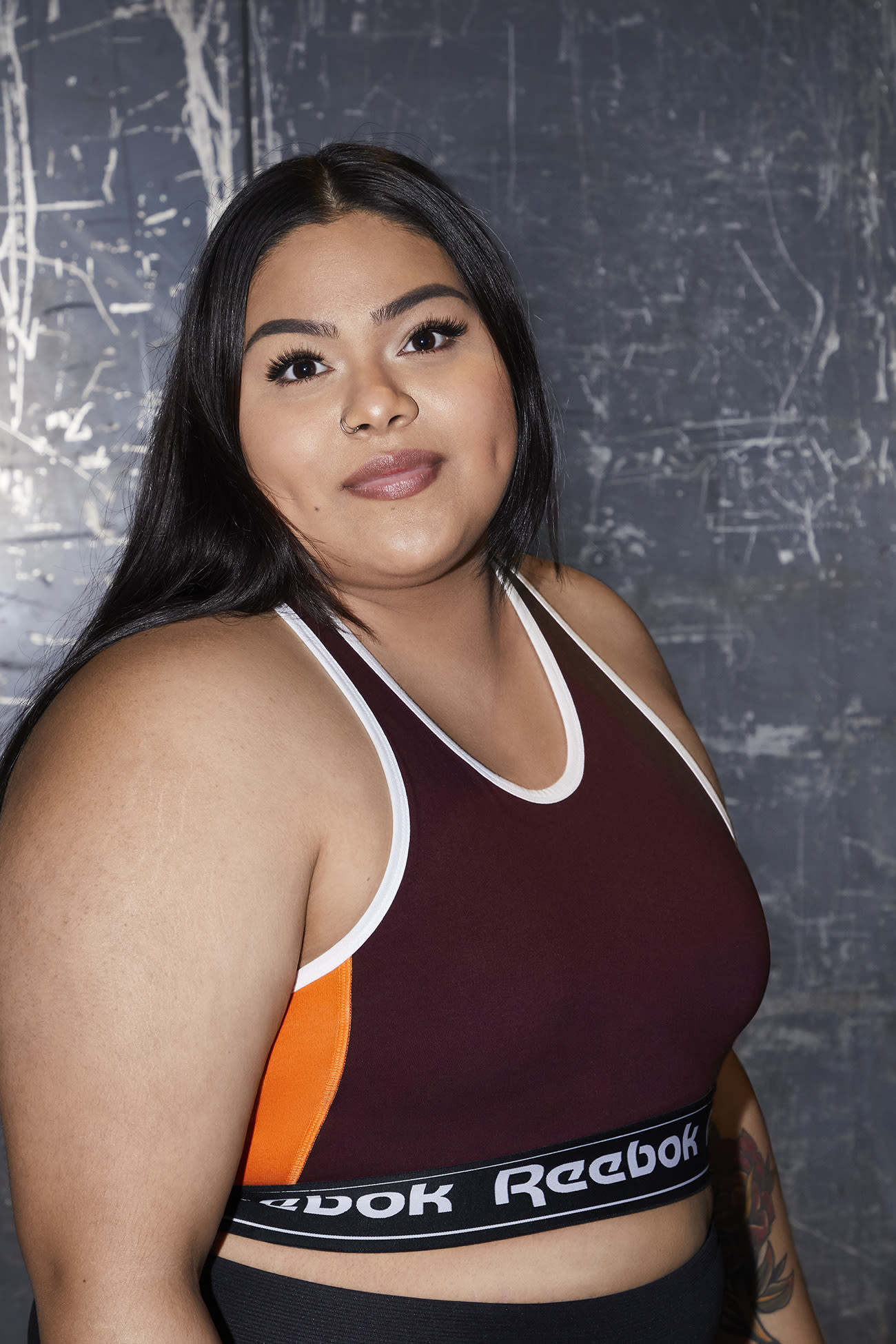 Since tights, bras and tanks truly move with you, it was imperative for the team to do their due diligence to ensure they got the fit right. Reebok created all initial patterns and sizing in-house while consulting industry experts, and most importantly consumers, to ensure Reebok crafted the best fit for multiple body types and sizes. Grieco says the challenge comes as more sizes are added. "As you continue to add more sizes, you really need to consider how the shape of the garment needs to change in relation to how the shape of the body is changing." Once more sizes are added, the team had to consider shapes and proportions and think about support. From waist and hip measurements, to the way muscles move and everything in between, they made sure nothing was overlooked and everything was accounted for.
Once size and fit were thoroughly covered off, Grieco says the attention to detail didn't stop there. "As we continue to learn more about our consumer and her preferences, we start to think about how we can make garments adaptable to different style preferences and ways of wearing the garment, regardless of her size."
Barrios says it's about going beyond providing just the basics because all women deserve equal options. "We've seen it ourselves and heard feedback from consumers that many companies only offer the basics across larger sizes. They make the assumption that she doesn't want to wear bright colors or show off her body." When curating the assortment of product that comes in sizes up to 4x, Barrios's team pulls the product from new must-haves to staples so that everyone has access to the best there is.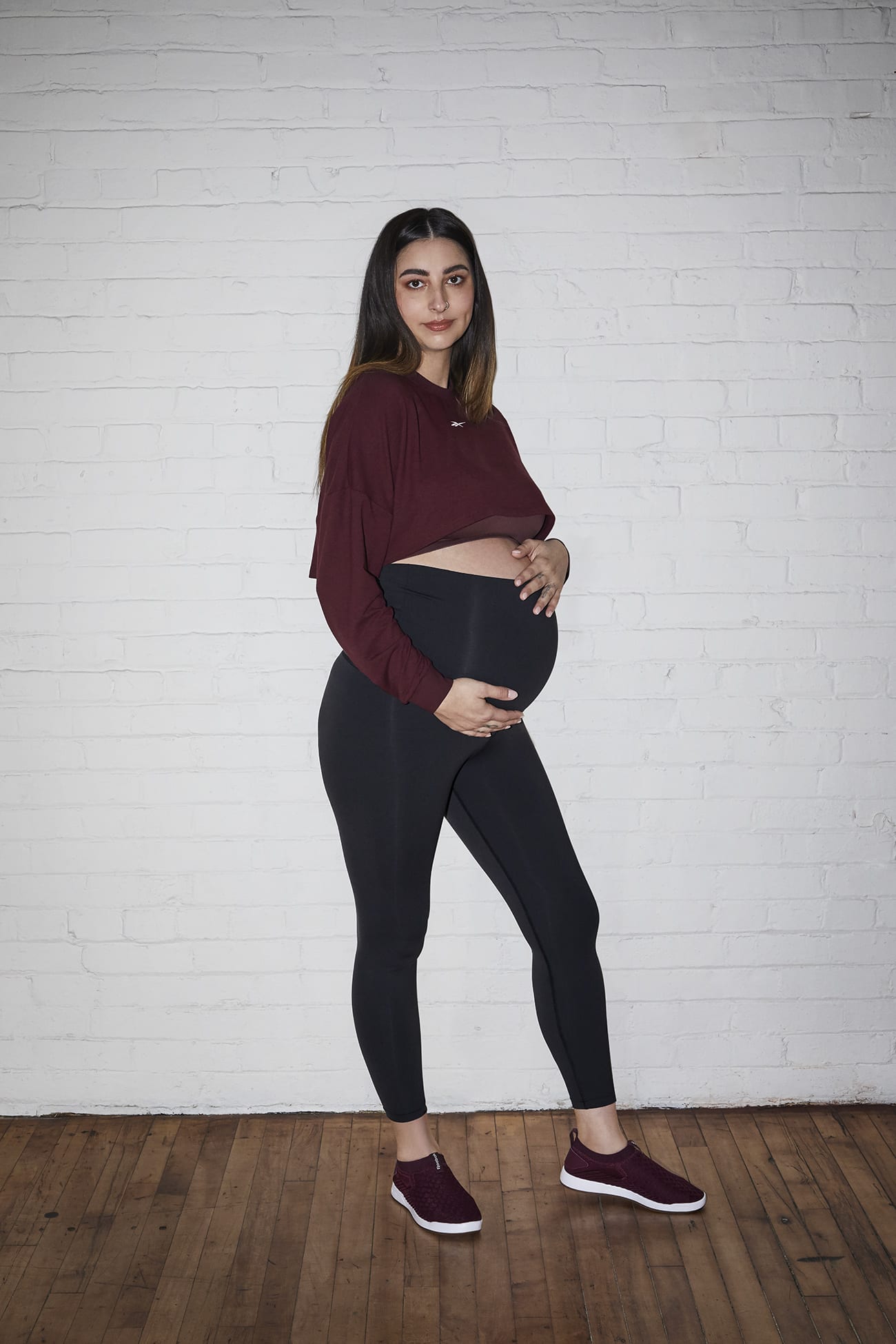 For Barrios, the topic of inclusive sizing can be complex. While the body positivity movement (an encouragement of women to love their shape no matter what) has been around for years, she says there is more to explore within the body neutrality realm as well. "Instead of thinking about loving how your body looks, no matter your size, body neutrality is more about acknowledging what your body does and how you can use it to move around the world and feel good doing it." Barrios and team are always considering this topic when designing. "We still have an awareness and careful attention to how a garment will flatter your body, but it's more about how it will make you feel… How can we design pieces that make you feel safe, or on the other end of the spectrum, push boundaries? How do these pieces work together to ensure you have versatility in your closet? It just becomes about so much more than how it looks."
Grieco says that designing quality product is centered around considering all aspects of the person's life. This is especially important when it comes to fitness gear. "Reebok is about living a life in motion and we want to equip every BODY with the product they need to work toward their best selves – physically, mentally and socially." Barrios agrees. The goal is to continue building dynamic functional products not for "standard" or "plus size" but for a variety of body types so women never have to worry the next time they try on something. "We're motivated by this idea of sisterhood and women supporting each other. We know there is no one definition of who we are, and no one size fits all."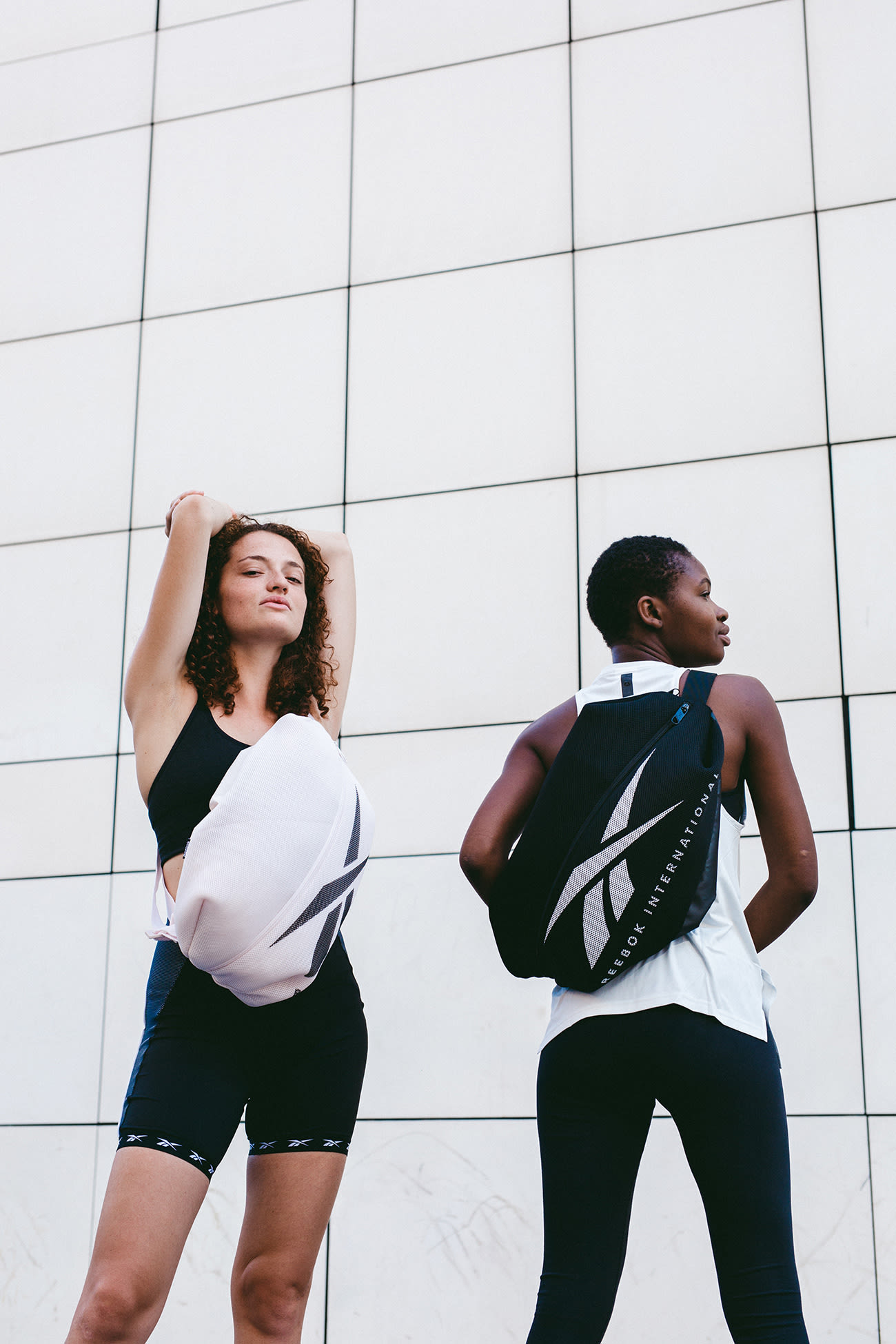 When it comes to advice for other female designers who want to make a difference with their designs in the industry, Barrios says use your voice to impact change. "Be persistent and don't be afraid to speak up. You have great ideas. It may take time to convince people to take chances, but if you listen to consumers and find opportunities, look for those that will support you along the way, and you can make it happen."
The hope is that the more companies begin to realize that change needs to start from the inside and that representation is critical, then the more inclusive product creation can become.