Cosplayer Alyson Tabbitha's Superpower: Becoming Wonder Woman™
The Reebok x Wonder Woman™ 1984 collection is here. In honor of the release, Alyson Tabbitha is explaining why everyone should have the chance to feel like Wonder Woman™.
If you could have any superpower what would it be? This is a question you've probably thought about. As children and even adults, we idolize superheroes and their ability to inspire us, capture our hearts and save the day. We've all imagined what it would be like to be in their shoes and part of their worlds. But for cosplayer and
Youtuber
Alyson Tabbitha
, she doesn't need to imagine. Tabbitha has an actual superpower: the ability to transform into her favorite characters whenever she wants.
From superheroes, villains, and princesses, to musical icons, Tabbitha whole-heartedly commits to every single one of her looks with an unparalleled level of artistry. As Tabbitha transforms herself, she also brings her fans along for the ride by sharing every look she creates. She makes all of her own awe-inspiring costumes and does her own hair and makeup. Her chameleon-like powers make her almost unrecognizable, and she's often mistaken for the real deal. Most of the time, she produces her own photoshoots with authentic backgrounds and props to fully embody the presence of the person she's created. With a million followers on Instagram, Tabbitha has created a dedicated and enthusiastic fanbase continually awaiting her next incredible character.
While she can transform into anyone and many times chooses strong female characters, Tabbitha says her favorite superhero to dress up as is Wonder Woman™. Although she could be considered her twin, she says she likes Wonder Woman™ because she's an example of what we can all strive to be. "I love Wonder Woman™ because she's a symbol of truth, justice & equality. I love how she believes in people. That they can do better, be better." As a powerful, multifaceted woman who stands up for what's right, a lot of people can relate to Wonder Woman™ and her story. So, ahead of the launch of the next Wonder Woman™ movie, Reebok created an entire
Reebok x Wonder Woman™ 1984 collection
so that everyone has a chance to feel like a superhero, and all heroes need uniforms.
The collection, inspired by the neon glow of the upcoming movie, includes iconic Reebok 80s silhouettes. With transparent toe boxes, double denim, animal print, and iridescent hues, these sneakers look like they were stolen right out of the decade. The collection also includes leggings and track jackets to truly make you feel like you've gone back in time. Tabbitha says the gold Classic Leather makes her feel like Wonder Woman™ IRL. "I LOVE how the gold shoes instantly reminded me of Wonder Woman™'s new golden eagle armor. Also, they have this cool rainbow holographic 80's vibe, which is totally fitting for the 1984 theme of the movie, and probably my favorite detail. I feel like an undercover superhero when I put them on!"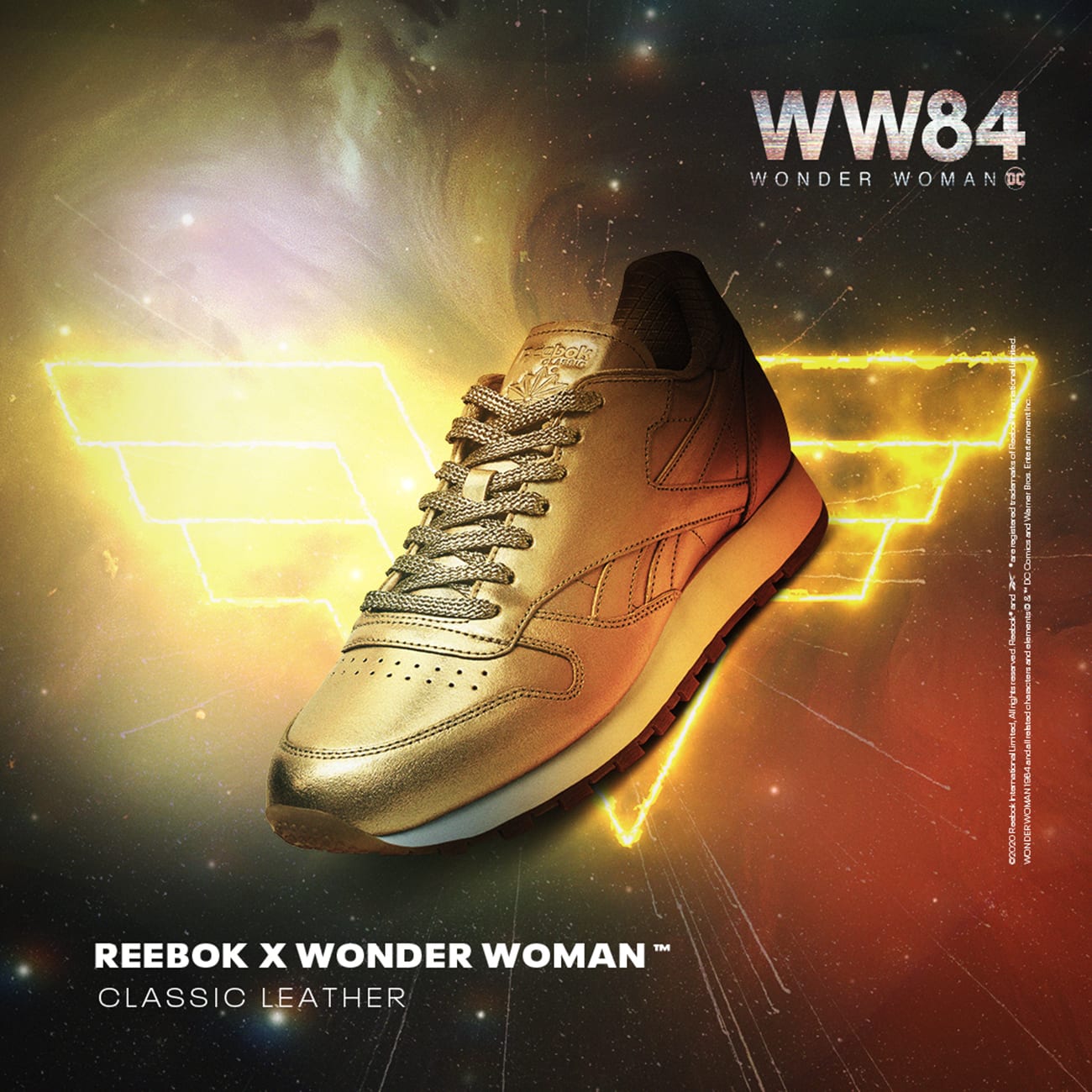 As part of the collection launch, Reebok asked Tabbitha to shine a light on someone who has always been there for her – a real-life Wonder Woman™. Tabbitha decided to nominate her sister,
Madison Kate
, who is also well known in the cosplay world. The two have a true sisterly bond. See her tribute below.
For Tabbitha, the world of cosplay and the opportunity to become her favorite characters has allowed her to explore her creativity and find her tribe. "I thoroughly enjoy all of it, from researching different characters outfits to finding the supplies, figuring out how to make it, doing the makeup, dressing up, going to events, and meeting people that love the same things you do. It's the coolest hobby I've ever dabbled in." Cosplay is also a very welcoming and accepting community. She says the trick is not to allow perfection to be your enemy. "I think a common misconception is that people think you have to have a perfect costume or look just like a character to dress up as them. No matter what you look like, no matter your age, your skill level, everyone is welcome to enjoy it. Just have fun."
Much like Wonder Woman™, Tabbitha's original costumes and makeup are her armor and she uses them to inspire others. She helps others to create their own characters by posting costume, photo, and makeup tutorials on her social channels. "I get a lot of comments about how people wish they could make something or do something like that themselves. I think a lot of times, people really underestimate what they are actually very capable of." From heat guns and thermal materials to cloak and sword purchases, Tabbitha lays it all out for her subscribers. And it may be sped up for time, but the
hair and makeup tutorial for Wonder Woman™
is only 11 minutes (if you are up for creating that Amazonian look). In her videos, Tabbitha allows people to realize their potential. She says she likes removing the intimidation factor and giving everyone a chance to feel like the most powerful version of themselves, whoever that may be. "I love when people show me what they did after following a tutorial, and how proud they are of themselves! It's just a great feeling. Everyone deserves to feel like a Wonder Woman™."
Tabbitha says she feels connected to Wonder Woman™ because she shows people that there are different ways to tap into your power. She believes in being proud of all the different parts of you. "She's so powerful, but also has such a tender side to her. I can relate to her sense of wonder with the world, how beautiful and exciting it is, full of such incredible things. I also get just as excited as she does over ice cream!"
Follow Tabbitha's lead and embrace your superpowers to feel like your own version of Wonder Woman™ by checking out the Reebok x Wonder Woman™ 1984 collection.