Three Reasons To Consider Cannabis
Why CBD is the wellness industry's secret weapon.
If you still associate cannabis with the hippie 4/20 stoner trope of yesteryear, it's time to take another look. The modern cannabis user is, well, just that. A
recent study
of 10,000 consumers shows a young, educated professional who incorporates cannabis into their life for a number of reasons: as a substitute for antidepressants, a replacement for alcohol and as part of a thoughtful
health and wellness lifestyle
.
By now, most of us know the difference between CBD and THC, but just in case, here's a recap: The cannabis plant contains cannabinoids, one of which is a psychoactive compound known as THC and another that's a non-psychoactive compound called CBD. In other words, THC makes you feel "high," while CBD doesn't.
When it comes to health and wellness, both compounds have their place, but CBD is the only one that's legal in all fifty U.S. states. In 2017, the World Health Organization (WHO) labeled it as having no public health risk or abuse potential — and then came the Great CBD Rush of 2018 (we made that up, but if you've ever been served an ad on social media, chances are at least one of them have been for some CBD-focused product).
But how does CBD actually help our health and wellness goals? Read on to navigate the brave new world where cannabis meets wellness.
FOR YOUR BODY
According to a
Gallup poll
last year, 14% of Americans say they use CBD products, with users saying it helps relieve pain (40%), insomnia (11%) and arthritis (8%). But not all CBD is created equal. It's important to look for "full-spectrum" CBD because it contains all forms of cannabinoid available in the plant and is considered to be the most effective (without making you high).
"It's the best natural way I've found to lessen some of life's bad so you can spend more time living the good," says Drew Todd, co-founder of CBD company
Feals
. "Unlike traditional pharmacology, which is typically used to treat specific ailments, CBD can be used more broadly to contribute to a better state of physical, mental, and emotional well-being."
Todd says he discovered CBD three years ago as a way to manage daily stress without the pills. Shortly after the launch of his company, though, his personal life began to "fall apart." "For the first time, I was having a hard time getting out of bed," he says. "CBD became the health lifeline that helped me through it. Today, I continue to use it to manage aches and pains from my new
cycling
hobby, and to help me get a better night's rest."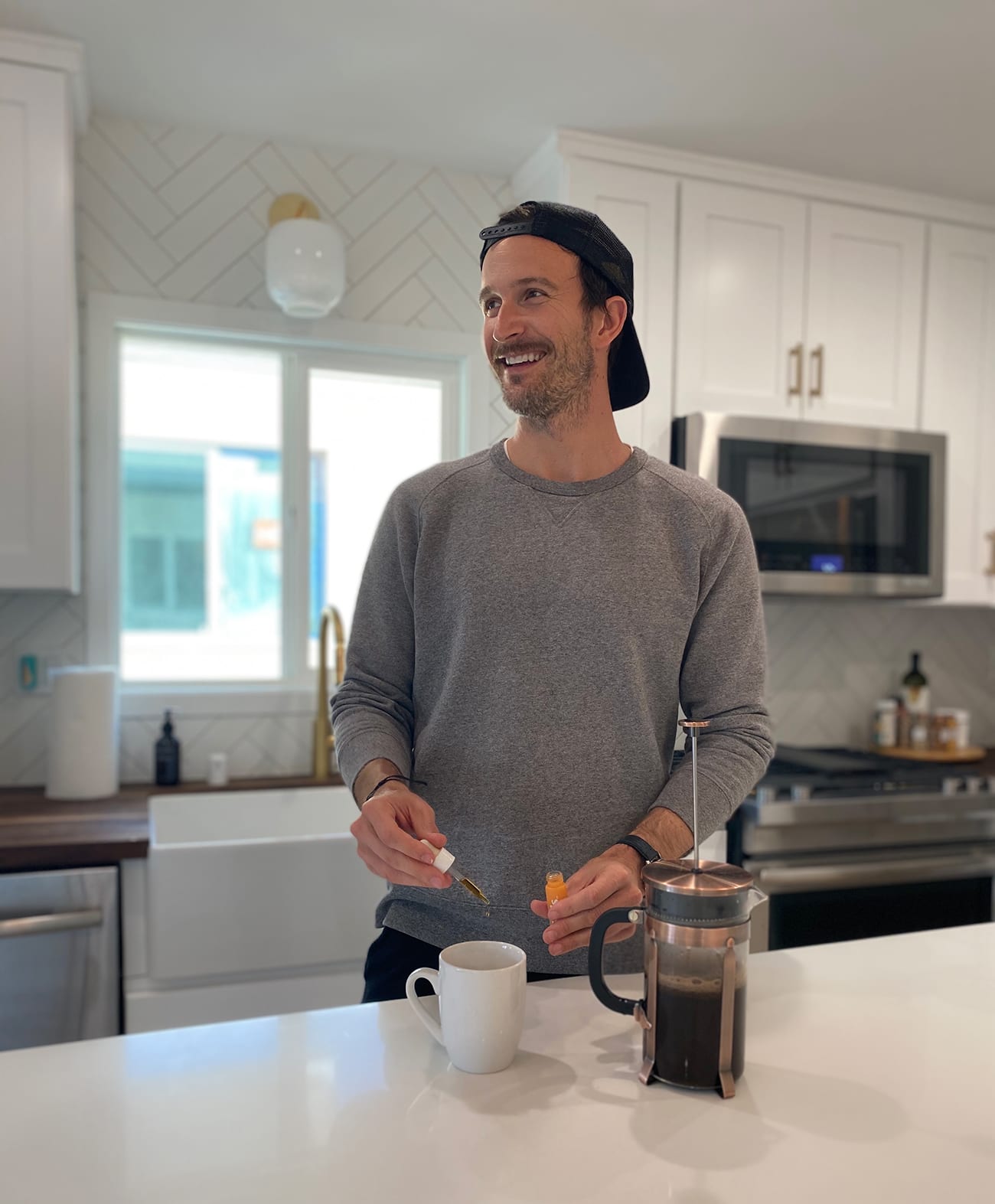 FOR YOUR MIND
In addition to helping muscle recovery and aiding in workouts (like helping to settle deeper into your
yoga practice
), CBD has been shown to help ease symptoms associated with anxiety and depression. Along with diet,
exercise
and
sleep
, it can act as yet another tool in one's wellness arsenal. "I start most mornings with a cup of coffee mixed with 60 milligrams of CBD," says Todd. "The combo let me maintain my morning energy without the dreaded jitters and caffeine-fueled anxiety."
At night, Todd says he takes a stronger dose of CBD 20-30 minutes before bed: "It keeps me sound asleep and I don't feel groggy the next morning."
With regards to dosing, start off on the lowest recommended dosage and level up from there, if necessary. CBD affects everyone differently, so dosage strength and benefits are unique to each person. "Generally speaking, CBD has a calming effect, but lower dosages may help provide clarity and focus, while higher dosages tend to sedate," Todd says.
Sy Woolstenhulme, Designer 1 footwear at Reebok, uses cannabis to heighten his focus on the present. Rather than taking it regularly, he keeps it nearby to take on an as-needed basis. "It helps me to overcome some of the mental and emotional barriers I tend to hold onto," he says. "I can calm down, be with myself and let my brain relax. That kind of state is really restorative and edifying for me. CBD makes that little bit of constant anxiety just melt away."
FOR EVERYONE
Incorporating cannabis into your health and wellness routine is a welcome alternative to over-the-counter solutions that typically mask problems instead of addressing them. And along with other mindfulness practices like
breathwork
, yoga and meditation, it can help dramatically transform the way people approach their physical and mental health.
According to
one study
, marijuana helps concussion patients with symptoms like pain, poor sleep and quality of life. According to
another
, people with Seasonal Affective Disorder who were given an oral dose of 400mg of CBD experienced reduced anxiety levels. Because of what it can do for pain or maybe just a sign of the time, cannabis is undergoing a full rebranding.
Cannabis culture of the past had a tendency to focus on overused tropes. But the holistic and healthful side of the cannabis community feels much more modern. In the last decade, it's grown into something that represents joy and wellness. And that's something everyone can get behind.