Artist Youngmin Kang is Redefining Design
Kang created a chair from recycled plastics inspired by Reebok's Classic Leather Legacy sneaker. Learn more about his inspiration, how he's challenging the status quo and the legacy he wants to leave behind.
Artist
Youngmin Kang
is using his designs to show how one person's trash is another person's treasure. He is building his legacy by pushing the boundaries of design and re-using objects for new purposes. As part of Seoul-based design collective
1S1T
, Kang is pushing our perspective of what we think is trash. He says he doesn't just create things that are beautiful, he's creating things that represent his generation.
Reebok's latest drop of the
Classic Leather Legacy
sneaker is centered around community and the positive innovations that can come from different people and places. Inspired by a 1970s Reebok running shoe, the shoe has a legacy all its own. The latest version is also made with at least 30% [Ree]Cycled materials on the upper and built with sustainability in mind.
Kang's typical design process is to collect and melt down plastic waste, turning old bus rails into one-of-a-kind sculptural furniture that push the aesthetic boundaries of what an object can be. In collaboration with Reebok, Kang created a bespoke piece of furniture inspired by the Classic Leather Legacy by melting different colored plastics together, replicating the sneaker's colorways. Kang wants his legacy to be that his work helped change the conversation and break the stigma around waste and re-use in South Korea. Check out what he had to say about the project with Reebok and how he's found inspiration during this time.
Reebok: Where did your passion for what you do come from?
Kang: My passion is letting people know that making pretty trash isn't a bad thing. So, when someone sculpts nature, I make something beautiful with something that someone doesn't need, something abandoned. I tend to archive photos of things in everyday life. This is my source of inspiration, and I often feel joy when I find beauty in abandoned things. Especially when you see older people fixing and using things that someone threw away with their own ideas, you feel the essence of design.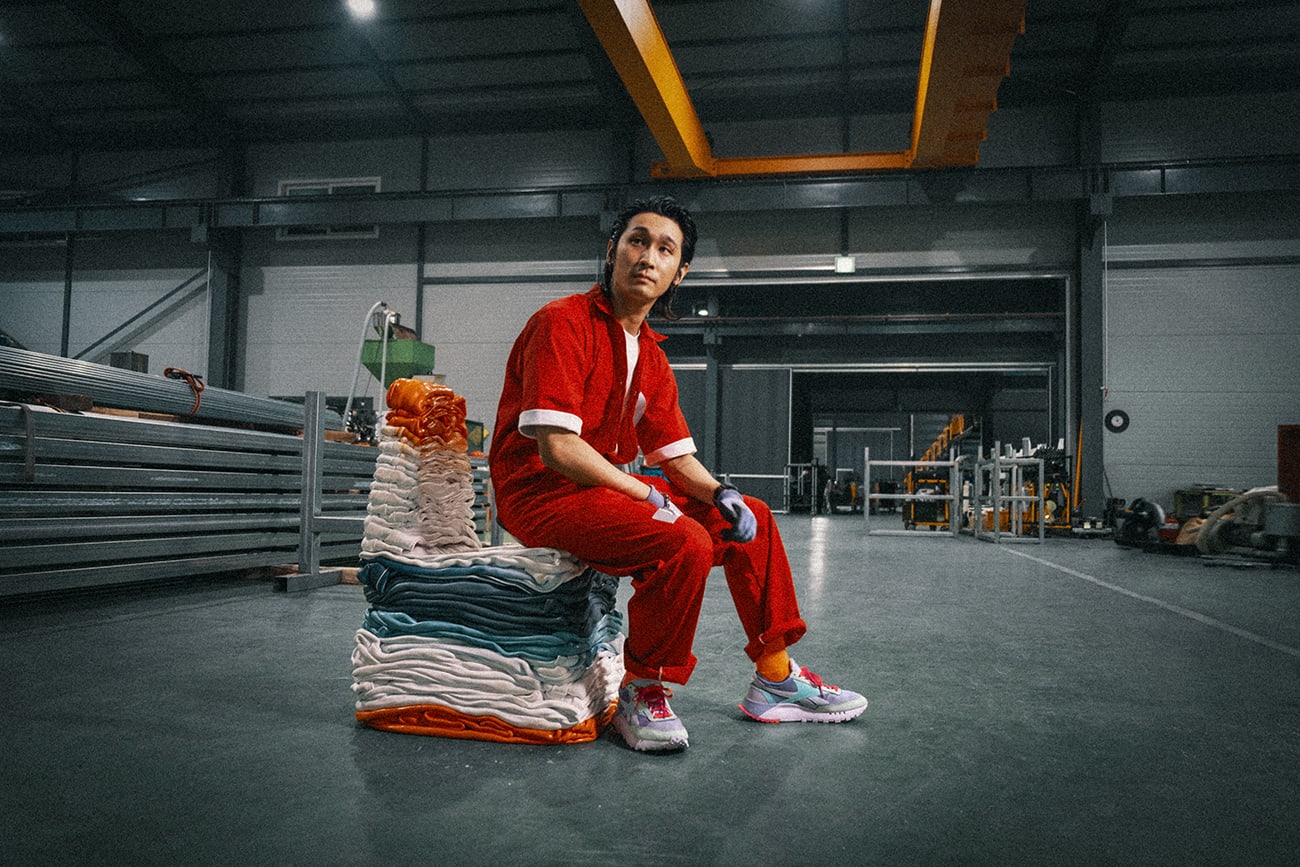 Reebok: What have you learned about yourself or others through your work?
Kang: Once I first saw plastic waste in the factory, I felt very positive. It felt like a new material.
People who watched this every day still thought it was just trash when I made work out of it because it was trash. When I made about 20 chairs, I got feedback from many people and realized that it changed their perspective. I learned that when many people give feedback from what I made, not just my own arguments, they can break other people's prejudices.
Reebok: How has your work evolved during this uncertain time in the world?
Kang: At the start of this year I had an individual exhibition. After that, I prepared for a very long time for a big design fair in Milan, but it was cancelled due to the virus. The sense of loss was too great. But that sense of loss gave me a new heart. I was more eager when a new opportunity came.
I was able to start on a new project with a factory and colleague that had the same design goals I have. Without that sense of loss to me, perhaps I wouldn't have gone. Touring the factory, I saw plastic chunks thrown away as by-products at the factory and from it I was able to discover beauty with my own eyes. That's where our design collective of "1S1T" came from. We're a group pushing the boundaries of design to create our legacy. The recycled plastic molded chair is our first project.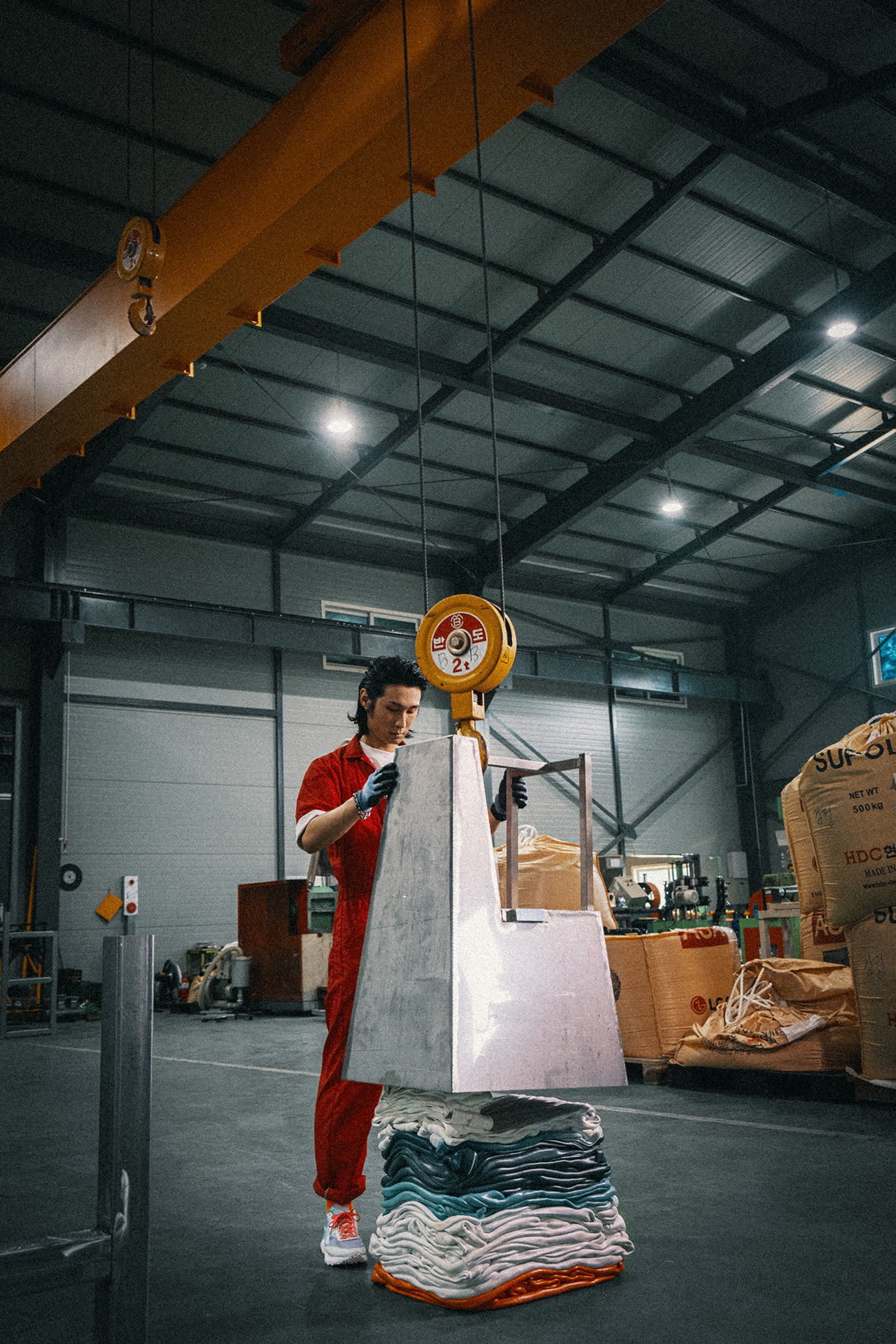 Reebok: What was your inspiration for the project with Reebok around the Classic Leather Legacy?
Kang: We were attempting to interpret furniture design in fashion, and it began with interest in the so-called street fashion not in the realm of traditional fashion. Compared to the fast-changing and developing fashion scenes, the design felt stuffy and limited. I have a personal interest in fast changing street and deconstructive fashion. I wanted to incorporate that into this project.
I made the work based on the colors of the diverse sneakers in the collection and when I expressed this with my new material it was very well suited to the fashion and design we sought. Reebok's new color combination had a color that hasn't been seen in the hype beast scene before, and that also meant a new development of my work. My work reflects the color of the haphazard sneakers.
The colorway was a color that didn't remind me of any other brand's products, so it was a new expression of my work in an entirely new pallet. We were very happy to formally express this fashion collaboration so that people can understand what we are pursuing, and we can support each other.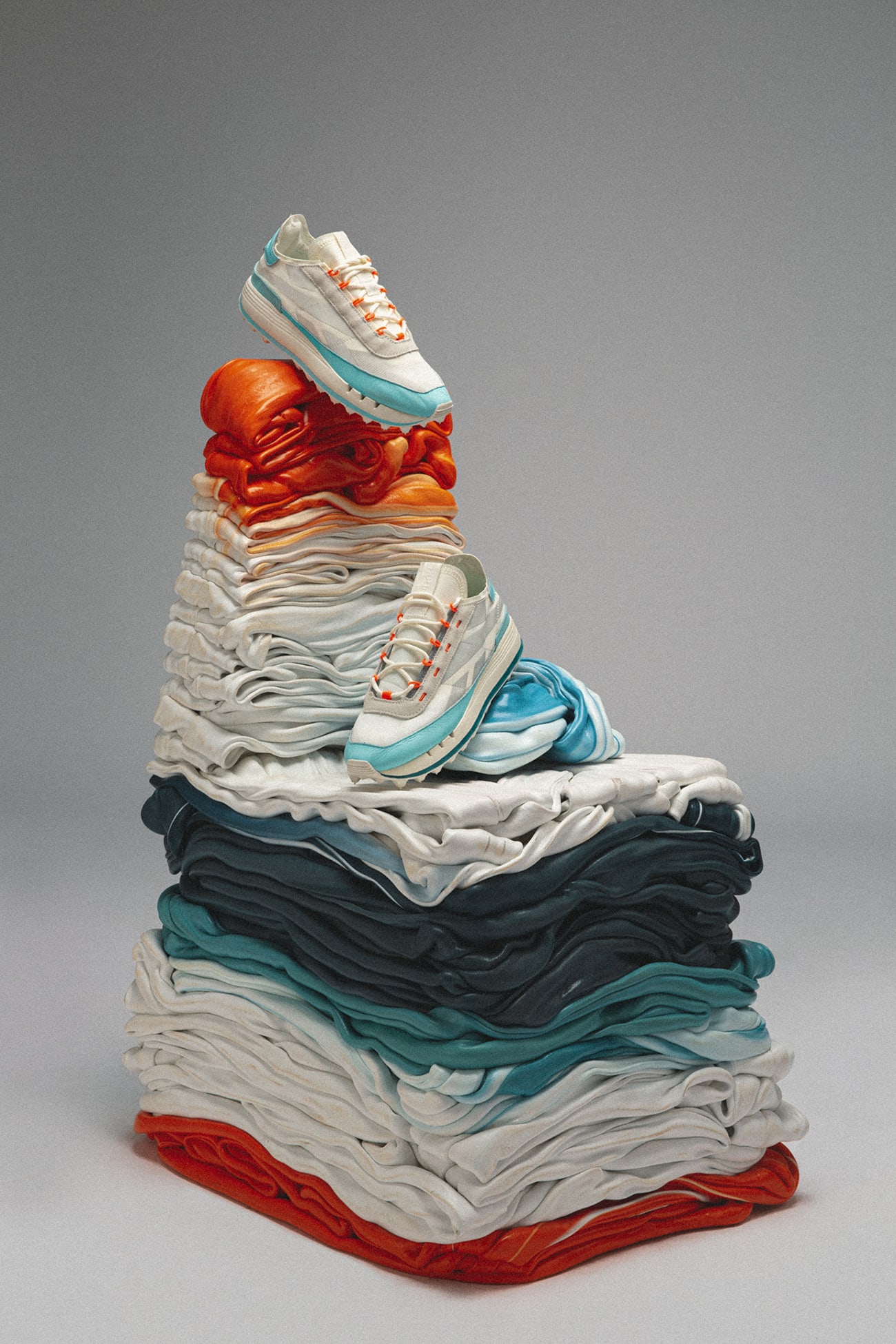 Reebok: How are you providing other people opportunities within your community?
Kang: "1S1T" is a great example of this. We were made to experiment with the limitations of design. We ask the question "Is it design?" from the interface of design. We believe that it allows us to go beyond the limits of design and that's how you build your legacy. You can see it in everything you create.
We got a lot of help from incredibly good people in Milan and New York. They are the gurus and mentors of this industry. They just came across us and gave us a lot of advice at no cost so we could grow. We are here to "pay it forward." We share all that experience with each other. It makes our experiment more provocative and courageous and we share this vibe and experience with many designers in Korea. We believe that this is design.
Reebok: Rallying behind a cause you believe in can make a difference. What would you say to someone who wants to get more involved in a cause that's important to them to build their legacy?
Kang: If I have to pick one, I want to tell you that you need to think about how to deliver it. I speak not with my mouth but with what I show others. I don't say my project is made of trash. I want people to see beauty as it is and to be moved, that's part of my legacy. I wanted people to figure out later that it was garbage because it will give it a greater echo and bring enlightenment.