How To Shop for the Perfect Sports Bra
A designer breaks down what you need to know.
The beginning of the year is a great time to take stock of your wardrobe, specifically your sports bra drawer. We've all got those flimsy bras from high school rattling around in the back, the ones with stretched-out bands and elastic ends springing every which way. But they're not doing you—or your breasts—any favors.
In the spirit of a sports bra refresh, we caught up with Reebok's Senior Product Manager Jen Barrios for shopping tips on what to look for, what to avoid and why the term plus-sized is outdated.
Q: If you're cleaning out your sports bra drawer, which bras should you throw away?
A: Look for signs of wear like color and shape change, fraying and worn-out fabric (there should be tension and rebound in the elastic). A sign of worn-out elastic is a band that doesn't sit as close to your body as it once did or straps that are always sliding down. Also look for chafing around the band. As elastic stretches over time, it can loosen and rub during workouts. Finally, if you notice your breasts moving more or you start experiencing pain in the chest or shoulder area, your sports bra is no longer providing the support you need.
Q: When shopping for a new sports bra, where do we start?
A: We have been conditioned to shop by impact level, but that's really just a starting point. The level of support you need is related to your cup size and the density of your breast tissue. So someone with a larger cup size may simply feel more comfortable in a higher impact sports bra (regardless of activity). Whether you shop by impact level, material or style, it's important to know how to measure yourself. Consult the size charts. In the apparel industry, there is no standard for sizing so you need to try on a few different bras to understand which fits you best.
Q: If we're buying sports bras online and can't try them on first, what are some tips to consider?
A: Again, it's important to understand your measurements. If you're trying out a new brand, order a couple different sizes. Most brands offer free returns. Once you put the sports bra on, it's important to move around in it. Is the band secure but not too tight? Are the straps staying in place but not digging in?
Look at the amount of elastane or spandex. You want enough stretch that you can move unrestricted, but not too much that it won't recover and hold you in. We most often use about 15% elastane but can go as high as 27%.
Another tip that sounds obvious but sometimes isn't is to read the detailed product description. This is where you'll find how bounce is being controlled. Compression sports bras use tight material to press the breasts against your body in an attempt to keep them from moving during your workout. Other bras surround the breasts to separate them, which also attempts to reduce movement. Using a soft molded pad, as we do in
PureMove
for example, can provide natural shaping and support to reduce bounce without compressing breast tissue too much.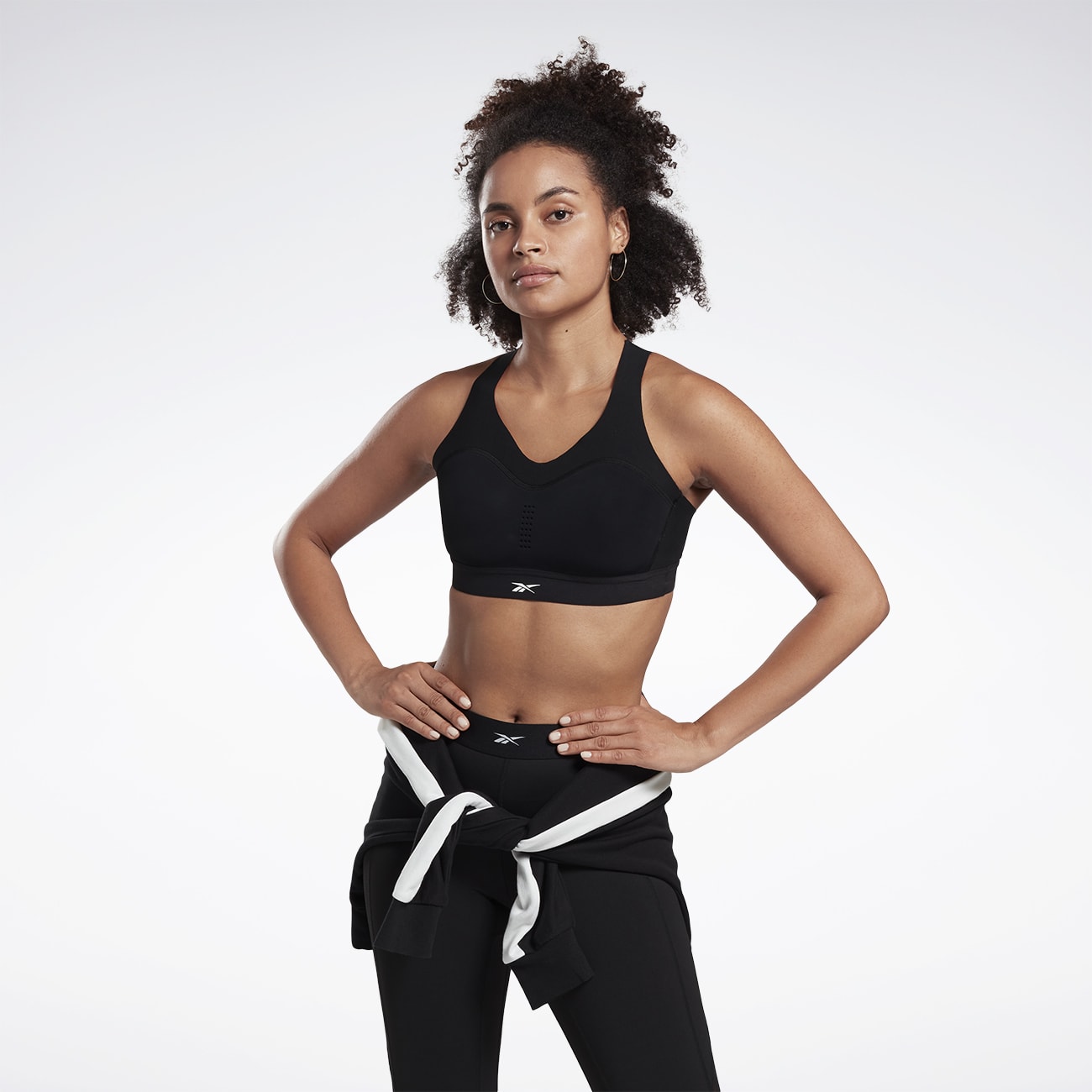 One last thing: Look at how many seams there are. To reduce friction (and related irritation), we design with fewer seams, low profile/flat seams and fabric that can be free cut. In some of our bras, we use flat, soft elastic binding in place of bulky straps. We also clean finish with foldover edges to reduce the amount of stitching against the skin.
Q: When it comes to sizing, how do we know if we're plus-sized or not?
A: I think the term "plus-sized" is outdated. It has a separating effect when we should be focused on inclusion. At Reebok, we don't design a separate collection for plus-size, nor do we want to create a separate experience for women who wear larger sizes. But we do re-engineer patterns to flatter and best support your body, so you'll see product pages that specify whether something is plus-size or not. As you move across sizes, proportions change, and we balance and shape the garments differently.
Q: Which sports bras do you wear?
A: I rotate between our
Hero Strappy
and
PureMove
bras. I was a dancer for years but now I focus more on yoga and barre workouts. I like the Hero Strappy because it has beautiful back detail but also reliable support. I like the PureMove because it's a sleeker, sportier design and the fabric is unlike any other.