These Shoes Were Made for Walking
After surviving a life-threatening scare, Brooke Rosenbauer took to the streets for recovery and discovered the benefits of walking in the new DailyFit shoe.
When Reebok challenged me to 10,000 steps a day for a week, I had to take a small moment of reflection. Pre-pandemic, during "normal" life, 10,000 wouldn't have me batting an eye. Back then, in a world that seems so far away, I did a lot of running around: Up and down the hallways of Reebok HQ (as I had a habit of getting lost trying to find conference rooms), meeting with non-profit partners out in the community, teaching multiple fitness classes a day, and training fitness clients in the evenings. I had no problem getting in 20,000 steps. All of that came to a screeching halt - not in March of 2020 like everyone else in the world, but in October of 2019 when I had a life-threatening pulmonary embolism. That's when my relationship with walking, an activity that I truly took for granted, really started. Immediately after the embolism, I wasn't allowed to walk or even get out of bed. It's funny when something simple is taken away from you, it's all you can think about. As soon as the green light came from doctors, I was out the door to defiantly pace the hallways of the hospital - back and forth past the nurses, who, eyebrows raised, carefully watched me with a high alert for flight risk. I took every liberty to walk just a little more than approved by the doctor, but not enough to get me in trouble. Suddenly, walking had become my daily mission and purpose.
In the following weeks and months, walking remained a crucial part of my recovery. Prior to this, my whole life had revolved around fitness and I was in unbelievable shape. The twice daily sweat sessions of burpees and lunges were replaced by a mellow but determined, non-negotiable walking circuit through the neighborhood, no matter how slushy or cold. Fitness had always been my fun outlet, but in the shadow of this new chapter in my life, physical activity had taken on a much more serious role. I hated that I could "only" walk, but really didn't have a choice. I had to keep my blood moving. While out, I had a lot of time to rethink and reframe health, beyond just the aesthetics of fitness. My life now literally depended on staying active. At a younger age than most, I had just lived through something that we all experience sooner or later - the feeling that we are no longer invincible. And, if walking was going to be the way that I got back to living and feeling like myself, then we were going to be best friends.
Fast forward to one year later, in December 2020, when I was approached to write this story. Saying yes should have been a no-brainer. But, like many others, the pandemic had once again pulled the rug out from underneath me. I kept up with my walks during the spring and summer during the first months of quarantine. As the fall weather set in, however, I realized that I hadn't been wearing my fitness watch and wondered if I was even hitting half of the recommended 10,000 steps a day. I work from home and, even though I diligently work out most days of the week, my workouts tend to be lifting and cycling - things that I can do inside while hiding from the cold Boston winter. I don't "go" to the gym. In fact, I don't really "go" anywhere except the grocery store because, well, Covid. So what wouldn't have been a "challenge" in my previous life came with more than a little trepidation. I was happy for the push which may have, in fact, been exactly what I needed to recenter myself.
Below is an inside peek into my journey through the streets of Boston in chilly January, with the goal of hitting 10,000 steps a day.
Pre-Challenge: The Unwrapping
I started the year by unboxing a new pair of Reebok's super cute
DailyFit shoe
. I put those beauties right on my feet and they felt like a cloud. These are definitely shoes I could see myself spending most of the day in. To learn more about the technology, I did a little research. Turns out that the shoe's DMX technology has been used by Reebok for years, even for basketball shoes. It's all about a foam with "moving air" to provide a soft and responsive cushioning. It suddenly occurred to me that I had bought a pair of Reebok DMX slip-ons a few years before and they held up like champ through a lot of wear and tear - including, but not limited to, grocery store runs, kayaking, and hiking (or dragging my husband) up a small mountain to a castle in Italy. Never a single blister, not even without socks. I was excited to try this new and improved model.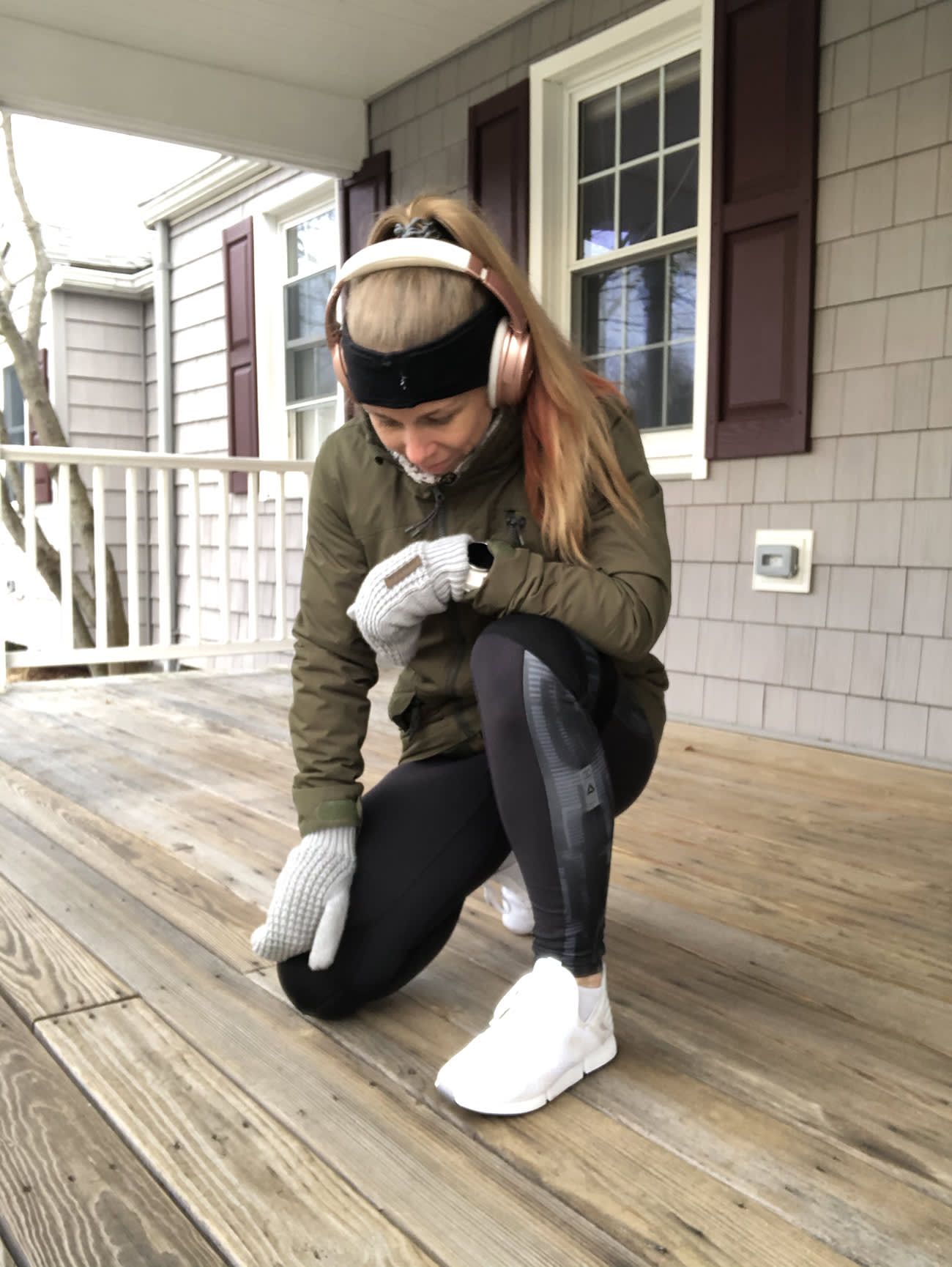 Day 1: New Year's Day
What better day to start a walking challenge than January 1st? Since I didn't stay up until midnight (I'm an old soul, ok?), I jumped right out of bed, excited by the prospect of a fresh start and putting 2020 behind us. First, I
posted on Instagram
about my 10k-a-day challenge and invited others to join me. If I've learned one thing in this career, it's that fitness is better with friends. It was a beautiful "crisp" day (which means "cold" in Boston speak), and perfect for a walk.
Before heading outside, the fitness nerd in me was dying to learn more about the science behind the 10,000 steps. Well, sorry to disappoint you all, but there is none. Apparently the 10,000 a day was an arbitrary number marketed by a Japanese pedometer company, basically because it sounded nice. Some
follow-up studies
have found that even 4,000 or 5,000 steps can have a positive effect on health, though, so that's good news!
By mid-morning I had hit about 4,000 steps. What is my secret? Pacing. I am a pacer, apparently. We just bought a house and there are a lot of projects to get done, so I tend to pace from room to room to fix spots of paint, replace doorknobs, moving boxes around, etc.
I slipped on my Reebok
beauties
and started off on a walk around the neighborhood. I noticed a little trail that I hadn't explored before and enjoyed the slightly woodsy change of scenery. These shoes really are like walking on a cloud. I was worried that they wouldn't hold up against the harsh winter, but they passed this test.
After about an hour, I arrived back home for a second cup of coffee and noticed that I was at 9,000 steps. After a bit more pacing to round out the evening, I easily hit my 10,000 steps. Day 1 in the bag and Happy New Year to my feet!
Days 2-3: The Weekend
Saturday: After a really good day 1, I was disappointed to see that by 3pm, I had only hit 3,000 steps. The entire morning, which somehow turned into the afternoon, I was busy painting a bathroom and a couple doors. As a side note, I was brave enough to wear the shoes while painting a wall, and was impressed by how good my feet and hips felt by the end of the day. No joint pain at all!
I really wanted to lift or run, but the sun was starting to go down and I was too hungry for a big workout. At this point, I really needed to eat a decent meal, but would need a couple hours to digest before doing anything really active. So the day was a wash for workouts, but I did set out for a long walk to enjoy the last few hints of sunshine. After the walk, the same route as yesterday, I was up to 9,000. Afterward, my husband wanted to go shopping. I usually run in the other direction at the suggestion of a shopping trip, but agreed with the condition that we had to go to the outdoor shopping center (because, Covid) and also park as far away as possible. I rounded out the night with 12,000 steps.
Sunday: The morning was spent drinking coffee and catching up on fitness work. By 11am, I was only at about 1,500 steps and I decided it would be a good run day. Somehow my husband convinced me to go shopping again, but I insisted on walking all the way across the long parking lot instead of driving. We got home and I cranked out a 4.6 mile run, which got me to just under 10,000 steps. Despite the cold, I did spend a little time reflecting on how I feel grateful to have an able body and a safe neighborhood to run whenever I want.
Days 4-7: The Work Week
Monday: Back to work! First thing in the morning, I did my favorite lifting workout,
Les Mills BodyPump
. I even showered and put on real clothes - a great official start to 2021. By 2pm, though, my steps were pretty appalling so I took off for a 40-minute walk, which was just enough time to catch up on one of my favorite crime podcasts. The distraction makes me walk faster (and occasionally glance over my shoulder), and you can never be too careful, right? On Monday nights, I teach a
virtual Boot Camp
so the day's workout plan obviously included a lot of high knee running in place. The night ended with about 12,000 steps again.
Tuesday: I didn't sleep that well due to hormones and probably some back-to-work anxiety, so instead of working out first thing in the morning like I usually do, I snuggled into my favorite chair and read a book. This usually helps my heart rate level out a little. Work sucked me in and by noon I was only at about 1,000 steps - yikes! I had a networking call on my schedule and decided to take it while on a walk. It was cold, but I'm glad I went, and the person forgave me for being out of breath as we charged up a big hill. The day started to get a little gloomy, and it was threatening to snow. I just wasn't feeling a tough workout today. Even though I had hoped to do a
HIIT workout
on my indoor bike after the walk, I opted for a low impact core workout followed by some candlelit yoga. How am I so tuckered out already, and it's only Tuesday? Somehow I did make it just past 10,000, mostly due to the walk. To be totally honest, I probably wouldn't have gone for these walks today or yesterday if it weren't for this challenge.
Wednesday: This morning was off to a better start. I got my butt out of bed and did a HIIT workout on the bike (Les Mills SPRINT). The day was full of calls so I spent too much time sitting, but still got out for another 40-minute walk. It was cold. The rest of the walk was spent being consumed by another crime podcast. Wednesday is my second Boot Camp of the week, so again we had lots of high knee running, much to the members' dissatisfaction. I am wondering if my watch also counts mountain climbers as steps? We had a lot of those, too.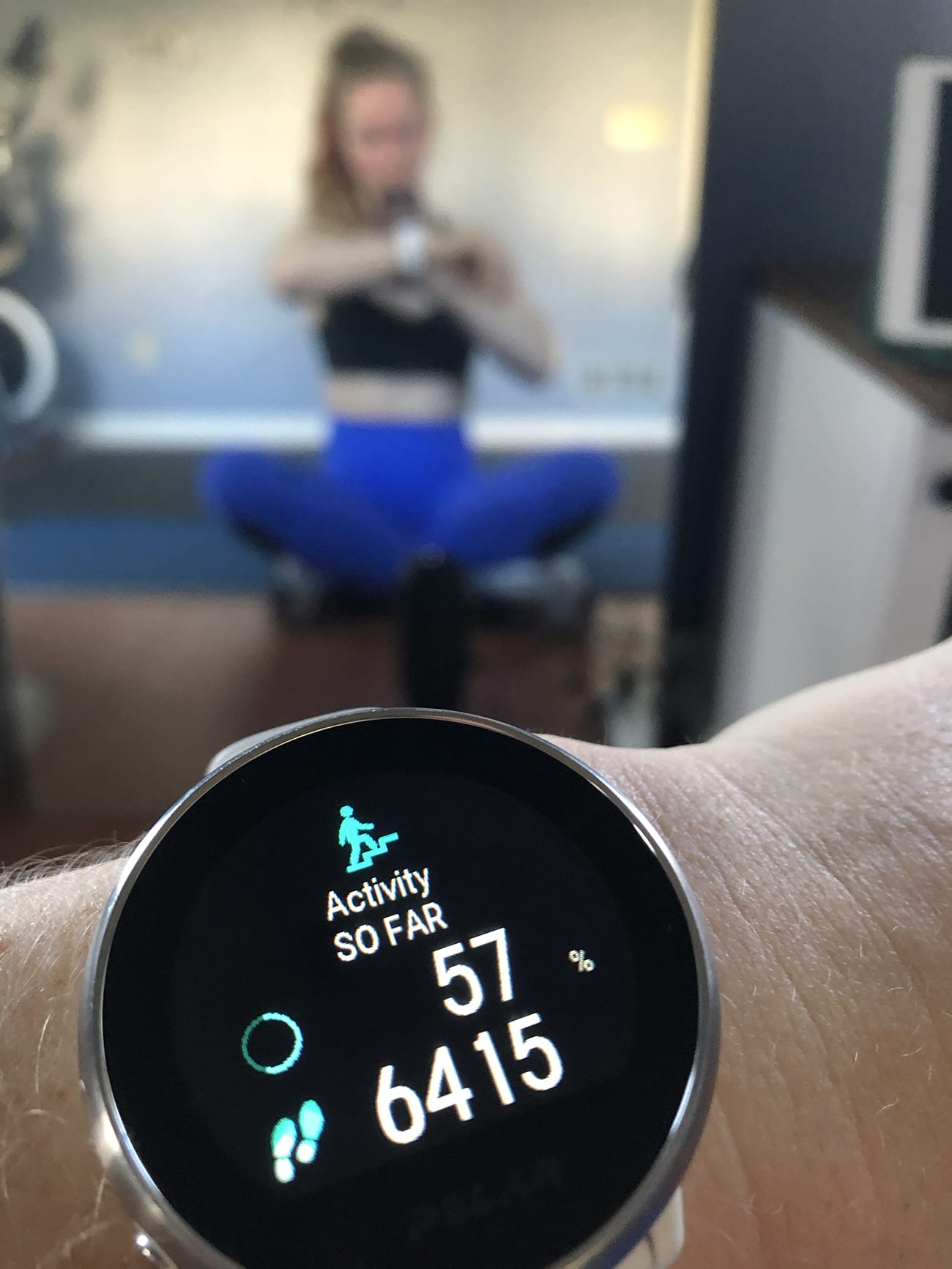 Day 7: The End
To sweat off a little work-related stress (including stress about the current state of the world), I dove into a
Les Mills BodyCombat
workout first thing in the morning, sat on my butt again for work calls, and did my lunchtime walk. By this point, it actually felt pretty natural to do, like I was starting to build a habit – and my new shoes were holding up. The daily walk became less shiny and new as I started to settle into a routine. After just seven days, it really felt like just a normal part of my schedule.
Contrary to what I expected, it was actually "easier" on work days because it just became part of my schedule. On the weekend and vacation days, I had to make an effort to plan out my day and think about when I would go. During the work day, I just go around 2pm before it gets dark and that's that!
In the days after the challenge, I not only kept up the lunchtime walks, but actually started to plan my days around them. Which work calls could I take while walking? Which podcasts were new? Which friends could I call? It was a welcome timeout from the constant grind of working from home and endless video calls. I also noticed how much easier the walks started to feel.
This sounds crazy to say as a "fitness person," but it took a little less effort to charge up the hills. The first few times, I really had to pay attention to the streets because I'm in a new neighborhood, but by the end there were times when I wandered without noticing the streets too much. Using a podcast is a great way to set a "timer" so I worried less about where I was going and just focused on the movement time.
As a fitness professional, I feel obligated to look at a few tradeoffs that come with a 10,000 step goal, especially given the lack of science behind it. First, the positives. Having a goal is motivating, obviously! Walking is an
important part
of a healthy fitness plan because it can improve cardiovascular health, such as blood flow and getting the heart rate up, and reduce inflammation. It can also be a stepping stone for people who aren't currently working out and need a place to start. Walking can get you out the door for more fresh air, sunshine (hello Vitamin D), and a mental boost. If you are walking, it means you are not sitting - and sitting is not great for our health, especially for your lower back. Spending more time moving during the day increases something called, Non-Exercise Activity Thermogenesis (NEAT), which is the calories you are burning while not doing intentional exercise. Increasing NEAT can boost your metabolism and help manage weight. Finally, walking is an opportunity to take some time for yourself to listen to an audiobook or podcast, catch up with friends, or explore a new place.
There are some additional things to consider. Walking 10,000 steps can be challenging for some people who aren't used to exercise, have an injury or illness, or who don't have access to a safe place to walk, so there is a risk of demotivation through a feeling of failure if they can't reach their goal. In the fitness world, we see this all the time with diets. When people "fail," they become disengaged and give up on healthy behaviors because it feels unattainable. With all the attention on steps and walking, there is also a risk to overemphasize cardio, which is already an issue for women who are afraid to do strength-building activities because they don't want to get "bulky." Strength-building is incredibly important, especially for women, but we are fighting an uphill battle to get women to lift weights because of this fear. For the record,
weight training will NOT make you bulky
. Period, the end. However, if someone is trying to hit 10,000 steps and has a choice between weightlifting and walking/running, or even flexibility, they will be more likely to choose the cardio activity. Cardio, strength, and flexibility are all equally important actors in a good exercise plan, but only focusing on steps can throw this balance out of whack.
Finally, there is a risk of "checking the box". Yes, walking 10,000 steps a day might be a good challenge for some people, but it might not be vigorous enough for people who have weight loss or performance goals. Considering there is no scientific basis for the 10,000, it might give people a false sense that they are doing "enough" instead of developing an overall healthy, active lifestyle.
For me, the walk itself was about so much more than the steps. I pulled myself away from the computer, got sunshine and fresh air, waved at new neighbors, learned too much about how to solve murders, and spent quality time chatting with friends. The excuse that had been holding me back, the cold, was really just that - an excuse. The benefits of my walks far outweighed a chilled nose and I am grateful this challenge gave me this little extra shove in the right direction. If you are looking to get more daily steps, my advice would be to get a fun,
comfy pair of sneakers
, and find a fun incentive to walk. I felt a little extra pep in my step wearing a pair of new shoes that I genuinely loved and made my feet happy. Maybe you have an audiobook you want to get through, a list of friends to call, a new place to explore. Having this extra motivation will get you moving in the right direction and you might end up really enjoying the experience enough to make it part of your schedule in the long run.